IPL 2020: Twitter comes up with hilarious memes watching Brendon McCullum jot down notes during KKR vs RCB game
Brendon McCullum habit of writing down the notes has caught netizens' attention.
Updated - Oct 23, 2020 11:32 am
6.2K Views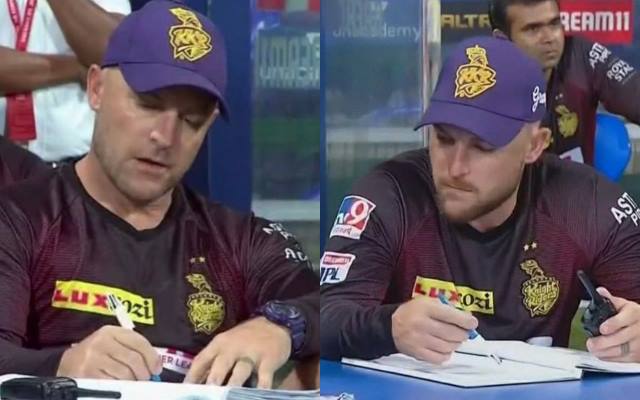 Follow us on Telegram
The 39th match of the Indian Premier League witnessed the lowest first innings score of the season so far. Kolkata Knight Riders locked horns with Virat Kohli's Royal Challengers Bangalore, and batting first, KKR could only post below-average 84 runs on the board. One thing that has grabbed constant attention during KKR's match is head coach Brendon McCullum jotting down notes too seriously. While players are up with their performance on the field, he remains busy in his work, along with assistant coach Abhishek Nayar.
Most of the coaches of all the teams are generally seen with a diary during the match as they keep noting something or the other during the match. It happened during KKR vs RCB game as well as Brendon McCullum was busy noting the mistakes committed by his players with the bat.
It was a forgettable day at the office for Eoin Morgan and his men as they got out one after the other in the powerplay due to Mohammed Siraj's exceptional bowling. While Kolkata managed mere 84 runs, people on social media went crazy as to what he must have noted at that moment. The Twitteratis took no time to troll the KKR head coach for his habit and came up with hilarious reactions.
Tough times for Brendon McCullum at KKR
Brendon McCullum also led the Kolkata side while he was playing with the team and he replaced Jacques Kallis as the head coach of the franchise. He is joined by Kyle Mills and David Hussey in the job. The Kiwi player is too famous for plying his trade as the head coach as he also headed Trinago Knight Riders, a franchise also co-owned by Shah Rukh Khan, in Caribbean Premier League (CPL).
TKR could not defend its title in the year 2019 but won the trophy again this year. TKR's campaign in CPL 2020 was no less than a dreamy affair as they won 12 matches straight to bag the title. Talking about KKR, the franchise is sitting in the fourth position with 10 points in its account. However, the fight for the fourth spot is still on in the season. KKR would have to win at least three more matches ahead to land into playoffs.
It hasn't been easy for Brendon McCullum at the helm in the IPL so far as the team is going through a lot of ups and downs. Even Dinesh Karthik stepped down from captaincy midway to hand over the reins to Eoin Morgan. But not much has changed in terms of the performance of the team. It remains to be seen if KKR will be able to bounce back after this defeat.
Here's how Twitter reacted to Brendon McCullum writing notes:
rcb ye kkr wo bhai i just wanna read what brendon mccullum keeps writing in his notebook

— laila (@studmp3) October 21, 2020
The amount of notes Brendon McCullum takes in the dug out, if I had taken half of it, I would have cleared civils!

— Rajasekhar Mamidanna (@RajaMamidanna) October 16, 2020
Player drops a catch/misfields:

Brendon McCullum: pic.twitter.com/Rqklfk3sEd

— Unofficial: Hyderabad High Court (@UnrealHighCourt) October 18, 2020
Brendon Mcculum In Dugout. Additional please😢 pic.twitter.com/qiDpy1a1yu

— Nithin Davuluri (@DavuluriNithin) October 21, 2020
A Rare pic of Brendon McCullum with his writings during IPL 2020 pic.twitter.com/z12QNcFAUj

— Yogiraj Giri (@badshah_29) October 16, 2020
Brendon McCullum till end of 14th game pic.twitter.com/WI1uQStJIq

— S Ravind King (@sravindking) October 22, 2020
*Brendon McCullum right now* pic.twitter.com/yTU4o37X7B

— Huzeefa Nadaf (@Who_zeefa) October 21, 2020
Brendon McCullum, all day every day. pic.twitter.com/thDyoVrpPx

— Aditya Lohana (@__miflin__) October 18, 2020
Undoubtedly Brendon McCullum was a first bencher in his school life,
Humeshaa notes banaate rehtaa hai.. pic.twitter.com/UYZ735Sp0h

— N I T I N (@theNitinWalke) October 21, 2020
E Brendon McCullum flames kar re kya 😂😂😂😂 ….
Fantastic bowling by Lord siraj bhai💥💥💥👏#RCBvsKKR pic.twitter.com/PPKbWY3eHf

— Walter white😎 (@walterwhite121) October 21, 2020
Man wish God gave me ability to make notes like Brendon McCullum😭would've completed so many assignments and stuff

— . (@AKsCombat) October 22, 2020
Follow us on Google News