IPL 2020: Umpire stretches hands to declare wide in SRH vs CSK game; stops mid-way after MS Dhoni's reaction
David Warner didn't like what transpired in the middle.
Updated - Oct 13, 2020 11:52 pm
112K Views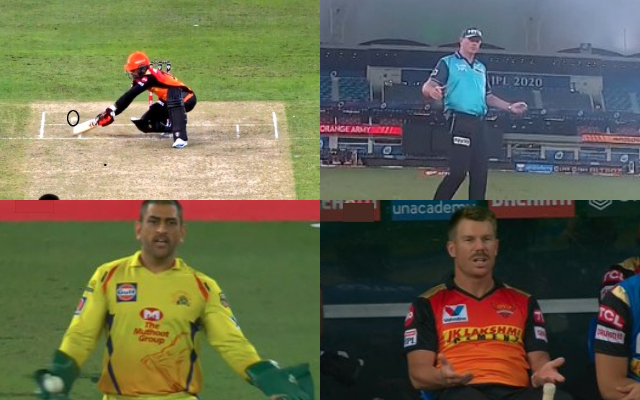 Chennai Super Kings (CSK), on Tuesday, defeated Sunrisers Hyderabad (SRH) by 20 runs in Dubai. But the game was closer than what the winning margin suggested. Despite losing wickets, SRH kept coming at the opposition in the chase and it added pressure on the MS Dhoni-led side. Dhoni rather also lost his cool at his bowlers and was seen questioning his fielders on one of the occasions.
At one stage, with Kane Williamson getting out in the 18th over, the game looked done and dusted. But Rashid Khan smacked 14 more runs in the same over to bring the equation down to 28 runs off last two overs. Shardul Thakur was brought back into the attack and there was pressure on both the sides, especially the bowler with the batsman having nothing to lose.
The 19th over, meanwhile, witnessed an interesting incident as well. The second ball of the over, Thakur bowled a wide first and then again bowled a delivery close to the tramline. The ball was rather well outside the tramline which guides the umpires to make their decision. Paul Reiffel, the straight umpire, was then set to stretch his arms to call the delivery a wide.
However, Thakur and MS Dhoni were furious even before the wide was given and Paul clearly came under pressure and withdrew himself. David Warner was sitting in the dugout and he was also not happy to see what transpired in the middle and even had his hands stretched questioning the way the decision was made. Though things were quite good in the end, the incident definitely created a bit of a controversy with the umpire withdrawing himself from calling it a wide.
Here's the video:
Dream11 Game Changer

And Csk will Top the Fair play award 😂 can anyone explain how?

Dhoni umpiring system? #SRHvCSK pic.twitter.com/3acj9xfM6K

— TARUN REDDY VIRAT (@tarun_reddy409) October 13, 2020
CSK register their third win of the season
The second half of the IPL 2020 began on Tuesday with both the teams playing their 8th match of the tournament. CSK were at the seventh position having won only two matches in their first seven outings and desperately needed this victory. They now have six points in their kitty and in a better position than before. However, they will have to keep winning to have any chance of making it to the playoffs.