IPL 2021: Harshal Patel reveals what sparked him to improve; speaks about RCB's death over plans
Harshal Patel had previously featured for RCB between 2012 and 2017.
Updated - Apr 13, 2021 10:00 pm
240 Views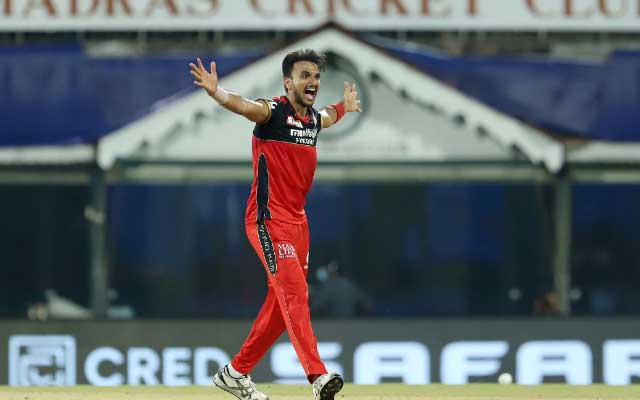 Royal Challengers Bangalore all-rounder Harshal Patel has been in the news after he took a five-wicket haul against Mumbai Indians in the opening match of the IPL 2021. Incidentally, he also became the first bowler to record a five-wicket haul against Mumbai Indians. 
Harshal Patel was making a comeback for the Royal Challengers Bangalore in the game. Between 2012 and 2017, the Haryana player was with the franchise. However, in 2018, he moved to Delhi Daredevils (now Delhi Capitals). In the three seasons at Delhi, he played only 12 matches. This year, he was traded by the Capitals to RCB. 
Ahead of RCB's second game of the season, the franchise organized a virtual press conference with Harshal Patel. During the interaction, Harshal revealed that in 2018, when he didn't get a lot of interest from the team, he started thinking about his game. He revealed that at the time, he wanted to improve his batting. 
When I was traded, I was told what kind of role I would be playing in the team: Harshal Patel
"In the 2018 IPL, a lot of people didn't show interest in me, and that struck me. I took it as an insult because I wanted to become a player who was a match-winner and had a lot of value. Then I realized that if I worked a little bit on my batting, people would start having faith in my batting, and I could become that valuable player," Patel said during the virtual press conference. Further, he spoke about how he feels he can become a valuable all-rounder if he proves his worth as a batsman. 
Patel also went on to reveal that he has been designated with the role of being the death bowler for the RCB. Patel's best season in the IPL was way back in 2015, when he got 17 wickets from 15 matches. But in the subsequent season, he played only five matches. In his comeback match for RCB, he got three wickets from four balls in the last over to complete his five-for. 
"When I was traded (from Delhi to RCB), I was told what kind of role I would be playing in the team. When we gathered for our first camp, there were very clear instructions to me that I was going to bowl at least two overs at the death. That gave me a lot of clarity and confidence to work on my skills and develop plans against certain batters that I could face in the death overs in various teams.", he said.
Watch Ben McDermott's Rapid Fire