IPL 2022: Mumbai Indians pay special tribute to Jasprit Bumrah as he completes 10 years with franchise
Bumrah has won five IPL championships with the team.
Updated - Mar 27, 2022 6:33 pm
2.3K Views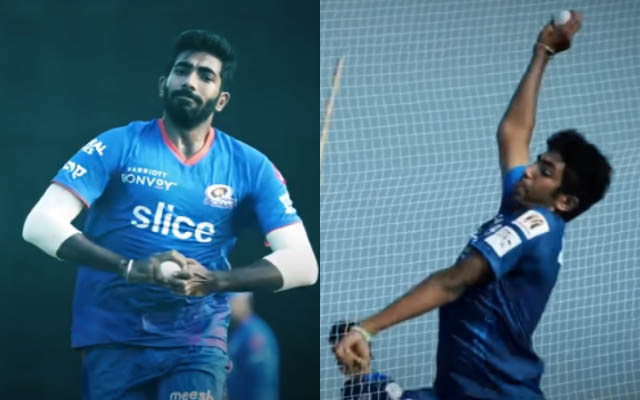 Follow us on Telegram
Mumbai Indians (MI) paid a special tribute to Jasprit Bumrah as the pacer completed 10 years with the side in the Indian Premier League. Bumrah's teammates Rohit Sharma and Kieron Pollard, alongside coaches Shane Bond and Mahela Jayawardene, shared their memories of his 10-year IPL journey. His wife Sanjana Ganesan, who is also a presenter at the IPL and ICC events, also shared her fond memories of him.
Bumrah made his IPL debut for Mumbai Indians in the year 2013, at a very young age of 19. He played his first game for MI against the Royal Challengers Bangalore and surprised everyone with his 3/32 on debut. He made a mark on day one when he picked Virat Kohli to claim his first IPL wicket.
Mumbai Indians shared a video of members of the team congratulating Bumrah on his decade-long journey in the IPL, on their official YouTube Channel. They titled the video, 'The Legend of Jasprit Bumrah | 10 Years of Boom', along with a caption reading: 'A special, heartwarming tribute to JB93 from those who have seen him go from Jasprit Bumrah to Jasprit 𝗕𝗢𝗢𝗠 𝗕𝗢𝗢𝗠 Bumrah'.
Bumrah started his IPL career with MI, 10 years back, and remains a crucial part of the team
Rohit Sharma, the skipper of MI, recalled his face-off against Bumrah in the nets 10 years back, as he revealed that he was clueless when he faced the then youngster for the first time. "The first time I faced him, I had no clue where the ball was coming from and how quick he was," Rohit said.
Adding to that, he also said that Bumrah would always keep chatting with Lasith Malinga, and that his presence at the camp has influenced him in a very positive manner. "They (Bumrah and Malinga) were always talking to each other about figuring out what they can do to be more lethal for the team," added Rohit.
Power-hitter Pollard also shared his first thoughts of playing with Bumrah for the first time, and said that he knew on the very first day that Bumrah had something to offer.
"Baby face, you know, all innocent in the face. But when he has that ball in his hand, very very lethal. When he got the two wickets (one of them being Kohli), the sending-off that he gave them, I said this guy has something about him," said Pollard of Bumrah.
Mumbai Indians bowling coach Shane Bond shared his special memories with Bumrah, saying how impressed he was with his bowling style, and found a comparison between their family backgrounds. "He bowls the tough overs for us. I don't know how many times he has bowled at the death and won us games," said Bond.
Follow us on Google News