IPL Fantasy League 2021 – Find out the Rules, Tips and Transfers
In this article, we will be covering the insights regarding the new changes made to this season's IPL Fantasy League.
Updated - Apr 6, 2021 11:43 am
5K Views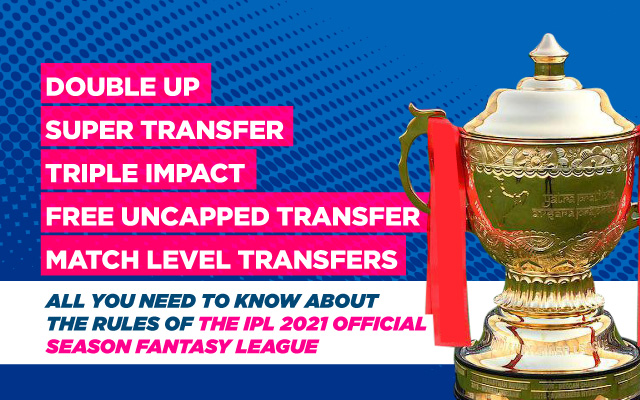 Follow us on Telegram
Woo-hoo… It's hardly five months and another exciting IPL season is here. This is probably the last season before the mega auction. Franchises have made some great buys at the auction which strengthened their teams. So we can hope to see another more competitive cricket season this time.
For fantasy players, it's double fun. While we enjoy the exciting match viewing time, we also equally enjoy the strategies, analysis, and friendly banter with respect to a fantasy game. While there are different kinds of fantasy games, season fantasy is the most favorite among fantasy lovers.
IPL has launched the official fantasy league powered by Dream11 already and they have made some cool changes to enhance the fantasy experience. This is the first article in the series of posts covering all the games this season. If you haven't created your team yet, go and create your team here
There will be a total of 110 transfers for matches 1 to 56. For Qualifier 1, there will be unlimited transfers. 10 new transfers will be given for the remaining playoff matches.
The basic details around creating the team and the game rules are available on the official fantasy website. In this article, we will be covering the insights regarding the new changes made this season.
---
Boosters > Double Up
By applying this booster before a match, we can earn double points for the match.
Use this booster wisely, especially for high-scoring all-rounders in your team, at a high-scoring venue.
Ex. Between April 21 and April 24, KKR and RR will be playing two games within four days span and are facing each other on April 24 in Mumbai. If we beef up the team with more players including high-scoring players like Russell, Shakib/Narine, Stokes, Morris, Buttler, etc, then we can use Double Up booster for this match.
---
Boosters > Super Transfer
By using this booster, we can do a complete make-over to our team without losing any transfers.
We could probably use this option when there are a very less number of players for the next two games.
If we do not spot an opportunity to use it, we can probably use this in one of the last few games at the end of the season.
Using this booster for the first eliminator game in the playoffs could be a good strategy as well.
---
Boosters > Triple Impact
By using this booster, we can score 3X points for a player in addition to your Captain (2X) and VC (1.5X). Use this 3X option for high-scoring all-rounders.
Ex. Ben Stokes, if he is opening the batting, bowling 4 overs, and is in good form, then he should be our 3X player and we should have still good players to score 2X (C), 1.5X (VC).
---
Free uncapped transfer
IPL unearths new uncapped talent every season and many teams do have uncapped players.
This season also, we have good uncapped talent like Nitish Rana, Devdutt Padikkal, Rahul Tewatia, Riyan Parag, Nitish Rana, Rahul Tripathi, Abdul Samad, K Gowtham, Ravi Bishnoi, Varun Chakravarthy, Shivam Mavi, Nagarkoti, Tyagi, etc.
We can make good use of free uncapped transfers wisely and get maximum returns with the given transfer limit.
Uncapped player spot in the final XI is more vulnerable. If the uncapped player is not performing well in one or two games, the player can lose their spot easily. So make sure to do the uncapped substitution only after confirming that the player is in the playing XI for the match.
For some reason, if we want to do your transfers before the toss, then do uncapped substitution with the sure-shot final XI players only (Ex. Nitish Rana, etc). Remember we can replace the uncapped substitution of any player, not necessarily the player in the immediate upcoming match.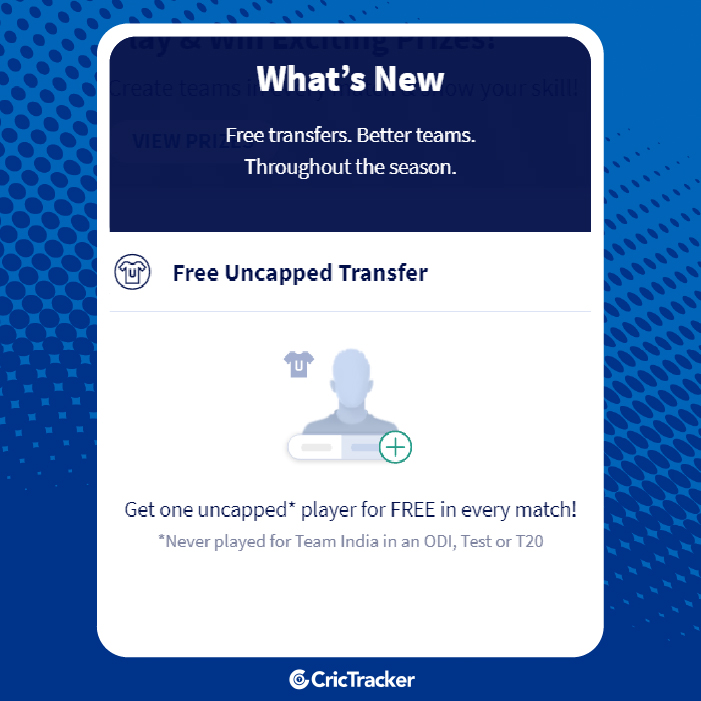 ---
Match level transfers
This was more confusing for the fantasy players last season. When there are two matches on the same day, we had to make changes for both the matches before the start of the first match itself. Because of this, we don't have an option to make our team changes after the toss, for the second game of the day.
But in this season, we can make changes before each match after the toss. Nice!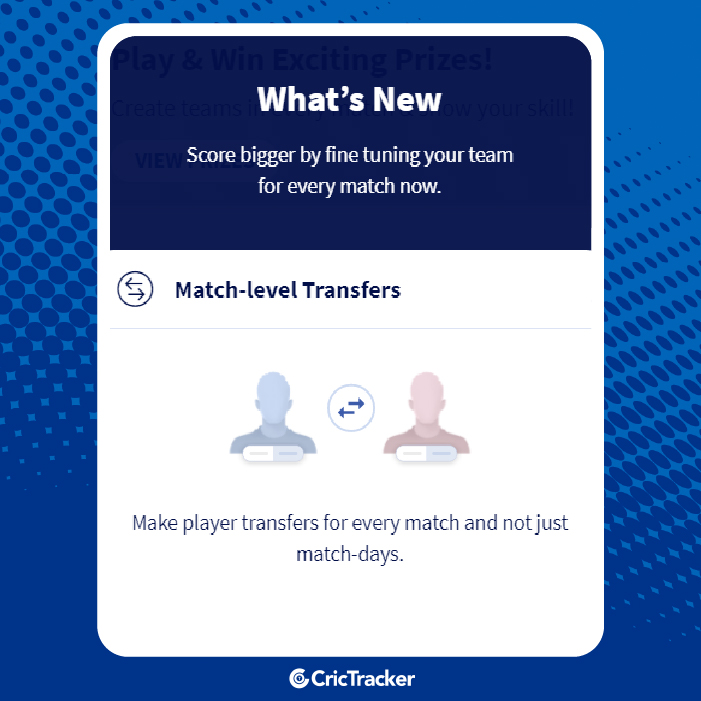 ---
In the next article, let us discuss various strategies and tips to follow while playing fantasy league.
Follow us on Google News