IPL's brand value shoots up by seven percent despite lockdown struggles
MI continue as the no. 1 IPL franchise brand in Brand Finance IPL 2021 ranking, following a 13% increase in brand value despite pandemic.
Get every cricket updates! Follow us on
IPL's brand value has risen by 7% year on year despite a 4-month delay and relocation to Dubai, reaching US$4.7 billion. Mumbai Indians continue as no. 1 IPL franchise brand in Brand Finance IPL 2021 ranking, following a 13% increase in brand value despite pandemic
Ahead of 15th edition auctions introducing two new IPL franchises, all eyes are on ranking's no. 2 and fastest-growing brand this year Chennai Super Kings, up 27%. With massive turnaround in Dubai leg of the season, Kolkata Knight Riders are 3rd most valuable brand, brand value up 13%
The globally followed and highly anticipated annual 20-20 cricket tournament, Indian Premier League (IPL), has recorded a 7% increase in brand value to US$4.7 billion, according to the latest report by the leading brand valuation consultancy Brand Finance.
Every year, Brand Finance puts 5,000 of the biggest brands to the test and publishes nearly 100 reports, ranking brands across all sectors and countries. The analysis of the brand value of IPL and its participating franchises is included in the new Brand Finance IPL 2021 report.
The IPL 2021 was unusual as it was played in two parts with a four-month gap. The brand has gained value primarily due to its reliability that the stakeholders can invest in the tournament and expect high returns. Although viewership waned in the second leg, media partners got their share of eyeballs through the multiple avenues offered. Merchandisers suffered due to no physical audiences in the stadiums, but franchises continued to engage heavily on digital and social media. TV and mobile viewership have held steady with viewership. The IPL is growing in stature as global sports promoters are showing greater interest in investing in the brand – either as a franchise owner or as a media partner – as the brand continues to offer entertainment and reliability each year.
Ajimon Francis, Managing Director, Brand Finance India, commented:
"The Indian Premier League in 2021 was a come-what-may tournament. Organizers displayed a healthy stubbornness to ensure that lockdown, bio-bubbles, and social distancing protocols did not prevent it from completing the entire league. Teams and advertisers did lose out on momentum and restart did not help some teams with their winning run of the first half. Audience interest waned towards the end of the tournament. The IPL governing council has shown doggedness in doing what it intends to do, thereby giving assurance to current and prospective stakeholders that their ROIs will be secured."
The IPL sponsorships saw a massive inflow of cryptocurrency players – exchanges, advisors, enablers – as all found the IPL platform the quickest way to reach the Indian viewers. Fintech brands continued to play a dominant role in sponsorships during the season. IPL platform is being increasingly perceived as a good ROI because of its 45-to-60-day window to reach a massive audience. Although the audience interest waned due to the four-month gap between the first and second phase, towards the playoffs the numbers stacked up. IPL continues to attract the best global talent like the LaLiga and the English Premiere League (EPL) have both accomplished in the soccer space.
The Tata Group has won the title sponsorship for IPL, making a bold statement of their corporate strategy by backing new age businesses in online retail, pharmacy, and the recently acquired iconic airline brand Air India. There is also a big draw for media sponsorship fight ensuing. Disney, Sony, Reliance's Jio, and the streaming giants Google and Meta are all in the run for media and broadcasting rights for the IPL.
Savio D'Souza, Valuation Director, Brand Finance, commented:
"The IPL brand has shown that it stands for continuity. Despite lockdown, quarantine restrictions, and global cricket calendar, IPL found a way to complete the tournament. That gives reassurance to all stakeholders that they can trust the brand with their involvement. The expansion in franchises, higher media rights, stickiness of viewers, new title sponsor, and the multiplicity of modes of viewing is all a result of the brand showing grit and consistency."
IPL's immense brand value growth over the past 14 years
For the purposes of the brand valuation, IPL has been treated as a single commercial entity, encompassing business values of all its parts. The income of the Board of Control for Cricket in India (BCCI) and the franchises was aggregated. All cross-charged income and expenditure has been ignored. In addition, the Brand Finance IPL 2021 report ranks the most valuable IPL franchise brands over the years.
Brand Finance has calculated the brand value of the IPL and each of its teams annually since 2009. After a determined 2021 season, the value of the IPL System grew 7% in 2021 to US$4.7 billion. This can be attributed to the stakeholders' renewed confidence in the IPL governing council's ability to conduct and complete IPL tournaments ensuring all stakeholders get their returns, all driving up the interest and participation in the tournament. It is key to note that the IPL brand has witnessed a spectacular growth of 134% since its launch in 2009.
Expect complete overhaul in 15th Auction with 10 teams in the league
IPL stuck to its promises of adding two more franchises to the 8-team tournament. This auction is a Mega Auction – which means barring few retained players and six players signed by the two new franchises, Lucknow and Ahmedabad, the rest of the players will be up for a bid by all the teams. Team owners have already made significant moves to secure their core players and zeroed in on prospects. This upcoming auction will ensure many team owners incorporate some young blood from the ongoing Under-19 world cup tournament.
A formidable brand built – Mumbai Indians demonstrated consistency
Mumbai Indians have topped the ranking as the most valuable IPL brand this year, following a 13% brand value increase to US$79.5 million. The remarkable growth in brand value over the past 14 years seen by Mumbai Indians, up an impressive 91% from US$41.6 million in 2009, is a real testament to the popularity of the players, team, management, and ability to overcome difficulties along the way.
MI has a string of team sponsors who have stayed loyal to the franchise – making MI the top revenue generator from team sponsors. Although merchandising opportunities diminished due to the pandemic, MI continues to leverage their creative digital campaigns and maintain engagement with their fiercely loyal fan base.
The team's strength revolves around their brand of cricket – full of confidence and with a pack of players who know their roles very well, ready to step up when required to take the team through. The Dubai leg of IPL 2021 was not very encouraging for MI as it failed to qualify for the playoffs but each of their matches were fiercely fought. The team's core fans continued to root for the team with very little dispersion observed in their loyalties.
MI lost its top spot in Brand Strength Index (BSI), with a score of 72.3 out of 100 ranking at the second position. MI brand continues to be a formidable brand with its consistent performances.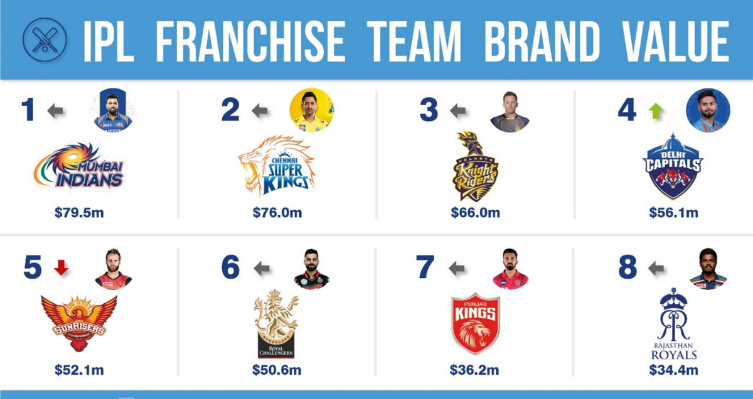 Chennai Super Kings – 'Dad's Army' showed that experience counts
Once mocked as 'Dad's Army' Chennai Super Kings proved their mettle with their consistency by defeating Kolkata Knight Riders in the final to win the IPL 2021 for the fourth time. CSK grew the highest in brand value by a significant 27% this year to US$76 million. The team's BSI is 72.9 out of 100 topped the charts as the strongest IPL brand in 2021.
CSK's formidable IPL 2021 performance was a result of good mix of young and old in the team with Ruturaj Gaikwad as the leading scorer of the tournament, bowlers who knew their roles, and a captain who could absorb the pressure of the playoffs. The team has a formidable core built carefully over a decade and showed their ability to perform in both domestic as well as overseas cricketing conditions.
Kolkata Knight Riders – Resurgent and never die spirit
Kolkata Knight Riders were at the bottom rung of the table at the end of phase 1. UAE saw a different face of KKR. The team found their mojo marching all the way into the finals. KKR are ranked third this year, the team's brand value growing 13% to US$66 million. KKR's brand strength grew to be ranked at 4th strongest brand, its BSI score growing 6 points this year to 67.8 out of 100.
With the consistency provided by captain Morgan, KKR discovered their confidence and gradually climbed up the ranks as the stage was set for the final play offs. KKR has always been a team that swelled in the support of its fan clubs, full stadiums, and the whole euphoria around the IPL. The empty stadiums and missing fans affected the team significantly.
Delhi Capitals – Led from the front
Delhi Capitals is ranked in 4th position, following a healthy 8% brand value increase to US$56.1 million. DC is IPL 2021's most exciting brand, climbing up the ranks and creating a strong pan-India fan following, much like MI and CSK. DC is 3rd strongest team in the ranking, with a BSI score of 68.6 out of 100.
With an exciting bunch of young Indian core players, Delhi is developing a style of their own – enjoyable team play on and off the field. DC was on top of the points table at the end of phase 1 and was a clear title favourite. They continued to build a fan base that cut across franchise loyalties. DC is a brand to watch out for – both as trophy favourites as well as top 2 in brand strength.
Sunrisers Hyderabad – A team that is recalibrating itself
Ranked in 5th position, Sunrisers Hyderabad's brand value has declined 9% to US$52.1 million. The team's performance, confusion among players, losing easily winnable matches, and continuous shuffle of players meant that the fans were falling off the brand's influence space – SRH dropped in both its brand value as well as brand strength – ranked 7th in brand strength with a score of 59.2 out of 100.
So steep the fall was for SRH that it finished the IPL 2021 at the bottom of the points table – which has been the team's worst performance in its history. The team's performance also had an impact on its social media following, digital marketing effectiveness, and the ability to create excitement in its online fan clubs.
Royal Challengers Bangalore – Finished on 3rd spot in the points table and the team fell apart
Royal Challengers Bangalore continues to be the 6th most valuable brand by brand value with a brand value of US$50.6 million (up 2%) and their brand strength shrunk by 2% with a score is 64.7 out of 100.
The RCB continues to depend on a few stalwarts and falls apart when they don't perform. This added with the aggression in attitude, the brand is gradually pushing itself into a corner of being unliked. In its heydays, RCB had one of the most passionate fan followers, fan clubs, merchandising range, and fantastic connections with its home fans in Bangalore. With the constantly changing venues, stoppages of tournaments, lockdown restrictions are quickly eroding the RCB wave.
Punjab Kings – Strong starts and fading away
Punjab Kings claim 7th spot, with a brand value of US$36.2 million down by 5%. Their BSI is down 2% with a score of 60 out of 100.
Punjab Kings is a brand that brings in a lot of jazz to the field. The team is still building its core and with the passing years, the team is facing opposition with an aggression that was little known in the past. Team coherence is emerging under the new leadership, exhibiting a brand of play that's very attacking and the fan base is becoming a force.
Rajasthan Royals – Team that depended on foreign players
Rajasthan Royals' ranked 8th in brand value ranking, eroded its brand value by 5% to US$34.4 million and their BSI score is 58.2 out of 100.
Dependence on overseas players and their absence in phase 2 in UAE cost Rajasthan Royals heavily. The team went rapidly to the bottom of the points table, finishing 7th in IPL 2021. The passionate fans of RR in India who ensured high merchandise sales and filled up stadiums were missing with the pandemic restrictions. RR brand is finding its rhythm for the longest time now. The team couldn't sustain its brilliance, and they blew hot and cold throughout the