'Is it ball tampering?' – Twitter reacts after watching England players scuff ball with their shoes multiple times
It happened during the fourth day's play at Lord's.
Updated - Aug 15, 2021 7:46 pm
32K Views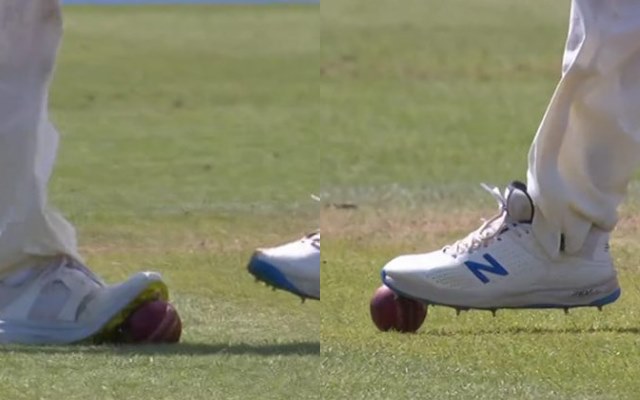 Follow us on Google News
Remember Cape Town Test 2018? The picture of Cameron Bancroft trying to hide the yellow paper in his pants had gone viral and soon, it was revealed that Australia were trying to change the condition of the ball. The repercussions of the incident were huge back home as the then captain and vice-captain, Steve Smith and David Warner, were banned for 12 months while Bancroft was told to stay away from cricket for nine months.
The ongoing second Test between England and India could come under the scanner in the same aspect. During the second session of Day 4 at Lord's, multiple pictures of England players trying to keep the ball under their shoes have gone viral on social media.
The players shoes have spikes and it certainly plays a role in changing the condition of the red cherry. The conditions, since Day three, have been absolutely brilliant to bat at the Home of Cricket and there hasn't been any kind of help in the air or off the pitch. The Indian bowlers were at the receiving end of a Joe Root masterclass as they didn't find much swing.
Sun shining bright at Lord's
Sun was out again at Lord's on Sunday and while India haven't really dominated the proceedings, they are not losing wickets in clumps either. And when conditions are bright and sunny, there is chance for the old ball to reverse as well. It doesn't exist in England where the ball keeps on swinging all the time. The pictures which have gone viral on social media might seek the attention of the umpires after the end of day's play as well.
With what can be seen, as many as three times, the ball could be seen under the players' shoes. It also remains to be seen if the hosts come out with an explanation about the same in case things go out of hand. Currently, some attritional cricket is being played at Lord's even as the Test is nicely poised.
Here are some of the tweets:
Ball tampering, eh? #EngvInd

— Wear a Mask. Stay Safe, India (@cricketaakash) August 15, 2021
Ball Tampering 👀 #INDvENG #IndvsEng #ENGvIND #ENGvsIND #BallTempering #IndiaAt75 pic.twitter.com/xXhXs8Bre8

— GurPreet ChAudhary (@GuriChaudhary77) August 15, 2021
What the hell is this @ICC @ECB_cricket @BCCI isn't it a case of ball tampering two English players involved @DrAVSharma @abhi_rocks1004 @ImAnuraagSharma @IamDhruv45 @IamAbhi4517 @Ayush_Shah_25 pic.twitter.com/JRjGYv62Mt

— मगोत्रा विकास 🇮🇳 (@Vkay_ix) August 15, 2021
That looks like ball tampering, England. It sure does… pic.twitter.com/qLeICi5i2D

— Shekhar Gupta (@ShekharGupta) August 15, 2021
Ball tampering? 😱#ENGvsIND pic.twitter.com/AOuvTjU2Pn

— Rushil Patale (@rushilpatale) August 15, 2021
What's this?

Ball tampering ??😑😑

England kabhi nai sudhrega pic.twitter.com/6NIzMp8jBL

— Ravi Desai 🇮🇳 19:29 ,19:48 ❤️ (@its_DRP) August 15, 2021
BALL TAMPERING ❓ pic.twitter.com/bdWgmYL32x

— 𝘼 𝙎𝙃𝙔𝘼𝙈 𝙋𝙍𝘼𝙎𝘼𝘿 (@ASHYAMPRASAD6) August 15, 2021
Ball tampering by England pic.twitter.com/xzwOyBfcx9

— Gurdeep ⚡ (@Gurdeep_0701) August 15, 2021
Ball Tampering 👀 #INDvENG #IndvsEng #ENGvIND #ENGvsIND #BallTempering #IndiaAt75
Shame on you @ECB_cricket pic.twitter.com/XIkVXIUjXw

— virat Akhil Hari (@ViratAkhilHari1) August 15, 2021
imagine the state of this side
Ball tampering when rahan and Pujara are on the crease😭

— naman (@_namanrathod) August 15, 2021
Clear evidence of ball tampering https://t.co/AKpZzYyz6k

— ವ್ಯಾಕ್ಸಿನ್ ಹಾಕುಸ್ಕೊ ಬಡ್ಡಿದೆ (@SadhuMaharaj16) August 15, 2021
They are deliberately making the ball rough from one side to extract reverse swing which is clearly ball tampering. Match referee should have a look #ENGvIND https://t.co/uL6p9KPvQw

— Prateek (@prateekv8) August 15, 2021
Spikes on the cricket ball… Another way of ball tampering?? England now? #IndvsEng @ECB_cricket @BCCI #Balltampering pic.twitter.com/0fv3cSSPCX

— mark rufus (@markrufus007) August 15, 2021
These guys need to look up what ball tampering is instead of fucking crying over nothing https://t.co/8bQwekLrNE

— Harry Chattaway (@chattaway_harry) August 15, 2021
Follow us on Telegram