Is Joe Root the greatest England Test batsman ever?
Joe Root is just 30 years old, and has a plethora of challenges that lie ahead.
Updated - Jan 16, 2021 6:03 pm
317 Views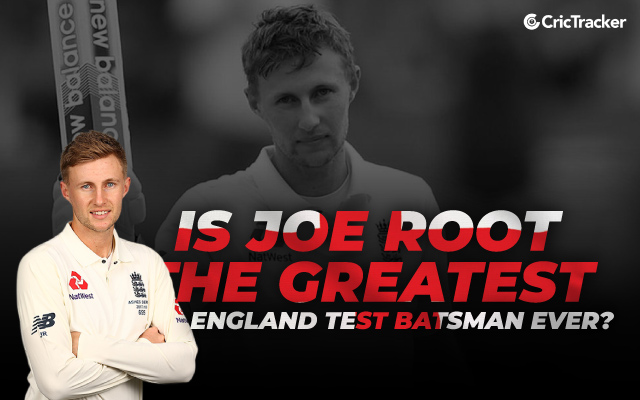 He departed after dissecting the bowlers with punctilious precision. He forged a mix of deliberate caution and controlled aggression to allow his side to occupy the driver's seat. And, in a sumptuous knock that lasted 321 deliveries, Joe Root scored 228 runs and allowed England to dictate the proceedings in the first Test against Sri Lanka.
Root also went past some significant milestones during his memorable knock. The right-hander became just the seventh England batsman to go past the 8000-run mark in Tests, and also scored the fourth double century of his career. Another 850 runs will allow him to leapfrog five England batting legends and will let him capture second place among the England batsmen with the most runs in the longest format of the game.
Now, there is no doubt that Root is 'one of' the greatest willow wielders to have ever worn the whites for England. But the question is, is he the greatest England batsmen ever in the longest format of the game?
The Joe Root magic at Galle
A little bit of background is needed to understand Joe Root's magical innings at Galle. Coming into the first Test of 2021, Root had gone 15 Test innings without a century. He had scored four half-centuries in this period, but a three-figure score was always eluding him. And, the England batting maestro made amends in riveting fashion at Galle against the islanders.
What was so impressive to see was Root's ability to adapt to the subcontinental pitches. England's No.4 came in, with the scorecard reading 17/2, with Lasith Embuldeniya having scalped both the England openers cheaply, and having his tail up. But then, Root stood up and neutralized the Sri Lankan bowling attack.
England's latest entrant into the 8000-run club employed more than half a dozen sweep shots, mostly off the bowling of left-arm spinner Embuldeniya. He watched the ball like a hawk, went down on his knees, and most importantly, kept his head still. And that is why, even though he played a lot of sweep shots against the turn, especially against Embuldeniya, Root was able to keep the ball along the carpet. He even stepped out and showed his aggressive side as well when he smashed Dilruwan Perera over his head for six. In fact, Root also brought up his double ton with a blazing sweep shot off the bowling of Embuldeniya.
Root's numbers allow him to tower over other England batting greats
Root has generated some stunning numbers in his illustrious Test career that has lasted almost a decade. Before going further, let us take a look at the highest run scorers for England in Test cricket.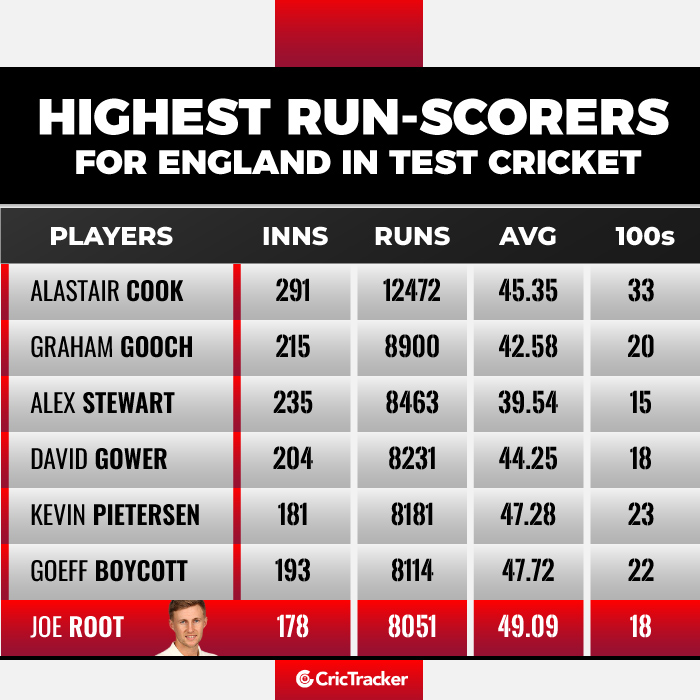 From the above table, we can see that Root has the highest average in the illustrious 8000 run club of England. While he now occupies a seventh place, if he scores another 849 runs, he will leapfrog five other England batting legends in the list and jump to second place, just behind Cook. And, with England slated to play as many as 9 Tests against India (both at home and away) this year, Joe Root can become England's second-highest run-getter even before 2021 comes to a close.
Now, let us go ahead and look at the England batsmen who have the most fifty-plus scores in Tests.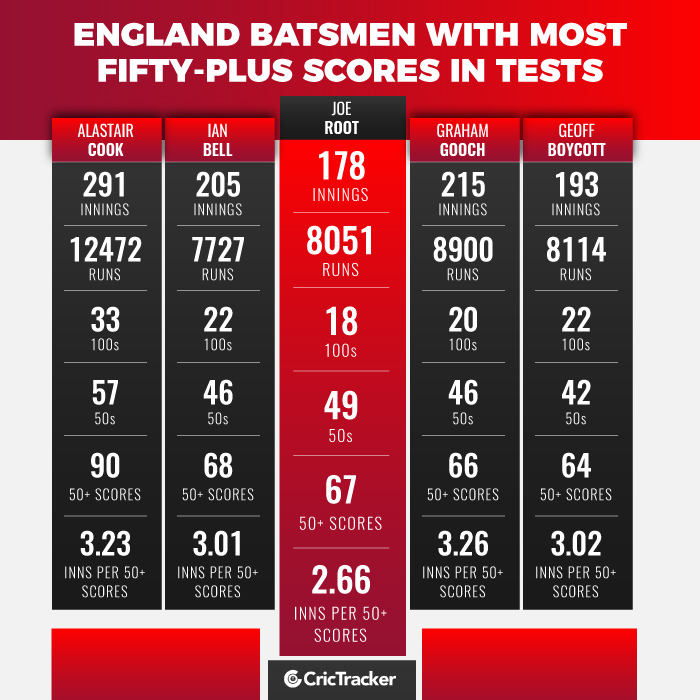 Root already stands third in the list of England batsmen with the most fifty-plus scores, and if he gets to two more such scores, he will overtake Ian Bell and occupy second place. But, what allows him to eclipse his illustrious countrymen is the frequency with which he notches up scores in excess of fifty. In fact, there is not a single England batsman in the above table who has a frequency of less than 3 innings per fifty-plus score.
Also Read
While Root notches up a fifty-plus score every 2.66 innings in Test cricket, the man who can come closest to him is Ian Bell, who notched up a fifty-plus score every 3.01 innings in the whites. Surely, Root is ahead of the others in this aspect.
Runs in a winning cause in Tests- NO England batting great comes close
Now, let us go ahead and compare the England batsmen in the 8000-run club in their ability to allow their side to win a Test match. The table below will reflect the same.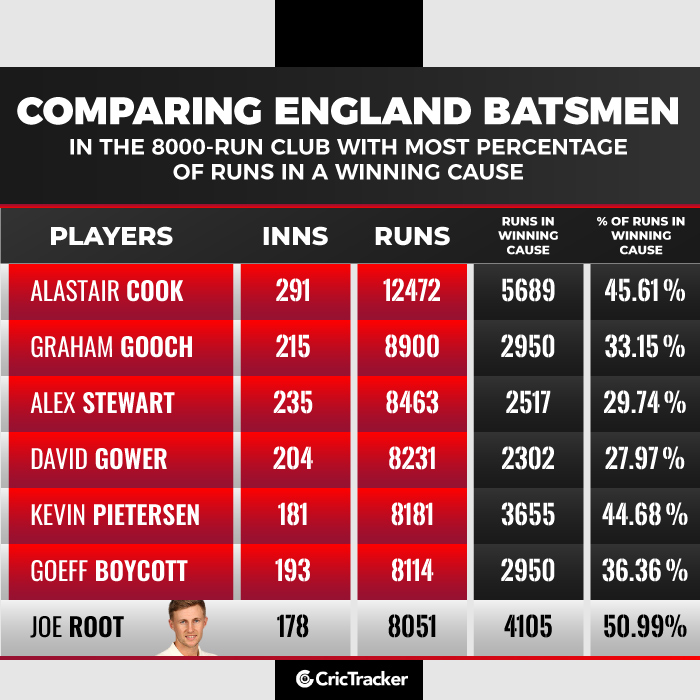 One look at the table helps us understand the importance of Joe Root. In the 8000 run club, Joe Root already stands second in the list of England batsmen with the most runs in a win in Tests (after Cook). But then, what makes him a match-winner is the fact that more than 50% of his runs in a Test match have resulted in a win for his country. 4105 out of Root's 8051 Test runs have resulted in a win for his country, which translates to a whopping percentage of 50.99. The man who can come closest to this record is Alastair Cook who has scored 45.61% of his runs in a win.
In Conclusion
Kevin Pietersen's flamboyance endeared him to the cricket-loving public. Alastair Cook's incredible longevity allowed him to carve a niche for himself with the willow. But then, in his 98 Test journey (including the Test against Sri Lanka) that has lasted close to a decade, Joe Root can rightfully take the crown to be called the greatest England willow wielder in the whites. And the best part is, he is just 30 years old and has a plethora of challenges that lie ahead.
And his legend will only grow, as he leads England to greater heights with the willow in his future endeavors.
Follow us on Telegram