'It was the correct decision' – Daryl Harper on Sachin Tendulkar's famous Shoulder-Before-Wicket dismissal
"Richie Benaud said the next day that the ball was not going to rise above the stumps", the former ICC Elite Panel Umpire added.
Updated - Jun 26, 2021 8:55 pm
5.5K Views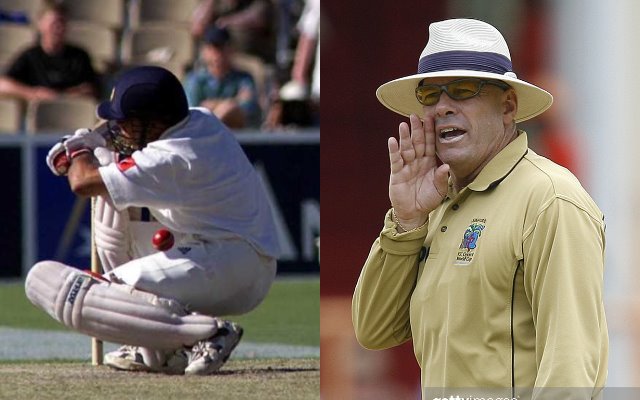 Follow us on Telegram
Daryl Harper, having officiated close to 200 International games in his career, is a name and face well recognized in the cricketing circuit. He was so popular in this part of the world, he even got to appear in a Bollywood movie (Victory, 2009). However, there were some incidents where his decisions infuriated the Indian crowd, the most infamous one involving the demigod of the masses, Sachin Tendulkar.
In what turned out to be a hapless session of Cricket at the Adelaide Oval during the 1999-2000 tour of Australia, India had lost Devang Gandhi, Rahul Dravid and VVS Laxman very early in reply to Australia's first-innings total of 441. At 27/3, Sachin Tendulkar had ducked for a short delivery, expecting it to rise well above him, but the low bounce took him by surprise and hit him on his shoulder.
Daryl Harper, who was yet to be granted to a place in the ICC Elite Panel at that point, had given Sachin out. Much to the surprise of the Sachin and the Indian fans, the captain had no other choice but to walk back. Despite the incident happening well over 2 decades ago, the audience still very bipolar about the verdict and the debates just can't find an end.
In an interview with The Sports Doyen, Daryl Harper once again talked about the infamous incident and affirmed the legality of the decision.
"It's not something I want to let go, It's something that happened, I made a decision. If I can have my book published this year, I want you to look at the section with still photographs that I'll have that will convince you without a doubt that it was the correct decision," Harper said.
Richie Benaud felt it was the right decision: Daryl Harper
Harper went on to quote that Richie Benaud, who was on air during the broadcast of that Adelaide Test, felt it was the right decision as the ball wasn't rising high enough to clear the stumps.
"Richie Benaud was on air that day. India were 3 for 27 and very quickly they were 4 for 27. Richie Benaud came back on air the following day and when he was on air, he said that from the vision he saw, and the photographs he saw, the ball had reached its highest point. It was on its way down and was not going to clear the stumps," the 69-year-old added.
Watch the full interview here:
Follow us on Google News