Jagadeesha Suchith Interview: 'Maxwell's wicket was my moment of IPL 2015'
Updated - Sep 25, 2015 10:21 am
80 Views
Jagadeesha Suchith Interview: 'Maxwell's wicket was my moment of IPL 2015': A debut is the day every cricketer dreams to live. You make a debut the first time you walk out wearing the helmet, a pair of gloves, those pads and, have a good-looking bat in hand. Right after that moment one starts living towards another debut, to play for a recognized team, then for the state team, and this dream of a debut moves a step further as the player makes his way higher in the ranks.
This debut story is of the 21 years old Jagadeesha Suchith. A left-arm orthodox bowler and a left-handed batsman, Jagadeesha Suchith finally made his First Class debut for Karnataka this week when he played for the state team against the touring Bangladesh A. He isn't a new name in the cricketing fraternity, some of us saw him play for Mysuru Warriors in the previous edition of the Karnataka Premier League, a few might have also seen him play for Karnataka against Punjab in the final of the Vijay Hazare Trophy 2014-15. But most of us came across this face during the Indian Premier League 2015.
He was signed in by the Mumbai Indians for the season and played 13 games for them and towards the end of the tournament we got a feeling that there is another prospective player in him, who can go on and make it count at the highest level.
Here we have today, the man who made his First Class debut and a noticeable one, Jagadeesha Suchith in an interview with CricTracker.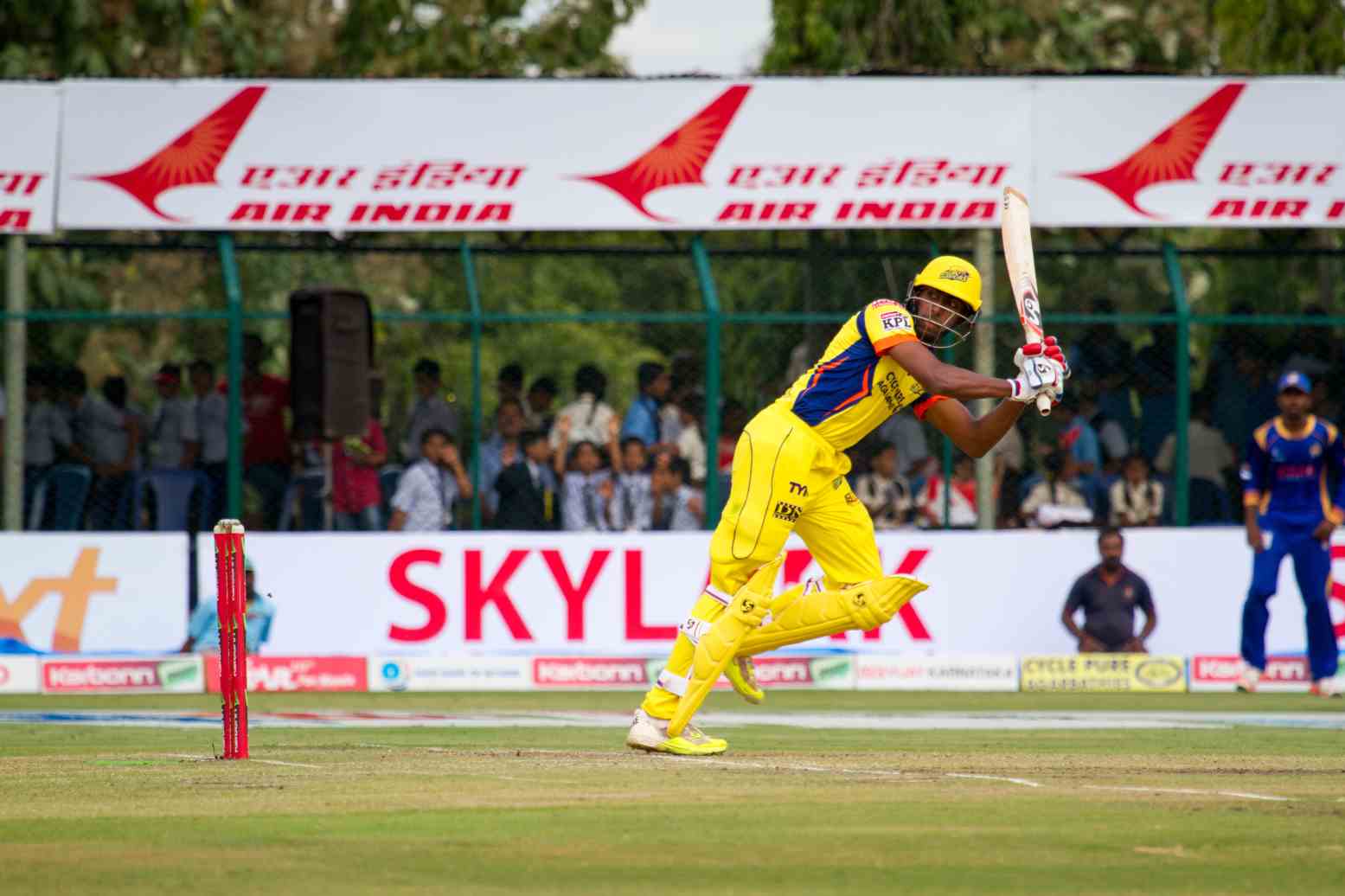 Excerpts from the interview:
First of all congratulations for making it to the Karnataka state team ahead of the Ranji season 2015-16, how does it feel to be playing for the Champion team?
Jagadeesha Suchith – Thank you, it feels good. The team is looking good despite the fact that a lot of our regular players are not there with us; most of them are with India and India A teams. It feels good to be a part of the champion team.
Tell us a little about your cricketing journey, how did it start, when did your start taking your cricket seriously and how smooth was your ride till now?
Jagadeesha Suchith – Cricket for me started at 9 or 10 at the Mysuru gymkhana. I have played age cricket for Karnataka team at U16, U19, U22, U23 and U25 levels. Last year I was also a part of India U23 team, was there with the south zone team twice as an U19 cricketer.
How big a role did your KPL performance play in getting the call-up in the state side?
Jagadeesha Suchith – KPL definitely had a role to play; it is a good platform for youngsters. It was during the last KPL that I got noticed by the talent scouts of a couple of IPL franchises, so it helped me get noticed and it is a good platform for youngsters from Karnataka to perform.
You were a part of Mumbai Indians in the IPL and played under the influential names like Sachin Tendulkar, Ricky Ponting and Anil Kumble, how much do you think the stint with MI change you as a player?
Jagadeesha Suchith – It definitely changes you a lot; their values, the way they speak, you have a lot to learn and your perception changes. Being with them changed the way I looked at the game, from the team's perspective as well as my personal game. It helped me a lot to get mentally strong and mature me as a cricketer.
What do you think was your moment in the IPL 2015?
Jagadeesha Suchith – I got Kings XI's Glenn Maxwell out in of one the games; getting his wicket was my moment in the IPL 2015.
Share an experience with Sachin Tendulkar you will cherish throughout?
Jagadeesha Suchith – We were leaving after the celebrations that followed our win in the finals. I was talking to him (Sachin) and he said keep working hard and keep believing; things will change overnight and you will be surprised how fast things will change and never give up. This conversation, his advice, it is something I will cherish throughout.
Your team the Mysuru Warriors was the champion of the last season of the KPL but this time round very little went in your favor; what do you think went against you guys this season?
Jagadeesha Suchith – I don't think anything went against us, last year we were on top of our game in all the departments. In this season we were outplayed especially on the field, we lost out on key moments, as a fielding unit and losing out those moments is what really cost us the tournament.
We saw Jagadeesha Suchith hit a few quick fire knocks in the later parts of the KPL; do you take your batting seriously?
Jagadeesha Suchith – Definitely, I think of myself as an all-rounder, a left arm spinner who can bat. I take my batting seriously. I definitely make it a point to work on my batting as well, once I am done with my bowling I look though my batting so that I can contribute both with the bat and the ball.
You played with Vinay in the IPL and against him in the KPL and now will be playing under him in the Karnataka team, how well do you know the skipper?
Jagadeesha Suchith – We were in the same team in the IPL, I have played with him, and under him in various teams; I am looking forward to it, he is a very positive captain, he will always keep you comfortable, he will help you with his inputs and guides us to implement it in our game and helps in taking the game to the next level.
Karnataka has been at its best in the last couple of years in Indian domestic cricket winning back to back Ranji Trophies and other domestic championships, how positive are you about the upcoming season?
Jagadeesha Suchith – Most of our players are playing in the Indian team or the India A side. We played the Bangladesh A team today, 7 of our regular players were not available for this game but we did well and won the game. The amount of hard work we have put-in, in the last couple of years is paying off and we are doing really well.
Your team beat Bangladesh A in the 3-day game, today and you played a key role in the win, with 7 wickets and 40 odd runs in the game. Where do you see yourself a couple of years down the line?
Jagadeesha Suchith – I don't want to go too far, I want to take one game at a time, I just made my First Class debut today, for which I was waiting for the last couple of years. I don't know about the future, but whatever chances I get will try to cash upon those. I just want to take one game at a time and keep raising my game and the performance bar, keep getting better; that is where my focus is.
Follow us on Telegram