James Anderson's brutal protest to Ashwin's 'Mankading' irks Deep Dasgupta
England pacer James Anderson shocked the world with his own mode of protest against Ashwin's 'Mankading' as he shredded a picture of the Indian bowler.
Updated - Apr 1, 2019 11:01 pm
1.9K Views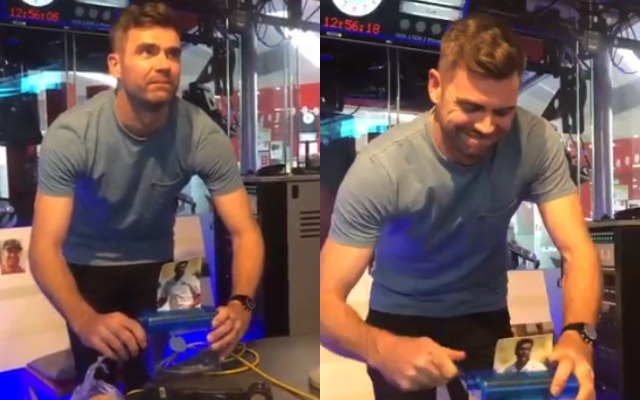 The act of 'Mankading' that Indian off-spinner Ravichandran Ashwin committed against English batsman Jos Buttler during a game in the Indian Premier League (IPL) 2019 last Monday will perhaps remain the biggest controversy of this edition. Ashwin, who is the captain of Kings XI Punjab (KXIP), was bowling when he decided to dismiss Rajasthan Royals' (RR) Buttler who was at the non-striker's end by picking up the bail as he left the crease in the hunt for a run. Ashwin came under intense criticism for the act that though was legally valid and Buttler, who was playing on 69 from just 43 balls, had to return.
The RR's brand ambassador, Shane Warne, was ruthless in his take on the incident although there were also people who did not find anything wrong in the offie's action. But England pacer James Anderson also shocked the world with his own mode of protest against Ashwin's 'Mankading' as he shredded a picture of the Indian bowler. A video of his unusual protest became viral on the social media and it also invited divided reactions. While some found it funny, others were upset.
Lacked civility, feels the former India keeper
Among those upset were former India wicketkeeper Deep Dasgupta, currently a cricket commentator and analyst. Expressing his utter disappointment over the English paceman's mode of protest, Dasgupta suggested in a tweet that the act by a cricketing legend lacked civility and said that he did not find anything funny in it.
Surely there must be a more civilised way of showing disagreement, from a cricketing legend and if that's meant to be funny, glad I don't have a sense of humor https://t.co/cPnazE1Im3

— Deep Dasgupta (@DeepDasgupta7) April 1, 2019
Ashwin's act in the 13th over saw RR losing their way from a comfortable position. Chasing 185 to win, RR were 108 for 1 at one stage but eventually managed 170 for 9 in their allotted 20 overs to lose the game by 14 runs. Ashwin though remained unfazed by the harsh criticism saying whatever he had done was well within the ambit of law.
The critics were so upset with Ashwin that when he erred in placing the fielders correctly in the next match against Kolkata Knight Riders and the umpire called a delivery that had bowled the dangerous Andre Russell invalid and he went on to win the game for them, they hit back at the Indian cricketer calling it "karma".