James Taylor reveals the painful details of his heart condition that forced him into retirement
Taylor was regarded as one of the brightest prospects for the England national team
Updated - May 21, 2018 10:52 am
357 Views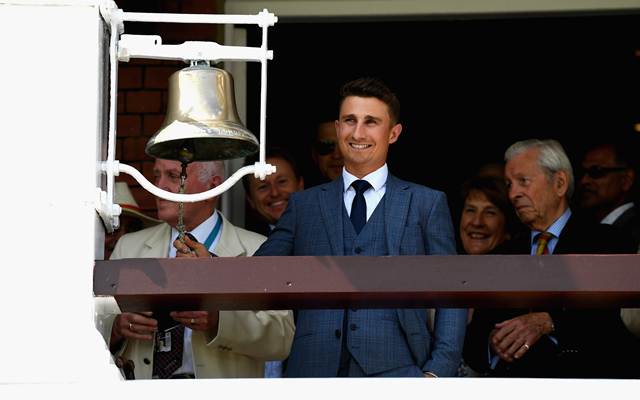 Follow us on Google News
Cricket is a beautiful game. Though players want to have long and fruitful careers, they never know what destiny holds for them. Some careers are cut short due to injuries while others have to retire early because of their bodies not supporting them. The hectic schedule of the modern day game has increased the chances of injuries as players have very little time off the field. The introduction of franchise-based T20 cricket has added more game time to the already busy schedule of cricketers.
James Taylor, former England batsman was forced to retire at the age of 26 due to a rare heart problem. In an excerpt from his autobiography 'Cut Short' carried by the Daily Telegraph, Taylor writes of the day the symptoms of his condition which was later found to be a rare and serious problem called arrhythmogenic right ventricular cardiomyopathy first showed up.
Raw and unbridled fear
The 28-year-old was warming up for a routine pre-season match at Cambridge University when his chest started to feel tight. He started gasping for breath and did not know what was happening to him. "I walked off to the changing rooms. My heart was now going what felt a million miles an hour. I could actually see my chest moving, my skin expanding and contracting, fit to burst. It looked so unnatural. It made me feel sick to see it." wrote Taylor.
The Nottinghamshire physio Jon Alty dragged Taylor out of the toilet but he was unable to explain his situation as he was finding it difficult to breathe. After being admitted to the hospital, the expression of doctor's faces was something that he would not forget for the rest of his life. "The machine (heart monitor) said it was pounding at 265 beats a minute. The doctors looked at one another. Strangely, it's the little things you notice at a time like that, and the expression on their faces – shock, disbelief – is something I won't forget." added Taylor.
Taylor's heart had been through the equivalent of running six marathons. His excellent fitness levels had saved him as others wouldn't have had a chance in this condition. 'Troponin', an enzyme that is released when the heart is under stress went up to 42000. Taylor says that it was the first time he felt raw and unbridled fear. Post-retirement, Taylor works with the BBC Radio cricket commentary show Test Match Special.
[interaction id="5b0121a381387e8285526f52"]
Stay updated on 'today's cricket news' with CricTracker.com
Follow us on Telegram