Jason Holder with his all-round effort gains across all ICC Test rankings
Dowrich, Dickwella, Dilruwan and Lakmal among others to gain in the latest update.
Updated - Jun 27, 2018 4:42 pm
598 Views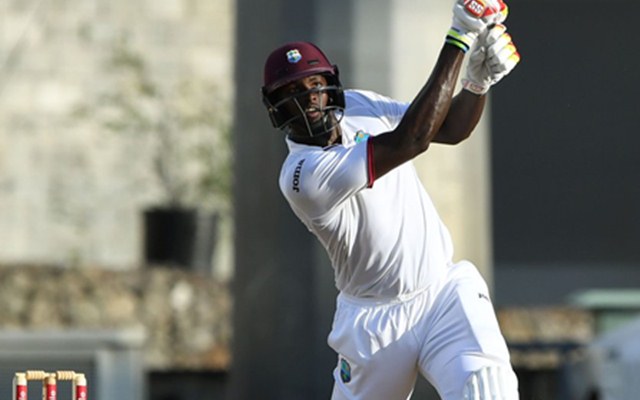 Windies captain Jason Holder has made notable upward movement in the ICC Test Player Rankings after a fine all-round effort in the Bridgetown Test, which his side lost by four wickets as the three-match series ended in a 1-1 draw on Tuesday. Holder has moved up 10 places to take the 54th position among batsmen after scores of 74 and 15, while his impressive match haul of 9/60 has lifted him 11 places to a career-best 25th position among bowlers. The 26-year-old from Barbados has also moved up three slots to take the sixth position in the all-rounders' list.
Holder's team-mate Shane Dowrich has gained 14 places to take the 51st position among batsmen after scores of 71 and 16, while several Sri Lanka players have advanced in the rankings after their team became the first from Asia to win a Test match at the Kensington Oval in Bridgetown.
Niroshan Dickwella has gained three places to reach 37th position after scores of 42 and six, while Dilruwan Perera's 34 runs in the match, including a fighting 23 not out that anchored the chase, has helped him move up by two slots to take 85th position.
Among their bowlers, stand-in captain Suranga Lakmal has gained one slot to reach a career-best 28th position after picking five wickets in the match, while Lahiru Kumara (up 10 places to 41st) and Kasun Rajitha (up 27 places to 44th) have also made notable gains.
Sri Lanka and the Windies have retained their sixth and ninth positions in the ICC Test Team Rankings, but the Windies now have the chance to move ahead of Bangladesh by winning an upcoming two-Test series against them.
Series scenarios:
Bangladesh win 2-0: Bangladesh 83, Windies 67
Bangladesh win 1-0: Bangladesh 80, Windies 68
Drawn series: Bangladesh 75, Windies 72
Windies win 1-0: Windies 75, Bangladesh 69
Windies win 2-0: Windies 77, Bangladesh 67
Series schedule:
4-8 July: 1st Test, Antigua
12-16 July: 2nd Test, Kingston
ICC Test team rankings
| | | |
| --- | --- | --- |
| Rank | Team | Points |
| 1 | India | 125 |
| 2 | South Africa | 112 |
| 3 | Australia | 106 |
| 4 | New Zealand | 102 |
| 5 | England | 97 |
| 6 | Sri Lanka | 91 (-3) |
| 7 | Pakistan | 88 |
| 8 | Bangladesh | 75 |
| 9 | Windies | 72 (+5) |
| 10 | Zimbabwe | 2 |
ICC Test batsmen rankings
| | | | | | | |
| --- | --- | --- | --- | --- | --- | --- |
| Rank | (+/-) | Player | Team | Pts | Avge | Highest Rating |
| 1 | (-) | Steve Smith | Aus | 929 | 61.37 | 947 v SA at Durban 2018 |
| 2 | (-) | Virat Kohli | Ind | 903 | 53.4 | 912 v SA at Johannesburg 2018 |
| 3 | (-) | Joe Root | Eng | 855 | 52.28 | 917 v Aus at Trent Bridge 2015 |
| 4 | (-) | Kane Williamson | NZ | 847 | 50.35 | 893 v Aus at Perth 2015 |
| 5 | (-) | David Warner | Aus | 820 | 48.20 | 880 v NZ at Perth 2015 |
| 6 | (-) | Cheteshwar Pujara | Ind | 799 | 50.34 | 888 v SL at Nagpur 2017 |
| 7 | (-) | Dean Elgar | SA | 784! | 42.58 | 784 v Aus at Johannesburg 2018 |
| 8 | (-) | Aiden Markram | SA | 759*! | 55.55 | 759 v Aus at Johannesburg 2018 |
| 9 | (-) | Dinesh Chandimal | SL | 747 | 44.96 | 755 v Win at St Lucia 2018 |
| 10 | (-) | Hashim Amla | SA | 726 | 48.03 | 907 v Pak at Abu Dhabi 2013 |
Other select updates
| | | | | | | |
| --- | --- | --- | --- | --- | --- | --- |
| Rank | (+/-) | Player | Team | Pts | Avge | Highest Rating |
| 25 | (-) | Tamim Iqbal | Ban | 617 | 38.68 | v Aus at Mirpur 2017 |
| 26 | (-) | Mushfiqur Rahim | Ban | 615 | 34.96 | v Aus at Chittagong 2017 |
| 27 | (-) | Mominul Haque | Ban | 612 | 46.82 | v Pak at Mirpur 2015 |
| 37 | (+3) | Niroshan Dickwella | SL | 568* | 32.38 | v Ind at Kolkata 2017 |
| 51 | (+14) | Shane Dowrich | Win | 497*! | 28.91 | v SL at Barbados 2018 |
| 54 | (+10) | Jason Holder | Win | 488! | 30.12 | v SL at Barbados 2018 |
| 85 | (+2) | Dilruwan Perera | SL | 375 | 21.47 | v Pak at Dubai 2017 |
ICC Test bowlers rankings
| | | | | | | |
| --- | --- | --- | --- | --- | --- | --- |
| Rank | (+/-) | Player | Team | Pts | Average | Highest Rating |
| 1 | (-) | Kagiso Rabada | SA | 897 | 21.59 | 902 v Aus at Port Elizabeth 2018 |
| 2 | (-) | James Anderson | Eng | 892 | 27.23 | 896 v Win at Lord's 2017 |
| 3 | (-) | Ravindra Jadeja | Ind | 866 | 23.11 | 899 v Aus at Ranchi 2017 |
| 4 | (-) | Vernon Philander | SA | 845 | 21.46 | 912 v Ind at Johannesburg 2013 |
| 5 | (-) | Ravichandran Ashwin | Ind | 811 | 25.34 | 904 v Eng at Mumbai 2016 |
| 6= | (-) | Morne Morkel | SA | 800! | 27.66 | 800 v Aus at Johannesburg 2018 |
| 7 | (-) | Pat Cummins | Aus | 800*! | 23.81 | 800 v SA at Johannesburg 2018 |
| 8 | (-) | Trent Boult | NZ | 795 | 27.84 | 825 v Eng at Lord's 2015 |
| 9 | (-) | Neil Wagner | NZ | 765 | 28.26 | 785 v Win at Wellington 2017 |
| 10 | (-) | Josh Hazlewood | Aus | 759 | 26.84 | 863 v Ind at Bengaluru 2017 |
Other select updates
| | | | | | | |
| --- | --- | --- | --- | --- | --- | --- |
| Rank | (+/-) | Player | Team | Pts | Avge | Highest Rating |
| 25 | (+11) | Jason Holder | Win | 588*! | 34.38 | 588 v SL at Barbados 2018 |
| 28= | (+1) | Suranga Lakmal | SL | 574! | 41.28 | 574 v Win at Barbados 2018 |
| 41 | (+10) | Lahiru Kumara | SL | 379*! | 36.87 | 379 v Win at Barbados 2018 |
| 44 | (+27) | Kasun Rajitha | SL | 374*! | 14.54 | 374 v Win at Barbados 2018 |
| 20 | (-) | Shakib Al Hasan | Ban | 655 | 32.35 | 705 v Aus at Mirpur 2017 |
| 34 | (-1) | Taijul Islam | Ban | 512*! | 35.81 | 512 v SL at Dhaka 2018 |
ICC Test all-rounders rankings
| | | | | | | |
| --- | --- | --- | --- | --- | --- | --- |
| Rank | (+/-) | Player | Team | Pts | Avge | Highest Rating |
| 25 | (+11) | Jason Holder | Win | 588*! | 34.38 | 588 v SL at Barbados 2018 |
| 28= | (+1) | Suranga Lakmal | SL | 574! | 41.28 | 574 v Win at Barbados 2018 |
| 41 | (+10) | Lahiru Kumara | SL | 379*! | 36.87 | 379 v Win at Barbados 2018 |
| 44 | (+27) | Kasun Rajitha | SL | 374*! | 14.54 | 374 v Win at Barbados 2018 |
| 20 | (-) | Shakib Al Hasan | Ban | 655 | 32.35 | 705 v Aus at Mirpur 2017 |
| 34 | (-1) | Taijul Islam | Ban | 512*! | 35.81 | 512 v SL at Dhaka 2018 |