Jimmy Neesham hilariously explains how he deals with trolls on Twitter
Jimmy Neesham has been known for some really funny tweets and has been quite popular for that.
Updated - Aug 28, 2021 7:13 pm
2.1K Views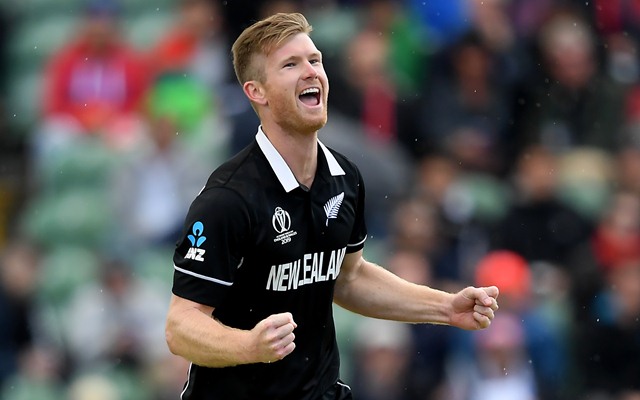 Follow us on Telegram
Jimmy Neesham has made a name for himself off the field by putting up funny tweets which have been well received by the fans. The New Zealand all-rounder is someone who follows cricket from across the globe and has been seen making his opinions vocal via social media. But, being a social media star has its perks and disadvantages. 
There are a lot of people praising and showering love when things are going well for you. But then, from time to time, there will be some fans who will cross the line. The people who specifically say things that are harsh and can hurt someone's sentiments. Being a cricketer, Jimmy Neesham has faced a lot of that and he revealed to Twitter how he deals with his people who troll him. 
Jimmy Neesham shows how many accounts he has blocked and muted
The incident started with ESPNCricinfo putting up a picture of Jonny Bairstow having a white balloon in his hand which had flown into the ground at Headingley, Leeds during the third Test between England-India. The caption was, "Red-ball cricket > white-ball(oon) cricket." To this, Neesham replied, "Coincidentally that's what the white ball actually looks like to @jbairstow21".
And when you burst it, that what it looks like to you in any format? Difficult to spot!

— Ronald D Sampson (@RDSampson_25) August 28, 2021
After the reply from Neesham came around, another Twitter user said, "And when you burst it, that what it looks like to you in any format? Difficult to spot!" This was an attempt to troll the Kiwi all-rounder but the fan miserably failed as Neesham just shrugged off the tweet by saying, "It was a decent effort but Nah."
Why don't you block those who troll you? 🤔

— Rushil Patale (@rushilpatale) August 28, 2021
Another fan at this point, questioned Neesham "Why don't you block those who troll you?" The Blackcaps players responded by putting up a screenshot in which he had shown the number of accounts whom he had blocked or muted. It showed that the cricketer had blocked 515 accounts while muting 1447 accounts. 
Lol https://t.co/NgPM5pskET pic.twitter.com/8ByiQMo0Lf

— Jimmy Neesham (@JimmyNeesh) August 28, 2021
It was also seen that there are two muted words. Later, he also put a tweet clarifying what those two words are. He also explained in another tweet how he decides who is getting blocked and how is getting muted. 
I mute someone if I just don't want to see anything they say, I block them if I want them to know that I hate them 😂 https://t.co/oMg2qSxGh1

— Jimmy Neesham (@JimmyNeesh) August 28, 2021
Since pretty much everyone's asking. It's the most annoying thing on Twitter 😂 pic.twitter.com/pwNw3zZ9T2

— Jimmy Neesham (@JimmyNeesh) August 28, 2021
Follow us on Google News