Jos Buttler gets interrupted by his daughter Georgia while talking to the reporters
Georgia was in a joyful and happy mood and was trying to play with her father.
Updated - Nov 17, 2020 7:21 pm
14.1K Views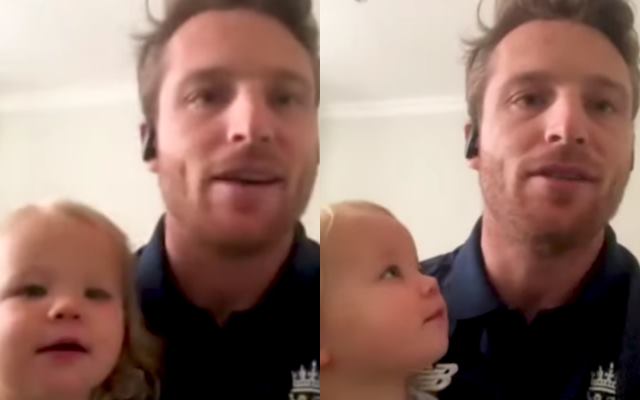 England's limited-overs vice-captain Jos Buttler was involved in an interaction with the reporters before taking a flight to South Africa with his England teammates for the limited-overs series. England will play six limited-overs matches – three Twenty20 games followed by three one-day internationals – in South Africa between November 27 and December 9.
While Buttler was speaking about the hardships caused due to the ongoing coronavirus pandemic and how the cricketers are lucky to continue playing despite the difficult times, he had to stop speaking as he was suddenly interrupted. However, Jos would never mind such kind of distractions as he was interrupted by none other than his daughter Georgia, who is 18-months-old.
Georgia was in a joyful and happy mood and was trying to play with her father. Thus, Buttler continued the Zoom Call by making his daughter sit on his lap. During the interaction, Jos reckoned that he was able to cope with the bio-bubble in the just-concluded 13th edition of the Indian Premier League (IPL 2020) due to the presence of his wife Louise and daughter Georgia.
Jos Buttler opines on living in a bio-secure bubble
"Having my family with me during the IPL has been a huge plus for me and my mental well-being and time spent with them. It makes a huge difference. (In England) they'd be an hour, half-an-hour down the road and you couldn't get back to see them. It was fantastic to be able to take my wife and daughter out to the IPL and made a big difference having them there with me and spending so much time together," Jos said in the Zoom call.
Notably, the cricketer has lived a major portion of his life since July in a bio-secure bubble. The England team has been constantly involved in competitive cricket. First, they hosted the West Indies, followed by Pakistan and Australia. As the players returned from IPL, they will now be entering another bio-bubble in South Africa.
Speaking about the experience of living in a bubble, Buttler said as quoted by Times of India, "I found it was tougher to escape staying at hotels on the grounds in England. They were high-pressure matches and when you've put a lot into the game, it's nice to get away."
"We won't get to fully enjoy South Africa but everyone has become accustomed to what it's going to be like. But if you're feeling under pressure or not quite yourself, the key is to have the confidence to open up and talk about it," he added.
Watch the video