Keaton Jennings learnt the art of dealing with spin from Virat Kohli
Updated - Dec 10, 2016 6:36 am
52 Views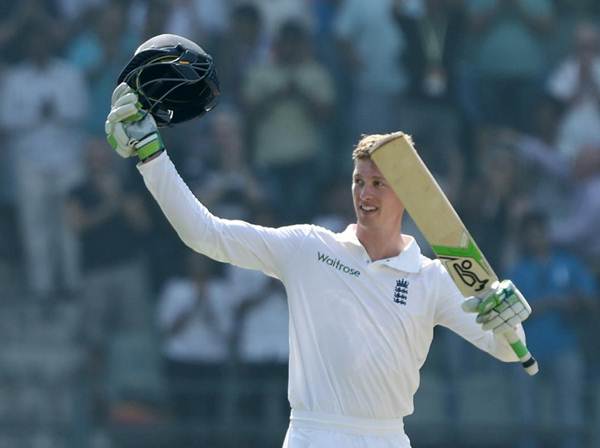 England came into the fourth Test at Mumbai with another forced change, their first choice opener for the series Haseeb Hameed injured himself and another youngster Keaton Jennings from Durham was called up as his replacement. The 24-year-old had impressed quite a few analysts back home with not just his form but the way he scored his runs as well. When the big day arrived he was at his best and delivered.
Jennings walked out to bat on the first morning of the Mumbai Test with skipper Alastair Cook and batted with immense maturity, though he was a bit tentative early on, once the settled he was batting with a lot more control and dealt with the Indian spinners really well. He batted really well and got to his maiden Test century on debut.
His father former South Africa cricketer and Royal Challengers Bangalore coach Ray Jennings said that his Keaton benefited from the knowledge Ray passed on having observed how Indian Test skipper Virat Kohli bats against spin. "I've worked with and watched Virat Kohli over the years. He is the best player of spin in the world. And when you have to play spin in India there is a lot to learn from the way he plays, so we fed off that knowledge.
"Keaton has been to India twice earlier during the IPL with me, so he's experienced India earlier. Over the years, I have learnt a lot about Indian grounds, players and conditions and know them pretty well. So I shared my Indian experiences with him. I told him what I knew, but it was up to him to execute it. I told him to enjoy the opportunity, pressures and privileges," Jennings senior was quoted by Times of India.
The proud father had decided to stay away from the ground and didn't turn up at the Wankhede to watch him bat. "I'm proud that Keaton has done so well on debut. Considering he has debuted and done well in a country where I've spent a lot of time is special. I would have loved to watch him live in action. But given my connection with India, there would have been a lot of focus, so I thought it was important for me to leave him by himself and allow him to enjoy the opportunity that he had gained rather than worry about the people around him," he said.