Kerala based NGO appeals BCCI to use less non-biodegradable materials during cricket matches
They also posted a picture of a sanitary worker holding the 'Man of the Match' card at the segregation yard.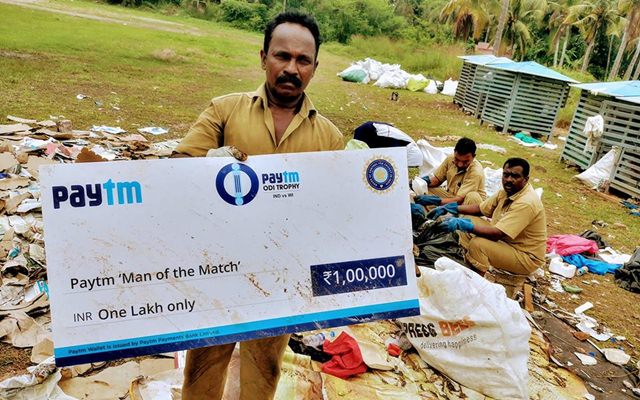 Thousands of fans flock together to catch the cricketing action in any stadium. To capture moments of their heroes achieving various feats with the bat or the ball. No doubt the fans and players have together made the game what it is today. However, we often forget to give credit to the various officials and the organizers who have made it happen.
As the fifth and final ODI between India and Windies came to an end, Ravindra Jadeja was awarded the man of the match. The left arm orthodox had spectacular figures of 4/34 as the Thiruvananthapuram crowd lauded him. Handed a replica of the cheque pertaining to an amount of Rs 1 lakh, the crowd applauded the honour to Jadeja at the event.
However, what happens to such honours after the cameras capture them?. After the match proceedings, these placards are that of the sanitary workers deployed to segregate. The same was highlighted through a Facebook post by an NGO named Prakruthi. They appealed the BCCI to consider making less use of plastic and non-biodegradable materials during a game.
Further, they decided to give due recognition to the sanitary worker Shri Jayan. He was amongst the 600 workers who had been deployed by the Thiruvananthapuram Municipal Corporation for post match cleaning. They also posted a picture of him holding the 'Man of the Match' card at the segregation yard. The work is still in progress as the NGO requested BCCI to make use of alternatives.
They posted the same on their page on Facebook:
"This photo says it all…
Trivandrum might not have forgotten the moment when Ravindra Jadeja held this sheet after winning the Man of the Match award for his stunning performance in India Vs West Indies match at Sports Hub.
Well, that is how we appreciate the Man Of the Match or Man of the Series following a promotional activity and a photo ops moment. What happens after that? Here you see it, that becomes someone else's liability.
Why don't we think about an alternative in which an honour given to a person last for ever and not making a liability to others or nature. We believe BCCI will consider options to reduce the plastic or non-bio degradable materials during cricket matches.
We know you could inspire us.
For now, let this be the man of the match moment for Shri Jayan, the sanitary worker, Trivandrum corporation. He is one among the 600 sanitary workers deployed by Thiruvananthapuram Municipal Corporation for post-match cleaning. Segregation of wastes after the match is still in progress and we got this picture for you from the segregation yard."
Here's the Facebook post