KKR forges ties with health foundations to help the underprivileged of West Bengal
The tie-up saw a mega health-camp being organised at Bantala, Kolkata, on Sunday, April 15, for the slum dwellers of the Dhapa-Bangtala area.
Updated - Apr 16, 2018 8:11 pm
3.9K Views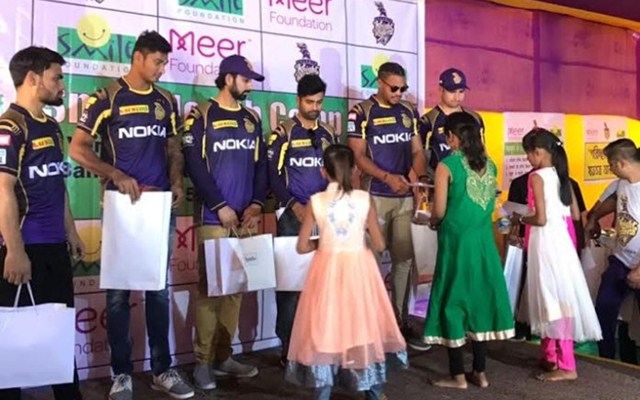 The Kolkata Knight Riders (KKR) may be sitting on the edge of the bottom half of the table, much to the disappointment of the fans, but their spirit to help build a better society is as strong as ever. Recently, the team has taken a significant step in contributing towards better health standards for the underprivileged in the state of West Bengal. KKR has established ties with the Smile Foundation and the Meer Foundation for this cause.
One of the constant sides in the Indian Premier League (IPL) since its inception back in 2008, the KKR side has enjoyed immense support from their fans, especially the ones in their home state. In a heartfelt gesture towards the betterment of the needy in the state, this tie-up will promote and ensure the goodness of health amongst the poor and the underprivileged. In a recently released media release, the news of the tie-up was announced to the public.
KKR ties up with Smile and Meer Foundation
The tie-up saw mega health-camps being organised at Bantala, Kolkata, on Sunday, April 15, for the slum dwellers of the Dhapa-Bangtala area. In the press statement release, the three associates of the charity stated, "It gives us immense happiness to be able to be there for our fellow citizens and share their pain, take care of their health and spread smiles." In due course, 12 mega health camps are expected to be conducted in the various districts of West Bengal.
The initiative is expected to come directly to the aid of 2,400 people. Major districts of the state of West Bengal such as Kolkata, South and North Parganas, East and West Midnapore, Burdwan, Darjeeling, Alipurduar and Coochbehar will host mega health camps, which will be conducted by a team of general physicians and paediatricians along with trained paramedics staff. Free counselling, medicine, tests and diagnostics will be offered to the needy section of inhabitants of the areas.
As for KKR's conquest for the IPL 2018 trophy, they've had a mixed start to the tournament. Led by Dinesh Karthik this time around, KKR began the proceedings resoundingly as they defeated the Royal Challengers Bangalore (RCB) side in their very first game. However, their juggernaut had barely started rolling when they were dealt out two back to back defeats at the hands of the Chennai Super Kings (CSK) and the Sunrisers Hyderabad (SRH). KKR is currently at the fifth slot of the rankings, with 2 points in the bag.