Kohli is a brilliant batsman but he has failed against me: Junaid Khan
Also, Kohli has never hit a boundary off the bowling of Junaid Khan in the history of the game.
Updated - May 27, 2017 1:06 pm
3.9K Views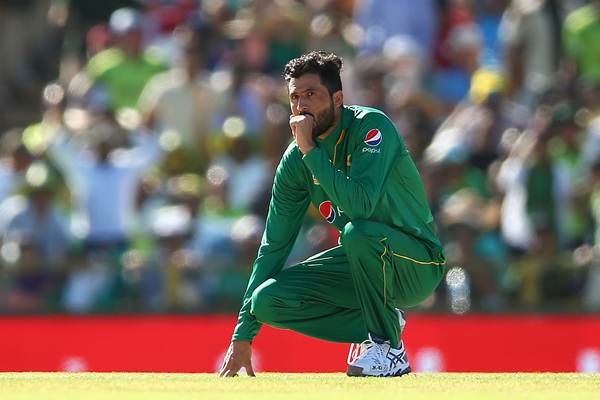 The build up to the India-Pakistan clash is rising with each passing day. The arch rivals are set to lock horns at Birmingham in their opening game of the ICC Champions Trophy 2017. Certainly, the players are all pumped up for the big game and the war of words has begun. Pakistani pacer Junaid Khan has initiated a very subtle indirect dig at the Indian skipper Virat Kohli.
Junaid has had some serious success against Kohli in the past. He has managed to dismiss Kohli on 3 occasions in the 4 matches that they have encountered each other. Also, Kohli has never hit a boundary off the bowling of Junaid Khan in the history of the game. Junaid, as per the quotes in The Tribune, noted that Kohli is a very fine batsman but has got very little success against him.
He further added that he has bowled to Kohli in front of the Indian crowds before and hence bowling in England will not be a big challenge. He is keen on viewing Kohli as the same batsman and is hopeful to be getting ahead with the psychological advantage over him.
"I have dismissed him in three out of the four matches we have faced each other. He is a brilliant batsman but he has failed against me. I bowled Kohli in India in front of his fans so it won't be a problem in England," quoted Junaid Khan.
"When I face him, I will consider him the same Kohli. I may be wrong but I think he will also think of me as the same Junaid that has taken his wicket before, which might make him go on the defensive a bit more and therefore lose his wicket," he added further.
He further remarked that it is an honor for him to have not been hit for a boundary by Kohli in his career while most other bowlers have not been spared by Kohli. He wishes to keep his record intact in the big game at the Champions Trophy as well.
"He has been hitting sixes and fours all over the world but none of them have come against me, which is an honor for me and I will try to keep that record intact in the upcoming Champions Trophy," he remarked.
Working on swing
Talking about his own strengths, Junaid Khan noted that he has been working a great deal on his swing. In the English conditions, he expects to make the most out of his ability to swing the ball. He further added that his focus will not entirely be on Virat Kohli but on all the Indian batsmen.
"I have been working on my swing, which is my specialty and my biggest weapon since many of my seniors have told me that my swing has gotten weaker. However, Kohli is not the only good player in their side and my focus will be on all of their batsmen. I have been watching their videos and have prepared myself to face them too," quipped Junaid.
Word for skipper Sarfraz
Lastly, he had a word of praise for the newly appointed skipper Sarfraz Ahmed. He remarked that Sarfraz is a good leader and is very encouraging to the bowlers. He never fails to give his inputs to the bowlers which is a very good trait to possess as the leader of the team.
"I have played two ODI matches under his captaincy against the West Indies and we won both matches, with me claiming three wickets. He is a good leader and encourages the bowlers to bowl the way they want to, while also giving his own input," conceded Junaid.