KPL 2015 Match 1: Belagavi Panthers v Mangalore United Preview
Updated - Sep 2, 2015 6:55 pm
63 Views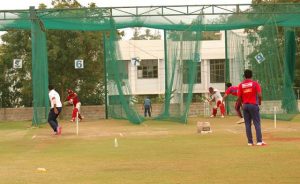 Follow us on Google News
Hubballi, September 02, 2015: Last year's finalists Belagavi Panthers are raring to go when they clash against KPL II winners, Mangalore United in the inaugural match of the Karbonn Smart KPL 2015 here at the Rajnagar Stadium on Thursday.
With the top players of Karnataka having been split equally amongst seven franchisees, the eighth team being the Rockstars, the tournament wears an open look.
"Embarrassment of riches", was how J Arun Kumar (JAK), batting coach of Belagavi Panthers, put it talking of the talent available to him. "We have a wonderful team that has some good all-rounder's.  Deciding on the eleven for any day is a tough task", he said adding, "We will have to keep  our heads firmly on our shoulders and ensure we cross that line between being finalists and winners".
Skipper Vinay Kumar, who has led Karnataka to a record, back-to-back triple National titles, said, "I have told my players that having talent is not enough if that talent is not put to use. We need to ensure that we do justice to the talent the team has and make this edition a winning one for us".
The Panthers' batting will be shouldered by the in-form Mayank Agarwal and if he does touch the form he attained for India 'A' in the Tri-series that featured the 'A' teams from Australia and South Africa, then there is no reason why the Panthers cannot make it to their third final of the KPL.
Mayank was in rousing form hammering big hundreds against the Aussies and South Africans. The team also has Abhishek Reddy who had a good run in the Capt. Thimappaiah Memorial All India invitation tournament along with Jonathan and Stalin Hoover.
The bowling attack led by Vinay also has seamer S Sharath, two left arm spinners in Vinu Prasad and Suresh Harni, off spinner Zeeshan Ali Sayyed amongst others.
Sumeeran Chavan, medium pacer from the catchment area will be a talent to follow. The lad seems good for bigger cricketing achievements.
Mangalore United will be led by Karun Nair, whose second innings century helped India 'A' stave off a defeat against South Africa 'A' in a four-day contest. That hundred was also instrumental in Karun being selected as a replacement for opening batsman Murali Vijay in the Indian team that just concluded a successful Test series winning sojourn to Sri Lanka.
Shishir Bhavane, Rohit Sabharwal, KC Avinash are some of the other players who can put their hands up to be counted.
The bowling will be spearheaded by Ronit More and has Udit Patel, Arshdeep Singh Brar, Rahul Gautam and a few more.
Coach of Mangalore United, Deepu reckons, "We have a balanced team this year and are well prepared for the tournament. We expect a good game and an evenly contested KPL."
Teams (From):
Belagavi Panthers: R Vinay Kumar (Capt), Abhishek Reddy, Chiranjeevi GS, Nitin Mulki, Praveen Dubey, Pushtak Nag, Stalin Hoover, Sumit Shirgurkar, Suresh Karani, Vinu Prasad, Zeeshan Ali  Sayyed, Sharath HS, Mayank Agarwal, Jonathan R, KN Bharath, Sharath Srinivas, Mahesh Patil and Nikith Sayanmal.
Mangalore United: Rohit Sabharwal, Karun Nair, Udit Patel, Nishchith Raj, Bharat Narayan Prasad, Arshdeep Singh Brar, Praveen Kumar B, Akshay Ballal, Nihal Shilar, KC Avinash, Shishir Bhavane, Rohan Kadam, Rahul Gautam, Mashooq Hussain, Abhishek Bhat, Ronit More, Syed Moinudeen, Pradeep T, Mitrakanth Yadav and Muhafiz A Khader.
Follow us on Telegram