KPL 2015 Match 11- Rockstars v Namma Shivamogga, Review: Shivamogga continue to top the table
Updated - Sep 8, 2015 1:04 pm
41 Views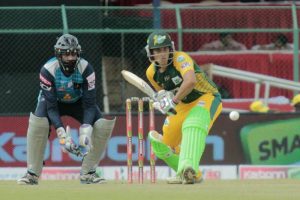 KPL 2015 Match 11- Rockstars v Namma Shivamogga, Review: Shivamogga continue to top the table: Hubballi, Sept 8: The best opening wicket partnership from Sadiq Kirmani (87 N.O.,) and Samarth Ooty (51) saw Namma Shivamogga sashay their way to their third consecutive victory in the Carbonn Smart KPL 2015. The new comers to the League pulled full points defeating the Rockstars here in the first game on Tuesday.
Chasing 147 for victory Namma Shivamogga were on song with Sadiq and Samarth getting into their groove quickly. The way the pair went on forced Rockstars skipper Sudeep to use as many as eight bowlers including himself.
Sadiq and Samarth were a treat for the crowd slamming the rival attack at will.
While Sadiq hammered five fours and an equal number of sixes, Samarth wacked three fours and two sixes.
Sadiq Kirmani, Man of the Match, said, "We need to continue our winning streak. With three wins, we will need one more to be assured of a berth in the semis. We are happy with our batting but feel that we need to strengthen our bowling and fielding a bit. On a personal note, I am happy with my performance, especially with this knock."
Cruising along, Samarth fell in going for one too many shots with victory well in sight and departed giving the Rockstars something to cheer.
If that was not enough Kaunain Abbas became Kiccha Suddep's first victim. The skipper shrugged off his gloves and pads to roll his arm over and claimed Kaunain's wicket to the glee of his team and fans in the stand.
Put into bat, a second wicket partnership worth 70 runs between opening baatsman Rajeev ((52) and No. three Madan Mohan (31) enabled the Rockstars post a challenging total.
In a display which showed the Rockstars are improving with every game, Charan Teja hammered a 26-ball 41 to prop up the Rockstars total that included three sixes and one four.
Namma Shivamogga are perched pretty at the top of the table with six points to their name.