KPL 2015 Match 16: Bellary Tuskers v Rockstars, Preview
Updated - Sep 9, 2015 10:24 am
59 Views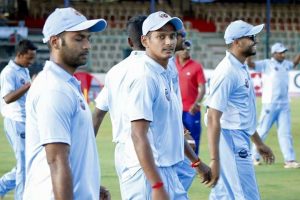 KPL 2015 Match 16: Bellary Tuskers v Rockstars, Preview: Hubballi, September 9, 2015: The last match of the Hubballi leg of the Karbonn Smart KPL 2015 will witness Bellary Tuskers taking on the Rockstars, before the KPL caravan moves to Mysuru, on Thursday evening.
Both the teams are yet to post a win although the Rockstars have a point to flaunt from their washed out game against Belagavi Panthers.
The Bellary batsmen have been found wanting and they will need to shrug off their indifferent form.
They will need to win all their matches from here on if they are to have any chance of qualifying.
The Rockstars seem to be improving with every match as was evident from their outing against Namma Shivamogga.
Rajeev, Madan Mohan and Charan Teja have proved that they are up to the challenge with the bat and Joshi, Johnson and C Raghu still seem to have the heart for bowling.
An interesting finale is on for Hubballi.
Teams (From):
Rockstars: Kichcha Sudeep (C), Sunil Joshi, David Johnson, Dhruv Sharma, Sharath Chandru, Raghu R, Raju Gowda, Charan Teja, Dharma Keerthiraj, Mahesh, C Raghu, Rajeev H, Aadarsh Balakrishna, Pratap N, Raahul R K, Sachin Joshi, Madan Mohan
Bellary Tuskers: Devraj Patil (C), Nischal D, Pawan Deshpande, Aniruddha Joshi, Bharath Chipli, Amit Verma, Likith Bannur, N C Aiyappa, Prasidh Krishna, Koushik V, Karthik C A, Manjunath S P, Prasanna Patil, Manoj K H, Arvind B Reddy, Harsha B, Dhuri B, Anil I G, Tanu B, Abhishek Sakuja