KPL 2015 – Player focus: Mysuru Warriors' Arjun Hoysala
Updated - Sep 19, 2015 6:05 am
147 Views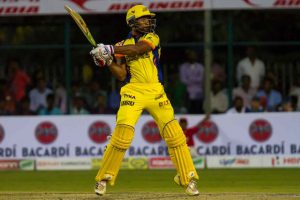 KPL 2015 – Player focus: Mysuru Warriors' Arjun Hoysala: Arjun Hoysala, the left handed opening batsman featured in Mysuru Warriors' campaign in a season of crisis for his team and ended up as top scorer for his side with some gritty performances.
Arjun sparkled in Karnataka Domestic circuit during 2012-13 where he put on some impressive performances including an individual score of 250+ in a One-Day game. However, he turned inconsistent for a couple of years and failed to repeat his heroics.
But Mysuru Warriors' contract gave him a chance to make a big statement as the 25-year old made into the Warriors' starting XI in the first game of KPL 2015. He kept the faith of team management and utilized it to the core by playing a gritty innings in the first game against Namma Shivamogga. He anchored the innings with a good innings of 44 and put on a couple of useful stands along with Manish Pandey and Manjesh Reddy.
Probably, the best individual performance of the tournament came from Arjun Hoysala only, when Mysuru clashed against Mangalore United. Chasing a huge total of 192, Arjun smashed boundaries with an ease and kept the scoreboard running. Manjesh Reddy's injury in mid innings hurt the Mysuru Warriors chase with a collapse but his side's hopes were alive till Arjun was at crease. With 10 strikes towards the fence and 2 mighty sixes, Arjun played a huge hand with a 51-ball, 87 before he fell short of crease trying for a quick run, the only way he looked to be dismissed.
Whatever the target it be, the chase doesn't ends till the last run is scored. That is what Arjun showed against Bellary Tuskers while playing a calm composed knock. Chasing a mere 123, lost couple of wickets but that didn't put Mysuru in trouble as the target wasn't big. But Arjun did not take any risks and kept scoring while saving his wicket. However, he departed after scoring a beautiful 42 after putting his side in a commanding position. The value of Arjun's innings was realized after his side lost a couple of quick wickets before crossing the target in last over.
Success and failures are part of the game. That is what happened in Arjun Hoysala's case as well, who recorded scores of 9, 13 and 1 in consecutive matches and settled logic of law of averages.
However, he did succeed yet again in the last match as he brought a powerful ending for the Mysuru Warriors' campaign in KPL 2015. Against Rockstars in the last league game, he fulfilled his hungry of runs he missed in the previous games as he took over the opposition bowlers with some hard hitting strokes. He shared a stand of 110 runs with CM Gautam and struck 8 fours and a six during his innings of 73 which came in just 48 deliveries.
With 2 fifties and two scores of 40s, Arjun scored 268 runs in 7 innings at an average of 38.28 and ended as 2nd leading run scorer for the league stage of KPL's 4th season.
Along with batting, Arjun was a good fielder as well. He picked up 5 catches in 7 games including a stunning catch in the first game and also saved a lots of runs at long-on and long-off regions.
Arjun Hoysala's KPL 2015 Stats:
Mat – 7, Inns – 7, NOs – 0, Runs – 268, Best – 87, Avg – 38.28, S/R – 129.46, 30s – 4, 50s – 2, 4s – 13, 6s – 3, Catches – 5.