Kuldeep Yadav wanted to become like Wasim Akram, reveals his coach Kapil Pandey
Updated - Mar 26, 2017 1:29 pm
103 Views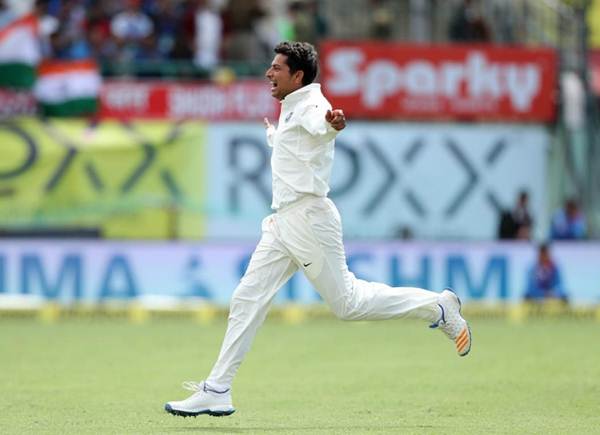 The latest sensation of Indian cricket Kuldeep Yadav has been in the buzz ever since he picked up four wickets against Australia in the first innings of the fourth Test at Dharamsala. The talk is not just for the number of wickets he got but the manner in which he got them was fascinating.
He became the first ever chinaman bowler to play for India, the style of bowling which is the rarest of rare in the game of cricket. He showed the variations that he holds in his armory, chinaman, googly, flipper were all so charming. It was his efforts that brought India back into the game and halted the Australia's progress who threatened to run away with the game.
But becoming a spinner wasn't amongst his first aspirations. Kuldeep wanted to bowl fast like his idol Wasim Akram. But when he met his coach Kapil Pandey in Kanpur, he was advised to become a spinner rather than a pacer due to his physique. The first ball that he bowled was a chinaman and the coach asked him to build upon it that became his major forte later.
"When as a 13-year-old I went to an academy in Kanpur, my coach Kapil Sir felt I should bowl spin since I didn't have the physique for a fast bowler. As fate would have it, I bowled a chinaman first up. Though my coach was surprised, he encouraged me to stick to it," Kuldeep had said when he first came into the limelights a year ago.
Pandey revealed that Kuldeep was in low spirits after being made to sit out of the first three Tests against Australia but he kept motivating him, "He was a bit disappointed but I told him he would have his day. It has finally happened," Pandey told mid-day.
He believed the UP lad has the potential to tackle any batting line-up in the world and if he was a part of the playing XI in the series earlier, India would have dominated the Australians.
"Bowling in tandem with R Ashwin and Ravindra Jadeja in the earlier Tests, India would have overpowered the Aussies easily," he said.