Kuldeep Yadav's controversial picture of taking vaccine was a social media gimmick, clarifies Kanpur city magistrate
The picture created quite a bit of controversy.
Updated - May 20, 2021 8:37 am
4.3K Views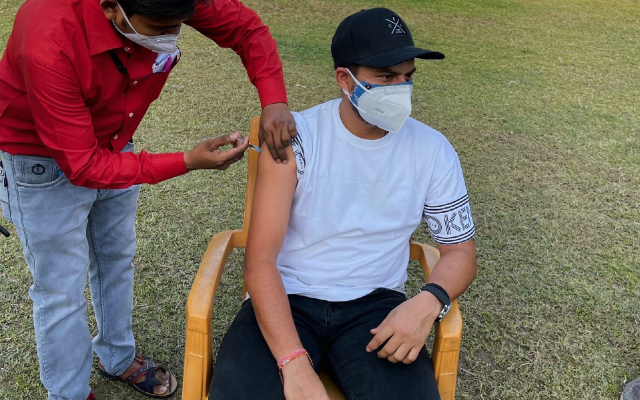 Follow us on Google News
Kuldeep Yadav, the Indian leg-spinner, sparked controversy when he posted a picture where he was seen taking the COVID-19 vaccine in a guest house lawn. However, Himanshu Gupta, the Kanpur city magistrate, on Wednesday, May 19, said the picture was taken for a social media gimmick. Back on Saturday, May 15, Kuldeep got the jab of the vaccine at a private hospital.
The left-arm tweaker posted a picture where he was sitting on a chair on a lawn. The 26-year-old leg-spinner also requested the others to take the vaccine at the earliest possible time to beat the ungodly pandemic, which has been continuing for the last 14 months or so. The Uttar Pradesh-born Kuldeep's social media post went on to create a lot of controversies.
As per reports, the picture was from the Kanpur Nagar Nigam guest house, adding that Kuldeep had booked a vaccination slot at Jageshwar Hospital in Govind Nagar. Soon after, the administration made an open investigation into the matter. Later Magistrate Gupta stated that Kuldeep took the vaccine at Jagdeshwar hospital only with the spinner's name being 136th in the official register.
Kuldeep Yadav expresses his agony
Recently, Kuldeep showed his frustration after not being able to play on a consistent basis. Earlier this year, he made his Test comeback after a gap of two years, but couldn't hold on to his spot. He also played two ODIs before being left out again. He also didn't get to play a single match for the Kolkata Knight Riders in the 2021 edition of the Indian Premier League.
"When you are playing non-stop, players do feel high on confidence. The more one sits out the more it gets tougher. I felt a huge pressure on me when I played the Test against England in Chennai this February. Due to Covid, there was nothing happening, so things got really tougher even more last year," Kuldeep was quoted as saying.
"I did, sometimes I felt, 'what is going on?'. It was difficult times. Sometimes, the mind says, 'ab shayad woh Kuldeep nahi rahe.' There were days when you feel serving drinks and being on the bench is for the best and then but there are days you don't want to be in that place," he added.
Follow us on Telegram