Kumble-Kohli Gate: Virender Sehwag lambasted media for writing 'nonsense'
Virender Sehwag dismisses all reports of him taking a jibe at Kumble
Updated - Jun 23, 2017 6:53 pm
1.9K Views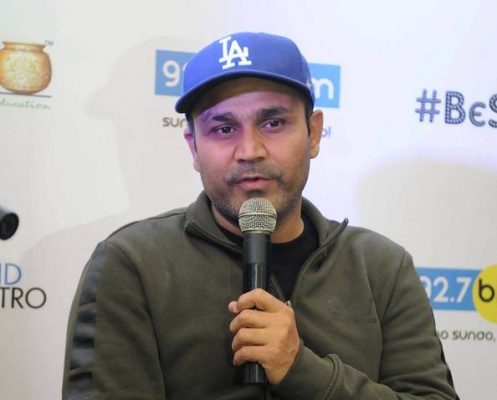 Former Indian opener Virender Sehwag criticised media for blowing things out of proportion about the whole saga between Virat Kohli and Anil Kumble. He termed all the claims made by a section of media as pure nonsense and an act of fiction to mislead audience with false news.
Much has been talked about the Kohli-Kumble spat within the Indian dressing room before the start of the recently concluded Champions Trophy. Apparently, the hard taskmaster attitude of Anil Kumble did not go down well with Virat Kohli. As a result, Kumble decided to resign from his post even though the CAC wanted him to continue.
Virender Sehwag is renowned for his fearlessness when it comes to social media. He attached a link to the snippet from Times Now where the popular network channel claimed false rumours in order to manufacture sensation. Sehwag was portrayed to take a veiled dig at outgoing India head coach and his former teammate Anil Kumble based on a caption from his Instagram post.
The Multan of Sultan, captioned in his post, "Finger pointing never got anything done #unglipenachao." The popular network channel misread his pun and claimed that the Nawab of Najafgarh took a jibe at row between Kumble and Kohli.
Sehwag was quick to dismiss these claims from the media channel and lambasted them for their moulding things according to their malicious agendas. He also questioned the morality and integrity of these newsrooms via his posts on Twitter.
Sehwag dismissing the reports
"What nonsense!Media like u can't change. You can just find new ways to lie to suit your malicious agenda. You think u r licensed to mislead?How do u have fuel to spin things out of context.If u have any integrity telecast an apology on same channel &do a show on how u mislead ppl." tweeted the explosive opening batsman from Najafgarh
What nonsense!Media like u can't change. You can just find new ways to lie to suit your malicious agenda. You think u r licensed to mislead? https://t.co/OvGJCtnQ9M

— Virender Sehwag (@virendersehwag) June 23, 2017
How do u have fuel to spin things out of context.If u have any integrity telecast an apology on same channel &do a show on how u mislead ppl https://t.co/Ceu52Y8FL5

— Virender Sehwag (@virendersehwag) June 23, 2017