Latest IPL 2020 points table, Orange and Purple cap holders after KKR vs CSK game
After CSK vs KKR match, Mumbai Indians continue to be the table topper.
Updated - Oct 8, 2020 12:56 am
489 Views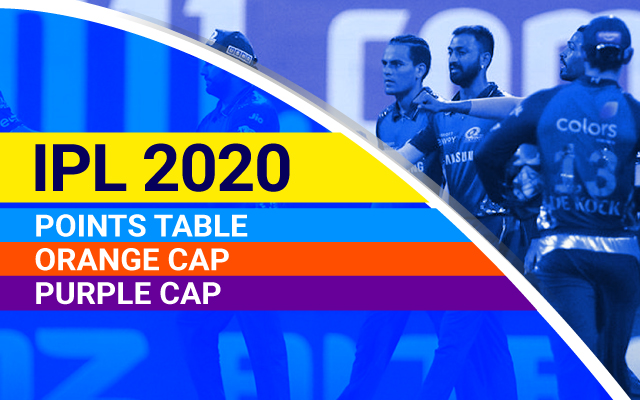 The 21st match of the Indian Premier League went live from Abu Dhabi between Kolkata Knight Riders and Chennai Super Kings. CSK walked up to replicate their last match's brilliance, but things turned out to be different as they lost the contest by 10 runs. Choosing to show up with bat first, KKR posted a respectable 167 on board. Rahul Tripathi hogged all the limelight today as he scored a splendid 81 off 51 balls and pushed his team towards a decent spot.
Tripathi was named as a player of the match for his absolute class against Chennai. No other batter came well along with Tripathi apart from a handful of runs from Sunil Narine and Pat Cummins. The new man in today's match, Karn Sharma, did a great job with the ball as he conceded just 25 runs in four overs and knocked down Sunil Narine and Nitish Rana. Deepak Chahar turned out to be CSK's costly bowler today.
CSK's middle-order collapsed
Hunting down the total, CSK started off too well as Faf du Plessis and Shane Watson set the tone for their team. However, things changed entirely after they were three wickets down, and the middle order collapsed terribly. Watson's 50 off 30 and Ambati Rayudu's 30 off 27 remained bright spot from CSK's batting line up. Pat Cummins remained economical as he conceded just 25 off his four overs.
Who has Orange and Purple Cap?
After KKR vs CSK match, Mumbai Indians continue to be the table topper. Next in line are Delhi Capitals who are followed by Kolkata Knight Riders at 3rd place and Royal Challengers Bangalore at 4th place. KL Rahul remains the proud owner of Orange Cap with 302 runs in the league so far. Next in line is Faf du Plessis, with 299 runs. 3rd and 4th spots are reserved by Mayank Agarwal and Rohit Sharma.
Kagiso Rabada continues to have the Purple Cap with 12 wickets in the IPL 2020 so far. 2nd spot is sealed by Jasprit Bumrah, who has 11 wickets in the league. Trent Boult has 10 wickets, while James Pattinson is the next in the race with nine scalps to his name.
List of top run-scorers in IPL 2020 – Orange Cap Holder
| | | | | | | | | | | |
| --- | --- | --- | --- | --- | --- | --- | --- | --- | --- | --- |
| Sr No | Player | Team | Matches | Innings | Runs | Average | SR | 4s/6s | 100/50s | Best |
| 1 | KL Rahul | KXIP | 5 | 5 | 302 | 75.50 | 141.78 | 31/10 | 1/2 | 132* |
| 2 | Faf du Plessis | CSK | 6 | 6 | 299 | 74.75 | 151.01 | 29/8 | 0/3 | 87* |
| 3 | M Agarwal | KXIP | 5 | 5 | 272 | 54.40 | 162.87 | 27/11 | 1/1 | 106 |
| 4 | R Sharma | MI | 6 | 6 | 211 | 35.16 | 145.51 | 15/14 | 0/2 | 80 |
| 5 | S Watson | CSK | 6 | 6 | 185 | 37 | 131.20 | 20/9 | 0/2 | 83* |
| 6 | S Iyer | DC | 5 | 5 | 181 | 45.25 | 143.65 | 11/9 | 0/2 | 88* |
| 7 | S Yadav | MI | 6 | 6 | 180 | 36 | 152.54 | 27/3 | 0/1 | 79* |
| 8 | P Shaw | DC | 5 | 5 | 179 | 35.80 | 147.93 | 19/7 | 0/2 | 66 |
| 9 | D Padikkal | RCB | 5 | 5 | 178 | 35.60 | 131.85 | 19/3 | 0/3 | 63 |
| 10 | D Warner | SRH | 5 | 5 | 175 | 35 | 123.33 | 14/5 | 0/1 | 60 |
List of most wicket-takers in IPL 2020 – Purple Cap Holder
| | | | | | | | |
| --- | --- | --- | --- | --- | --- | --- | --- |
| Sr No | Player | Team | Matches | Innings | Wickets | Average | Best |
| 1 | K Rabada | DC | 5 | 5 | 12 | 12.50 | 4/24 |
| 2 | J Bumrah | MI | 6 | 6 | 11 | 17.81 | 4/20 |
| 3 | T Boult | MI | 6 | 6 | 10 | 18.30 | 2/26 |
| 4 | J Pattinson | MI | 6 | 6 | 9 | 19.88 | 2/19 |
| 5 | Y Chahal | RCB | 5 | 5 | 8 | 18 | 3/18 |
| 6 | M Shami | KXIP | 5 | 5 | 8 | 19.12 | 3/15 |
| 7 | Anrich Nortje | DC | 5 | 5 | 7 | 21.28 | 3/33 |
| 8 | R Chahar | MI | 6 | 6 | 7 | 22.71 | 2/26 |
| 9 | Sam Curran | CSK | 6 | 6 | 7 | 26 | 3/33 |
| 10 | S Cottrell | KXIP | 5 | 5 | 6 | 23.83 | 2/17 |
Here's the IPL 2020 points table in detail:
| | | | | | | | |
| --- | --- | --- | --- | --- | --- | --- | --- |
| Position | Team | Matches | Won | Lost | NR | Points | NRR |
| 1 | MI | 6 | 4 | 2 | 0 | 8 | 1.488 |
| 2 | DC | 5 | 4 | 1 | 0 | 8 | 1.06 |
| 3 | KKR | 5 | 3 | 2 | 0 | 6 | 0.002 |
| 4 | RCB | 5 | 3 | 2 | 0 | 6 | -1.35 |
| 5 | CSK | 6 | 2 | 4 | 0 | 4 | -0.371 |
| 6 | SRH | 5 | 2 | 3 | 0 | 4 | -0.417 |
| 7 | RR | 5 | 2 | 3 | 0 | 4 | -0.826 |
| 8 | KXIP | 5 | 1 | 4 | 0 | 2 | 0.178 |