Latest IPL 2020 points table, Orange and Purple cap holders after KXIP vs RCB game
After KXIP vs RCB match, Delhi Capitals are comfortably sitting top of the points table.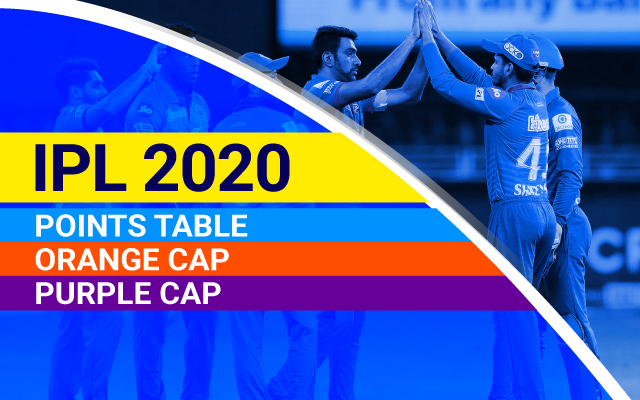 The 31st match of the Indian Premier League (IPL) witnessed action between Kings XI Punjab and Royal Challengers Bangalore at Sharjah. Universe Boss Chris Gayle played his first game in IPL 2020 and brought all the luck for KXIP. Chasing the target of 172 posted by RCB, KXIP won the thriller by eight wickets. Batting first, Virat Kohli and his men posted a respectable total on the board. Virat Kohli (48 off 39) and Chris Morris (25 off 8) were the highest-scorers from Bangalore.
KXIP skipper KL Rahul was named as the player of the match for his outstanding innings of 61* off 49 to take the team home. Brief innings by Shivam Dube (23) and Aaron Finch (20) kept moving RCB in a good flow. Murugan Ashwin did the perfect job with the ball as he conceded just 23 runs in his spell to pick two wickets.
It was KXIP's day
Chasing the target, KXIP batters looked confident enough to bag two points. The phenomenal openers Mayank Agarwal (45 off 25) and KL Rahul set the tone for Punjab as they began chasing. Chris Gayle walked the field like a King and smashed 53 off 45 from his bat to bring victory for his squad. Young pacer Navdeep Saini was splendid with the ball as he maintained the economy of 5.20 in the tough contest.
Who has Orange and Purple Cap?
After KXIP vs RCB match, Delhi Capitals are on top of the points table. They are followed by Mumbai Indians on the second spot. The 3rd and 4th positions are held by Royal Challengers Bangalore and Kolkata Knight Riders respectively.
The Orange Cap continues to be with KL Rahul as he has massive 448 runs under his belt so far in IPL 2020. He is followed by his teammate Mayank Agarwal who has 382 runs to his name so far. The 3rd and 4th spots in the race of Orange Cap are held by Faf du Plessis and Virat Kohli.
The Purple Cap is with Kagiso Rabada, who has 18 wickets so far in IPL 2020. Next in line are Jofra Archer and Mohammed Shami, who have 12 wickets each on their name. Trent Boult, Jasprit Bumrah, and Yuzvendra Chahal have 11 wickets each.
List of top run-scorers in IPL 2020 – Orange Cap Holder
| | | | | | | | | | | |
| --- | --- | --- | --- | --- | --- | --- | --- | --- | --- | --- |
| Sr No | Player | Team | Matches | Innings | Runs | Average | SR | 4s/6s | 100/50s | Best |
| 1 | KL Rahul | KXIP | 8 | 8 | 448 | 74.66 | 133.33 | 38/15 | 1/4 | 132* |
| 2 | M Agarwal | KXIP | 8 | 8 | 382 | 47.75 | 161.18 | 38/15 | 1/2 | 106 |
| 3 | Faf du Plessis | CSK | 8 | 8 | 307 | 51.16 | 146.88 | 29/8 | 0/3 | 87* |
| 4 | V Kohli | RCB | 8 | 8 | 304 | 60.80 | 126.66 | 17/7 | 0/2 | 90* |
| 5 | S Iyer | DC | 8 | 8 | 298 | 42.57 | 135.45 | 23/11 | 0/2 | 88* |
| 6 | D Warner | SRH | 8 | 8 | 284 | 35.50 | 121.88 | 22/8 | 0/2 | 60 |
| 7 | J Bairstow | SRH | 8 | 8 | 280 | 35 | 129.03 | 19/12 | 0/3 | 97 |
| 8 | D Padikkal | RCB | 8 | 8 | 261 | 32.62 | 127.94 | 26/6 | 0/3 | 63 |
| 9 | S Dhawan | DC | 8 | 8 | 258 | 36.85 | 133.67 | 25/6 | 0/2 | 69 |
| 10 | S Gill | KKR | 7 | 7 | 254 | 42.33 | 119.24 | 22/5 | 0/2 | 70 |
List of most wicket-takers in IPL 2020 – Purple Cap Holder
| | | | | | | | |
| --- | --- | --- | --- | --- | --- | --- | --- |
| Sr No | Player | Team | Matches | Innings | Wickets | Average | Best |
| 1 | K Rabada | DC | 8 | 8 | 18 | 13.38 | 4/24 |
| 2 | J Archer | RR | 8 | 8 | 12 | 17.50 | 3/19 |
| 3 | M Shami | KXIP | 8 | 8 | 12 | 22.33 | 3/15 |
| 4 | T Boult | MI | 7 | 7 | 11 | 19.90 | 2/26 |
| 5 | J Bumrah | MI | 7 | 7 | 11 | 20.18 | 4/20 |
| 6 | Y Chahal | RCB | 8 | 8 | 11 | 20.54 | 3/18 |
| 7 | Rashid Khan | SRH | 8 | 8 | 10 | 17.10 | 3/12 |
| 8 | A Nortje | DC | 8 | 8 | 10 | 23.50 | 2/33 |
| 9 | J Pattinson | MI | 7 | 7 | 9 | 24 | 2/19 |
| 10 | Sam Curran | CSK | 8 | 8 | 9 | 27.55 | 3/33 |
Here's the IPL 2020 points table in detail:
| | | | | | | | |
| --- | --- | --- | --- | --- | --- | --- | --- |
| Position | Team | Matches | Won | Lost | NR | Points | NRR |
| 1 | DC | 8 | 6 | 2 | 0 | 12 | 0.99 |
| 2 | MI | 7 | 5 | 2 | 0 | 10 | 1.32 |
| 3 | RCB | 8 | 5 | 3 | 0 | 10 | -0.13 |
| 4 | KKR | 7 | 4 | 3 | 0 | 8 | -0.57 |
| 5 | SRH | 8 | 3 | 5 | 0 | 6 | 0.00 |
| 6 | CSK | 8 | 3 | 5 | 0 | 6 | -0.39 |
| 7 | RR | 7 | 3 | 4 | 0 | 6 | -0.87 |
| 8 | KXIP | 8 | 2 | 6 | 0 | 4 | -0.29 |