Latest IPL 2020 Points Table, Orange and Purple cap holders after MI vs KKR game
After KKR vs MI game, Mumbai Indians are back again at the top of the points tally.
Updated - Oct 18, 2020 12:06 pm
349 Views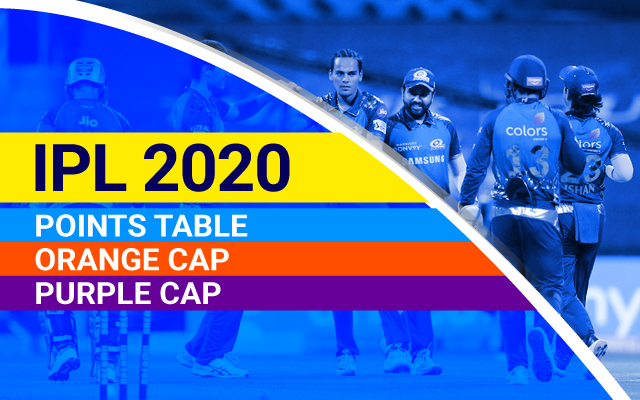 Match no 32 of the Indian Premier League 2020 saw action between Kolkata Knight Riders and Mumbai Indians. Chasing the ordinary target of 149, defending champions, MI, won the contest by eight wickets effortlessly. Batting first, Kolkata started in an average tone and was even struggling to touch the 120-30 mark. It was the heroics of Pat Cummins (53* off 36) and new skipper Eoin Morgan (39* off 29) that pushed KKR to post 148 runs total.
Quinton de Kock was given the player of the match honour for his phenomenal innings of 78* off 44. Apart from Cummins and Morgan, Shubman Gill added 21 runs off his bat in the team's total. Rahul Chahar displayed an outstanding show with the ball as he conceded just 18 runs in his spell to pick two crucial wickets. Jasprit Bumrah and Krunal Pandya also remained economical for Mumbai.
De Kock turned out to be MI's stunner
Hunting down the ordinary total, MI Openers Quinton de Kock and Rohit Sharma (35 off 36) kicked off their chase amazingly. Hardik Pandya came up with his usual brilliance and added quick 21 runs to hand over a stylish victory to his team. Varun Chakravarthy remained great in his spell as he conceded just 23 runs in four over to scalp one wicket. Shivam Mavi also remained successful in picking one wicket for his team.
Who has Orange and Purple Cap?
After KKR vs MI game, Mumbai Indians are back again at the top of the points tally. The second position is held by Delhi Capitals, and they are followed by the Royal Challengers Bangalore and the Kolkata Knight Riders at 3rd and 4th place respectively.
The Orange continues to shine on KL Rahul's head, who has huge 448 runs in his bag. He is followed by his friend and, teammate Mayank Agarwal who has 382 runs to his credit so far. The 3rd and 4th positions are held by Faf du Plessis and Virat Kohli. Kagiso Rabada keeps the Purple Cap with 18 wickets under his belt. Jofra Archer, Jasprit Bumrah, Trent Boult, and Mohammed Shami have 12 wickets each to their credit in IPL 2020 to date. Yuzvendra Chahal has 11 wickets in the league so far.
List of top run-scorers in IPL 2020 – Orange Cap Holder
| | | | | | | | | | | |
| --- | --- | --- | --- | --- | --- | --- | --- | --- | --- | --- |
| Sr No | Player | Team | Matches | Innings | Runs | Average | SR | 4s/6s | 100/50s | Best |
| 1 | KL Rahul | KXIP | 8 | 8 | 448 | 74.66 | 133.33 | 38/15 | 1/4 | 132* |
| 2 | M Agarwal | KXIP | 8 | 8 | 382 | 47.75 | 161.18 | 38/15 | 1/2 | 106 |
| 3 | Faf du Plessis | CSK | 8 | 8 | 307 | 51.16 | 146.88 | 29/8 | 0/3 | 87* |
| 4 | V Kohli | RCB | 8 | 8 | 304 | 60.80 | 126.66 | 17/7 | 0/2 | 90* |
| 5 | S Iyer | DC | 8 | 8 | 298 | 42.57 | 135.45 | 23/11 | 0/2 | 88* |
| 6 | D Warner | SRH | 8 | 8 | 284 | 35.50 | 121.88 | 22/8 | 0/2 | 60 |
| 7 | J Bairstow | SRH | 8 | 8 | 280 | 35 | 129.03 | 19/12 | 0/3 | 97 |
| 8 | S Gill | KKR | 8 | 8 | 275 | 39.28 | 116.52 | 24/5 | 0/2 | 70* |
| 9 | Q de Kock | MI | 8 | 8 | 269 | 38.42 | 133.67 | 26/11 | 0/2 | 78* |
| 10 | D Padikkal | RCB | 8 | 8 | 261 | 32.62 | 127.94 | 26/6 | 0/3 | 63 |
List of most wicket-takers in IPL 2020 – Purple Cap Holder
| | | | | | | | |
| --- | --- | --- | --- | --- | --- | --- | --- |
| Sr No | Player | Team | Matches | Innings | Wickets | Average | Best |
| 1 | K Rabada | DC | 8 | 8 | 18 | 13.38 | 4/24 |
| 2 | J Archer | RR | 8 | 8 | 12 | 17.50 | 3/19 |
| 3 | J Bumrah | MI | 8 | 8 | 12 | 20.33 | 4/20 |
| 4 | T Boult | MI | 8 | 8 | 12 | 20.91 | 2/26 |
| 5 | M Shami | KXIP | 8 | 8 | 12 | 22.33 | 3/15 |
| 6 | Y Chahal | RCB | 8 | 8 | 11 | 20.54 | 3/18 |
| 7 | Rashid Khan | SRH | 8 | 8 | 10 | 17.10 | 3/12 |
| 8 | A Nortje | DC | 8 | 8 | 10 | 23.50 | 2/33 |
| 9 | R Chahar | MI | 8 | 8 | 9 | 22.66 | 2/18 |
| 10 | J Pattinson | MI | 7 | 7 | 9 | 24.00 | 2/19 |
Here's the IPL 2020 points table in detail:
| | | | | | | | |
| --- | --- | --- | --- | --- | --- | --- | --- |
| Position | Team | Matches | Won | Lost | NR | Points | NRR |
| 1 | MI | 8 | 6 | 2 | 0 | 12 | 1.35 |
| 2 | DC | 8 | 6 | 2 | 0 | 12 | 0.99 |
| 3 | RCB | 8 | 5 | 3 | 0 | 10 | -0.13 |
| 4 | KKR | 7 | 4 | 3 | 0 | 8 | -0.57 |
| 5 | SRH | 8 | 3 | 5 | 0 | 6 | 0.009 |
| 6 | CSK | 8 | 3 | 5 | 0 | 6 | -0.39 |
| 7 | RR | 7 | 3 | 4 | 0 | 6 | -0.87 |
| 8 | KXIP | 8 | 2 | 6 | 0 | 4 | -0.29 |