Latest IPL 2020 points table, Orange and Purple cap holders after RCB vs KKR game
After KKR vs RCB match, Mumbai Indians are at the top of the points table.
Updated - Oct 14, 2020 3:38 pm
402 Views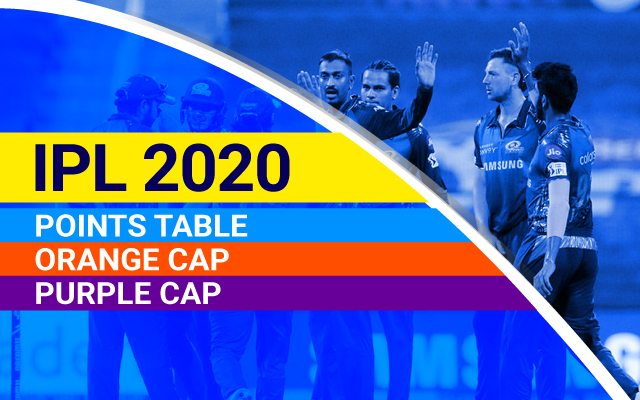 The 28th match of the Indian Premier League (IPL) witnessed Kolkata Knight Riders (KKR) and Royal Challengers Bangalore (RCB) locking horns at Sharjah. RCB decided to show up with the bat first and displayed a breathtaking show to win the contest by huge 82 runs. All the batters contributed well to the team's score, but it was AB de Villiers who stole the limelight, and the team won the thriller by 82 runs. He played a phenomenal knock of 73* off 33 to help RCB register a big win.
De Villiers was named as the player of the match for his thunderous innings with the bat. Aaron Finch contributed 47 off 37 from his bat, and cameos by young Devdutt Padikkal (32 off 23) and skipper Virat Kohli (33* off 28) also remained essential. Varun Chakravarthy conceded just 25 runs in his spell. Prasidh Krishna and Andre Russell picked one wicket each for KKR.
RCB's bowling took them home
Hunting down the hefty target, the batting line up of KKR crumbled under the pressure and couldn't do the required job for the team. Shubman Gill's knock of 34 runs was the only satisfactory thing from KKR's end. Yuzvendra Chahal and Chris Morris were splendid from RCB's bowling unit as they conceded just 12 and 17 runs, respectively in their spell. After winning this match, RCB now have 10 points in their bag and have jumped to 3rd position in the points table.
Who has Orange and Purple Cap?
After RCB vs KKR match, Mumbai Indians are at the top of the points table. Next in line are Delhi Capitals, and they are followed by Royal Challengers Bangalore and Kolkata Knight Riders at 3rd and 4th place, respectively.
KL Rahul continues to keep the Orange Cap in IPL 2020, with 387 runs in the league. Next in line is another stunner from KXIP, Mayank Agarwal, who has 337 runs under his belt. 3rd and 4th spots are sealed by Faf du Plessis, and David Warner.
Kagiso Rabada owns the purple cap with 17 wickets in the league so far. Next in line are Trent Boult and Jasprit Bumrah with 11 wickets each with them. Rashid Khan, Yuzvendra Chahal, and Mohammed Shami have 10 wickets each under their belt.
List of top run-scorers in IPL 2020 – Orange Cap Holder
| | | | | | | | | | | |
| --- | --- | --- | --- | --- | --- | --- | --- | --- | --- | --- |
| Sr No | Player | Team | Matches | Innings | Runs | Average | SR | 4s/6s | 100/50s | Best |
| 1 | KL Rahul | KXIP | 7 | 7 | 387 | 64.50 | 134.84 | 37/10 | 1/3 | 132* |
| 2 | M Agarwal | KXIP | 7 | 7 | 337 | 48.14 | 158.96 | 34/12 | 1/2 | 106 |
| 3 | Faf du Plessis | CSK | 7 | 7 | 307 | 61.40 | 147.59 | 29/8 | 0/3 | 87* |
| 4 | D Warner | SRH | 7 | 7 | 275 | 39.28 | 125 | 22/8 | 0/2 | 60 |
| 5 | J Bairstow | SRH | 7 | 7 | 257 | 36.71 | 133.16 | 17/12 | 0/3 | 97 |
| 6 | V Kohli | RCB | 7 | 7 | 256 | 64 | 127.36 | 14/7 | 0/2 | 90* |
| 7 | S Gill | KKR | 7 | 7 | 254 | 42.33 | 119.24 | 22/5 | 0/2 | 70 |
| 8 | S Iyer | DC | 7 | 7 | 245 | 40.83 | 138.41 | 20/9 | 0/1 | 88* |
| 9 | D Padikkal | RCB | 7 | 7 | 243 | 34.71 | 126.56 | 25/5 | 0/3 | 63 |
| 10 | S Yadav | MI | 7 | 7 | 223 | 38.83 | 155.33 | 33/4 | 0/2 | 79* |
List of most wicket-takers in IPL 2020 – Purple Cap Holder
| | | | | | | | |
| --- | --- | --- | --- | --- | --- | --- | --- |
| Sr No | Player | Team | Matches | Innings | Wickets | Average | Best |
| 1 | K Rabada | DC | 7 | 7 | 17 | 12.52 | 4/24 |
| 2 | T Boult | MI | 7 | 7 | 11 | 19.90 | 2/26 |
| 3 | J Bumrah | MI | 7 | 7 | 10 | 20.18 | 4/20 |
| 4 | R Khan | SRH | 7 | 7 | 10 | 14.10 | 3/12 |
| 5 | Y Chahal | RCB | 7 | 7 | 10 | 19.10 | 3/18 |
| 6 | M Shami | KXIP | 7 | 7 | 10 | 22.30 | 3/15 |
| 7 | J Archer | RR | 7 | 7 | 9 | 21.22 | 3/24 |
| 8 | J Pattinson | MI | 7 | 7 | 9 | 24 | 2/19 |
| 9 | Anrich Nortje | DC | 7 | 7 | 8 | 25.25 | 3/33 |
| 10 | R Bishnoi | KXIP | 7 | 7 | 8 | 26.50 | 3/29 |
Here's the IPL 2020 points table in detail:
| | | | | | | | |
| --- | --- | --- | --- | --- | --- | --- | --- |
| Position | Team | Matches | Won | Lost | NR | Points | NRR |
| 1 | MI | 7 | 5 | 2 | 0 | 10 | 1.32 |
| 2 | DC | 7 | 5 | 2 | 0 | 10 | 1.03 |
| 3 | RCB | 7 | 5 | 2 | 0 | 10 | -0.11 |
| 4 | KKR | 7 | 4 | 3 | 0 | 8 | -0.57 |
| 5 | SRH | 7 | 3 | 4 | 0 | 6 | 0.15 |
| 6 | RR | 7 | 3 | 4 | 0 | 6 | -0.87 |
| 7 | CSK | 7 | 2 | 5 | 0 | 4 | -0.58 |
| 8 | KXIP | 7 | 1 | 6 | 0 | 2 | -0.38 |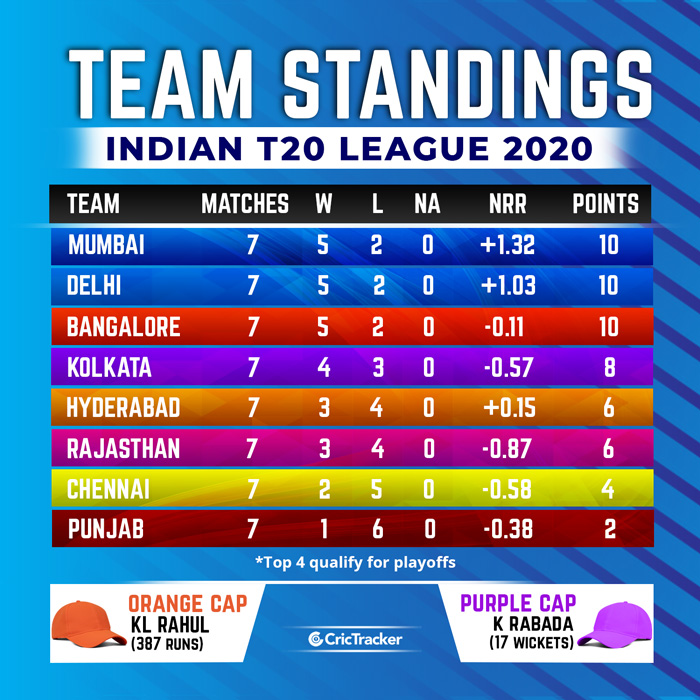 Follow us on Telegram