Latest IPL 2020 Points table, Orange and Purple cap holders after SRH vs CSK game
CSK are on level terms with SRH with six points now.
Updated - Oct 15, 2020 11:40 am
197 Views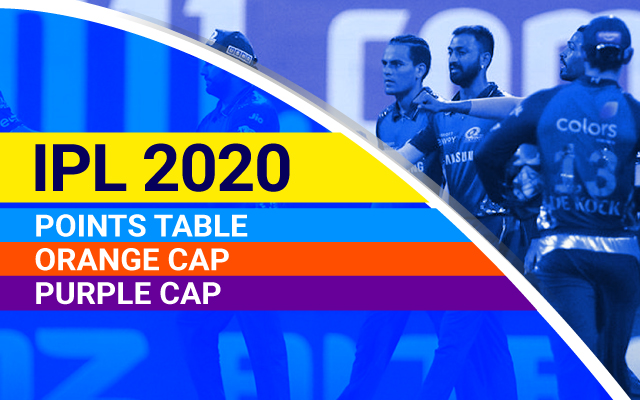 The 29th match of the Indian Premier League (IPL) took place in Dubai between Chennai Super Kings (CSK) and Sunrisers Hyderabad (SRH). The three-time champions finally kept their playoffs hopes alive winning the contest by 20 runs. Batting first, CSK posted a decent 167 on the board where knocks from Shane Watson (42 off 38) and Ambati Rayudu (41 off 34) remained substantial. They showed some aggressive form with the bat to get the team going.
Ravindra Jadeja was named the player of the match for his all-round performance on the field. He scored 25* off 10 in the end, took one wicket, and showed sheer class in fielding too. Brief innings by Sam Curran in beginning (31 off 21) and MS Dhoni (21 off 13) turned out to be successful in pushing the team's score in the respectable slot. Sandeep Sharam showed perfect form with the ball as he conceded just 19 runs in his spell and picked two wickets.
CSK dominated the bowling show too
Chasing the modest total, the opening batsmen of SRH failed to fetch the required runs for the team. Only Kane Williamson (57 off 39) held one end and he failed to gain any support from other batters. Sam Curran and Deepak Chahar were economical for the team, while DJ Bravo and Karn Sharma named two dismissals each to their credit.
Who has Orange and Purple Cap?
After SRH vs CSK match, Mumbai Indians are on top of the points table. Next in line are the Shreyas Iyer-led Delhi Capitals. The 3rd and 4th slots in the table are sealed by Royal Challengers Bangalore (RCB) and Kolkata Knight Riders (KKR) respectively.
The Orange cap continues to be with KL Rahul, who has 387 runs in the league so far. Next in line is Mayank Agarwal, with 337 runs. The 3rd and 4th positions are sealed by Faf du Plessis and David Warner, respectively. The purple cap is with Kagiso Rabada, who has 17 wickets under his belt. He is followed by Trent Boult at 2nd position, who has 11 wickets to his credit so far.
Jasprit Bumrah also has picked 11 wickets. Rashid Khan, Yuzvendra Chahal, and Mohammed Shami have 10 wickets each with them.
List of top run-scorers in IPL 2020 – Orange Cap Holder
| | | | | | | | | | | |
| --- | --- | --- | --- | --- | --- | --- | --- | --- | --- | --- |
| Sr No | Player | Team | Matches | Innings | Runs | Average | SR | 4s/6s | 100/50s | Best |
| 1 | KL Rahul | KXIP | 7 | 7 | 387 | 64.50 | 134.84 | 37/10 | 1/3 | 132* |
| 2 | M Agarwal | KXIP | 7 | 7 | 337 | 48.14 | 158.96 | 34/12 | 1/2 | 106 |
| 3 | Faf du Plessis | CSK | 8 | 8 | 307 | 51.16 | 146.88 | 29/8 | 0/3 | 87* |
| 4 | D Warner | SRH | 8 | 8 | 284 | 35.50 | 121.88 | 22/8 | 0/2 | 60 |
| 5 | J Bairstow | SRH | 8 | 8 | 280 | 35 | 129.03 | 19/12 | 0/3 | 97 |
| 6 | V Kohli | RCB | 7 | 7 | 256 | 64 | 127.36 | 14/7 | 0/2 | 90* |
| 7 | S Gill | KKR | 7 | 7 | 254 | 42.33 | 119.24 | 22/5 | 0/2 | 70 |
| 8 | S Iyer | DC | 7 | 7 | 245 | 40.83 | 138.41 | 20/9 | 0/1 | 88* |
| 9 | D Padikkal | RCB | 7 | 7 | 243 | 34.71 | 126.56 | 25/5 | 0/3 | 63 |
| 10 | S Watson | CSK | 8 | 8 | 241 | 34.42 | 122.33 | 24/12 | 0/2 | 83* |
List of most wicket-takers in IPL 2020 – Purple Cap Holder
| | | | | | | | |
| --- | --- | --- | --- | --- | --- | --- | --- |
| Sr No | Player | Team | Matches | Innings | Wickets | Average | Best |
| 1 | K Rabada | DC | 7 | 7 | 17 | 12.52 | 4/24 |
| 2 | T Boult | MI | 7 | 7 | 11 | 19.90 | 2/26 |
| 3 | J Bumrah | MI | 7 | 7 | 10 | 20.18 | 4/20 |
| 4 | R Khan | SRH | 8 | 8 | 10 | 17.10 | 3/12 |
| 5 | Y Chahal | RCB | 7 | 7 | 10 | 19.10 | 3/18 |
| 6 | M Shami | KXIP | 7 | 7 | 10 | 22.30 | 3/15 |
| 7 | J Archer | RR | 7 | 7 | 9 | 21.22 | 3/24 |
| 8 | J Pattinson | MI | 7 | 7 | 9 | 24 | 2/19 |
| 9 | Sam Curran | CSK | 8 | 8 | 9 | 27.55 | 3/33 |
| 10 | T Natarajan | SRH | 8 | 8 | 9 | 28.33 | 2/24 |
Here's the IPL 2020 points table in detail:
| | | | | | | | |
| --- | --- | --- | --- | --- | --- | --- | --- |
| Position | Team | Matches | Won | Lost | NR | Points | NRR |
| 1 | MI | 7 | 5 | 2 | 0 | 10 | 1.32 |
| 2 | DC | 7 | 5 | 2 | 0 | 10 | 1.03 |
| 3 | RCB | 7 | 5 | 2 | 0 | 10 | -0.11 |
| 4 | KKR | 7 | 4 | 3 | 0 | 8 | -0.57 |
| 5 | SRH | 8 | 3 | 5 | 0 | 6 | 0.00 |
| 6 | CSK | 8 | 3 | 5 | 0 | 6 | -0.39 |
| 7 | RR | 7 | 3 | 4 | 0 | 6 | -0.87 |
| 8 | KXIP | 7 | 1 | 6 | 0 | 2 | -0.38 |