Latest IPL 2020, points table, Orange cap and Purple cap holders after DC vs SRH game
After the DC vs SRH match, Rajasthan stands at the top of the table, having won both their matches in IPL 2020.
Get every cricket updates! Follow us on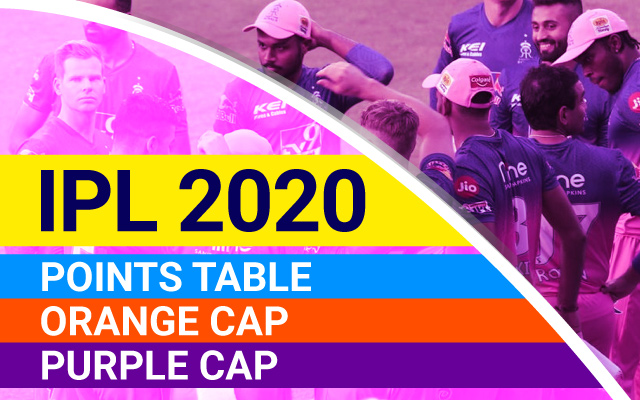 The 11th match of the IPL 2020 saw Sunrisers Hyderabad and table toppers Delhi Capitals locking horns with each other. Hoping to open their account on the points table, SRH posted a respectable 162/4 on board while batting first. Some impressive hitting by David Warner (45 off 33), Jonny Bairstow (53 off 48), and Kane Williamson (41 off 26) led their side to win the contest by 15 runs. Kagiso Rabada showed up best with the ball from DC by conceding just 21 runs and scalping two wickets in four overs.
Three mainstays of Delhi in form of Shikhar Dhawan, Shreyas Iyer, and Rishabh Pant became the victim of Rashid Khan's deadly spin attack, and he was ultimately awarded the player of the match award. He remained instrumental in saving big runs for his team on the pitch of Abu Dhabi.
Hunting the target, Delhi Capitals could never settle well on the pitch. The cameo from Shikhar Dhawan (34 off 31) and Rishabh Pant (28 off 27) could add only little in the big sea of runs to chase. Shimron Hetmyer's quickfire 21 off 12 balls looked impressive but ended too soon thanks to Bhuvneshwar Kumar. Rashid Khan walked with intentions of breaking the back of Delhi's batsmen and leaked just 14 runs in his span of four overs.
Who has Orange and Purple cap?
After the DC vs SRH match, Rajasthan stands at the top of the table, having won both their matches. Delhi Capitals slipped to 2nd position after losing their first match out of the three played. 3rd position is sealed by Royal Challengers Bangalore followed by Kings XI Punjab.
KL Rahul continues to own the orange cap by scoring 222 runs in the season so far. He is followed by his teammate Mayank Agarwal at 2nd position with 221 runs. Faf du Plessis and Sanju Samson fill up the 3rd and 4th slot respectively, in the race for orange cap.
At this point in time, both Mohammed Shami and Kagiso Rabada have seven wickets but the latter stands up with a better economy. Trent Boult, Sam Curran, Yuzvendra Chahal, and Sheldon Cottrell have five wickets each to their credit.
List of top run-scorers in IPL 2020 – Orange Cap Holder
| | | | | | | | | | | |
| --- | --- | --- | --- | --- | --- | --- | --- | --- | --- | --- |
| Sr No | Player | Team | Matches | Innings | Runs | Average | SR | 4s/6s | 100/50s | Best |
| 1 | KL Rahul | KXIP | 3 | 3 | 222 | 111 | 156.34 | 23/9 | 1/1 | 132* |
| 2 | M Agarwal | KXIP | 3 | 3 | 221 | 73.67 | 170 | 21/11 | 1/1 | 106 |
| 3 | Faf du Plessis | CSK | 3 | 3 | 173 | 86.5 | 149.14 | 11/7 | 0/2 | 72 |
| 4 | Sanju Samson | RR | 2 | 2 | 159 | 79.5 | 214.86 | 5/16 | 0/2 | 85 |
| 5 | AB de Villiers | RCB | 3 | 3 | 134 | 67 | 186.11 | 12/7 | 0/2 | 55* |
| 6 | J Bairstow | SRH | 3 | 3 | 119 | 39.67 | 117.82 | 8/3 | 0/2 | 61 |
| 7 | Steve Smith | RR | 2 | 2 | 119 | 59.5 | 160.81 | 11/56 | 0/2 | 69 |
| 8 | D Padikkal | RCB | 3 | 3 | 111 | 37 | 132.14 | 13/2 | 0/1 | 56 |
| 9 | Aaron Finch | RCB | 3 | 3 | 101 | 33.67 | 121.69 | 11/3 | 0/1 | 52 |
| 10 | Rohit Sharma | MI | 3 | 3 | 100 | 33.33 | 138.89 | 5/7 | 0/1 | 80 |
List of most wicket-takers in IPL 2020 – Purple Cap Holder
| | | | | | | | |
| --- | --- | --- | --- | --- | --- | --- | --- |
| Sr No | Player | Team | Matches | Innings | Wickets | Average | Best |
| 1 | K Rabada | DC | 3 | 3 | 7 | 10.71 | 3/26 |
| 2 | M Shami | KXIP | 3 | 3 | 7 | 11.71 | 3/15 |
| 3 | Sam Curran | CSK | 3 | 3 | 5 | 17.6 | 3/33 |
| 4 | Y Chahal | RCB | 3 | 3 | 5 | 18.2 | 3/18 |
| 5 | Trent Boult | MI | 3 | 3 | 5 | 17.4 | 2/30 |
| 6 | S Cottrell | KXIP | 3 | 3 | 5 | 18.6 | 2/17 |
| 7 | Rashid Khan | SRH | 3 | 3 | 4 | 17.5 | 3/14 |
| 8 | Ravi Bishnoi | KXIP | 3 | 3 | 4 | 22 | 3/32 |
| 9 | Rahul Chahar | MI | 3 | 3 | 4 | 23.25 | 2/26 |
| 10 | Shivam Dube | RCB | 3 | 2 | 4 | 12 | 2/15 |
Here's the IPL 2020 points table in detail:
| | | | | | | | |
| --- | --- | --- | --- | --- | --- | --- | --- |
| Position | Team | Matches | Won | Lost | NR | Points | NRR |
| 1 | RR | 2 | 2 | 0 | 0 | 4 | 0.615 |
| 2 | DC | 3 | 2 | 1 | 0 | 4 | 0.483 |
| 3 | RCB | 3 | 2 | 1 | 0 | 4 | -1.45 |
| 4 | KXIP | 3 | 1 | 2 | 0 | 2 | 1.498 |
| 5 | MI | 3 | 1 | 2 | 0 | 2 | 0.654 |
| 6 | SRH | 3 | 1 | 2 | 0 | 2 | -0.22 |
| 7 | KKR | 2 | 1 | 1 | 0 | 2 | -0.76 |
| 8 | CSK | 3 | 1 | 2 | 0 | 0 | -0.84 |