List of captains who have won the IPL trophy
Rohit Sharma has won IPL four times while leading the Mumbai Indians.
Updated - Oct 21, 2020 3:28 pm
481 Views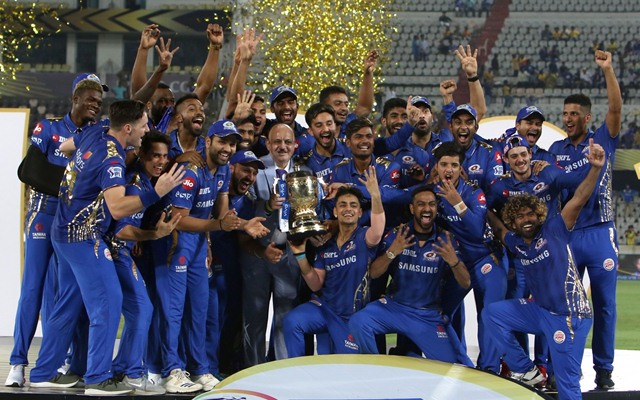 Cricket is a game in which the skipper of the side plays a very crucial role. The captain leads the team from the front and has several supplementary roles with huge responsibilities. Captaining a side is not easy. To be the best in the game requires a lot of skills like handling pressure & match situation, execution of plans, taking the right decisions, and building immense pressure on the opposition is what captain has to think of all the time.
In IPL, a game situation can change very rapidly. So the franchises have always looked for those skippers who can handle the pressure. Each franchise in the cash-rich league of India has star players as their captain from all across the globe.
Virat Kohli, MS Dhoni, Rohit Sharma, David Warner, Steve Smith are some of the skippers who represent their team. The Indian T20 league has witnessed several captains who have lifted the title twice, thrice, and even four times.
Rohit Sharma, the most successful captain
With four IPL titles under his belt, skipper of the Mumbai Indians (MI), Rohit Sharma is considered to be the most successful captain in the history of IPL. The hitman became the captain of the side in 2013 and has led them to 4 IPL titles since then. Under the wonderful captaincy of Rohit Sharma, Mumbai Indians have won the trophy in 2013, 2015, 2017, and 2019 respectively.
The Thala of Chennai, MS Dhoni has won the title three times for Chennai Super Kings. On the other hand, Gautam Gambhir led Kolkata Knight Riders to two fabulous victories to lift the trophy in 2012 and 2014.
Australian Captains are the only overseas players to win IPL
Mostly Indian players have led the IPL teams but there are some overseas players who have carved their names as great captains too. There are three overseas captains who have guided their teams to win the IPL trophy, all are Australians. Shane Warne led Rajasthan Royals to register their first title win in the opening season of the IPL.
In the second edition of the Indian T20 League, Adam Gilchrist won it for the Deccan Chargers. The left-handed opener from Australia, David Warner also captained Sunrisers Hyderabad in the IPL final of 2016 and lifted the trophy in that season.
List of Captains who have won IPL:-
| | | | |
| --- | --- | --- | --- |
| SNO. | CAPTAIN | TEAM | YEAR |
| 1. | Shane Warne | Rajasthan Royals | 2008 |
| 2. | Adam Gilchrist | Deccan  Chargers | 2009 |
| 3. | MS Dhoni | Chennai Super Kings | 2010 |
| 4. | MS Dhoni | Chennai Super Kings | 2011 |
| 5. | Gautam Gambhir | Kolkata Knight Riders | 2012 |
| 6. | Rohit Sharma | Mumbai Indians | 2013 |
| 7. | Gautam Gambhir | Kolkata Knight Riders | 2014 |
| 8. | Rohit Sharma | Mumbai Indians | 2015 |
| 9. | David Warner | Sunrisers Hyderabad | 2016 |
| 10. | Rohit Sharma | Mumbai Indians | 2017 |
| 11. | MS Dhoni | Chennai Super Kings | 2018 |
| 12. | Rohit Sharma | Mumbai Indians | 2019 |