'Main pal do pal ka shayar hu' – A trademark MS Dhoni finish
Let us talk about the person that you are, MS!
Updated - Aug 16, 2020 2:59 pm
124 Views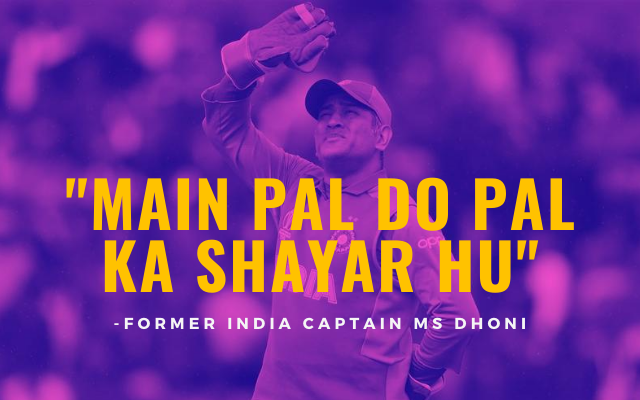 Oh captain, my captain!
The announcement of your retirement doesn't hurt us as much. For, we have been expecting it for over a year now. Right when you fell a few inches short in the Semi-final against New Zealand, we knew this was coming. But they say, hope is everything. And yes, there was a glimmering hope that you'd don the Indian Blue once again, despite that the fact that we knew this was coming. Some have demanded your retirement, some wanted you to continue. While this hardly mattered to you, you surely let them have some fun. They all knew this was coming.
This is an inevitable day in the life of any cricketer and if a cricketer doesn't come under anyone's pressure before taking the call, that is the best thing that can happen. And we know, what others think hardly impacts you and this is purely your choice. We all knew this was coming but not in the form of an Instagram post – a platform where we often reminisce several heroics of yours.
The man who took up the hardest job despite knowing the sweat and toil
Dear MS Dhoni, let us not talk about your achievements and records. It is something we have been hearing for several years in the form of different stories. Let us talk about the person that you are. When you made it to the Indian team, you knew how difficult it is to bat down the order – at numbers 5, 6 and 7. Batsmen filling up these positions hardly get a chance to prove their mettle, for, the opportunities are so limited.
You had your own insecurities and preferred batting higher up the order. But over time, as you evolved as a player and a captain, you realised what is best for the team. It was never about you. You could have easily batted at three or four, but you had your priorities sorted. And the highest of those was the Indian cricket team. There was constant criticism but you knew your role.
Even an experienced player might have been under the pump if he was made the captain for the T20 World Cup 2007. With not many senior players in the team, it was quite a task. But you never backed off. You did your job with absolute perfection and always rose up to the occasion. We will always be indebted to you for that. And furthermore, handling the burden of the seniors and nurturing the juniors is one of the most overwhelming jobs to do. You had to make some tough calls and you did, irrespective of what the world thought about you because the team was paramount to you. You always handled all this with a smile on your face.
From the Man with the Midas touch to the man who lost every game possible
When you started off, you had a foundation laid by Sourav Ganguly. You knew the best way you could capitalize on that and you were hailed as the 'Man with the Midas Touch'. You did everything possible and had a fabulous ride till 2011. But later that year, the downfall of the Indian team began. At that point in time, when there were demands of you stepping down as the captain, you could have easily stepped aside and left the job to someone else.
Also Read
But you didn't. You knew that the Indian team required you. You understood the demands of that situation irrespective of what the outside world thought. Moreover, you have always been on the frontline and shielded the team on all occasions. Not for a moment, it felt as if the team was undergoing a transition and for that, you are criticized the most.
You were highly patient with several players. Numerous opportunities were given even though the team wasn't performing well. You nurtured the young players, backed them and always had their back. And the team we see now is nothing but a consequence of all the criticism you have born and all the bad records that you accumulated.
Dear MS Dhoni, thank you for the selfless man that you are
And again, for the selfless man that you are, you decided to step aside – in the middle of an ongoing series. You knew the Test team was in a position to do without you and you didn't have a second thought. You could have played 100 Tests, you could have registered some memorable victories with the team over the next two years. But for you, it was always the team that came first.
There was always criticism from your own teammates but for you, nothing mattered more than the team. Even when it came to the decision of your own retirement. The same was the case with your captaincy. To let things go is not easy, but you have done it with utmost glace. And, you couldn't have picked a better song than 'Main pal do pal ka shayar hu' since that is the philosophy that you have always believed in right from the start of your career. Only you could do it this way, as unique as you were on the field.
Oh captain, my captain!
Words would fall short to describe the man that you are. A farewell game didn't matter to you nor did having a grand retirement announcement event. All that mattered to you was the process and the rest shows in your achievements and the current Indian team's performance.
Thank you would clearly be an understatement, for, all that you have done for Indian cricket.
Yours sincerely,
An ardent fan.