Mark Wood and Liam Plunkett take the 'sexy kitten challenge' to break lockdown monotony
To start with, Joe Denly challenged Wood.
Updated - Mar 28, 2020 2:02 pm
178 Views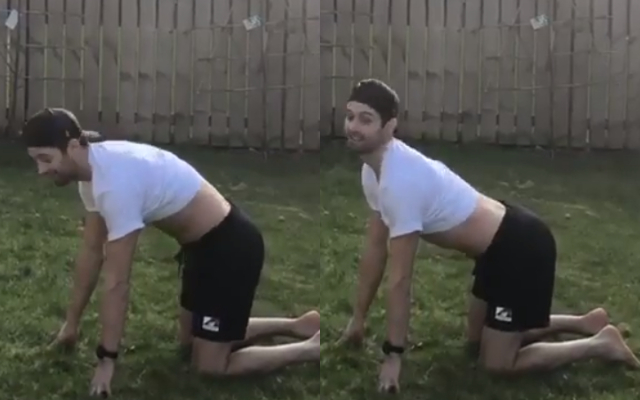 Follow us on Google News
The England cricketers are busy spending their time indoors owing to the coronavirus outbreak. Hence, at times it can get a bit monotonous, not being able to go outdoors. However, a few of the Three Lions' cricketers have found a way to beat the boredom. Recently, Mark Wood, the Brits' fast bowler, took the 'sexy kitten challenge' as he posted a hilarious video.
The 30-year-old, who was a part of the England's 2019 World Cup winning squad, was persuaded by teammate Joe Denly to do the same. Wood made a clip at his home, naming it 'Mark Wood Teaches Dance'. In the garden, Wood flaunted his moves and described the same as 'mantis', 'starfish' and 'tiramisu'. Then he followed a 'beef toe' step with a roll across the grass.
Wood spoke to the camera and said, "Hi everyone, hope you're well, hope you're looking after each other. Joe Denly challenged me to do a dance video. Well, Joe, I have done it. My challenge is to you at home now to have a go at your own dance moves or you can even try mine – see if you can do it,"
Here is Mark Wood's video
Wood then threw the  challenge to fellow Englishman Liam Plunkett. The latter didn't take time in accepting it, posting a video. In the clip, the all-rounder shows a gymnastic element and flourishes a red ribbon.
Plunkett captioned the video and wrote, "Challenge Accepted. @markwood here's some chariots of fire for your sexy kitten. An old school response to your new school of dance."
Here is Plunkett's video
The challenge didn't stop there as Plunkett relayed the same to the likes of Jason Roy, Chris Woakes, and David Willey, asking them to show their dancing skills.
In the meantime, coronavirus pandemic has affected the United Kingdom (UK) to a significant extent. The number of cases has increased to a stunning 14,543 with the death tolls going up to 759. 135 have made recovery though.
Amy Jones and Lauren Winfield, two of the England women's cricketers, are stranded in Australia after their flights are getting cancelled. Cricketing and other sporting activities have also come to a halt in England.
Follow us on Telegram