Mashrafe Mortaza rescues a 20-year-old pregnant woman who was abandoned by her husband
Mortaza will also take her financial responsibilities during the delivery of her child.
Updated - Jun 10, 2020 5:34 pm
2.5K Views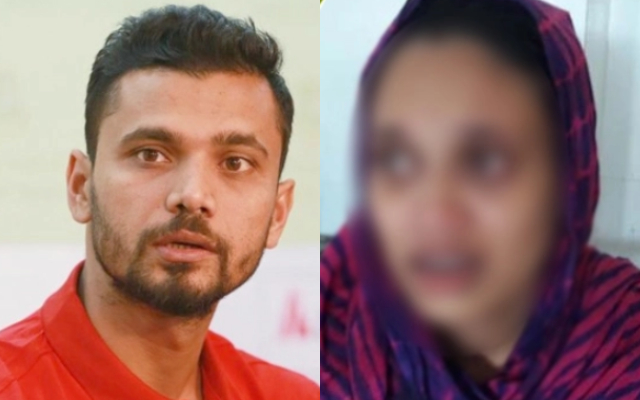 Mashrafe Mortaza, the former Bangladesh captain, has been working as hard as he could in the global coronavirus pandemic. Now the veteran has lent his helping hand for a 20-year-old pregnant woman, named Iti Khanum, who was abandoned by her husband Titas Kazi. But after orders from the Narail-born Mashrafe, she has been able to reach her husband's home on Monday, June 8.
The police, led by Syed Ashiqur Rahman, the Officer-in-Charge (OC) of Lohagarh Police Station, guided her back to her in-laws. The OC said that she was pregnant for eight months. She will now be under the supervision of a watchman (female) and a watchman (male) will also be keeping an eye on her. The police have given her food and the local chairman will pay for her market expenses.
Mashrafe pledges to take care of the woman
As per reports in jagonews24, Mashrafe, who's also an MP from the Narail Constituency, will also be looking after her and helping her out. In fact, Mortaza will also take her financial responsibilities during the delivery of her child. According to sources, on June 1, Iti was tortured and left on the streets by spouse. Thereafter, the locals called 999, the number of the National Emergency Service.
After getting to know about it, the police rescued her and admitted her to the Lohagarh Upazila Health Complex. Ever since, neither her husband nor her in-laws have enquired about her. Her husband has fled, switching off his phone. In the meantime, Iti has denied dragging the wrongdoers to court. Rather, she still desires to build the family with her husband despite the torture.
Back in March 2019, Mortaza donated half of his Bangladesh cricket' salary for the ones affected in the COVID-19. Moreover, he also took responsibilities of a number of underprivileged families by supplying food items. Mashrafe also auctioned off his bracelet, which he owned for 18 years.
It fetched a stunning Tk 4.2 million, but after he sold it off, the buyer decided to gift it back to him. As far cricket is concerned, he last played in the ODI series against Zimbabwe. The 36-year-old also led the Tigers for the last time after which his teammates carried him on their shoulders.
Follow us on Google News