Matthew Hayden never enjoyed my fame and I never enjoyed his personality: Shoaib Akhtar
Shoaib Akhtar and Matthew Hayden didn't like each other in their day but eventually became good friends.
Updated - Sep 15, 2021 6:25 pm
25.4K Views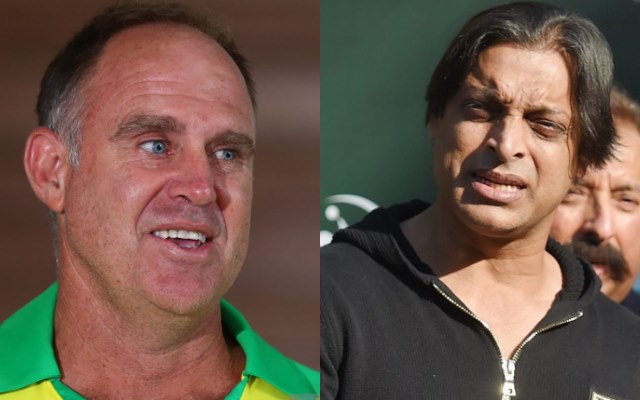 Follow us on Google News
Matthew Hayden has been roped as the batting consultant for the Pakistan cricket team for the T20 World Cup 2021. Pakistan Cricket Board's new chairman Ramiz Raja has revealed that he believes there is a lot that the national men's team could learn from Hayden. Amidst this, former Pakistan fast bowler Shoaib Akhtar shared his experience with Hayden. 
During the 2000s, both Akhtar and Hayden were at their absolute peak in terms of their performances. The two had a fiery attitude and had a knack for going after each other once in a while. In fact, during Pakistan's 2004-05 tour of Australia, two characters had a few run-ins with each other. 
"He never enjoyed my fame and I never enjoyed his personality. I always told him that I'm better looking than you [laughs]. The Test match started in Perth and he was out leg-before and I was fined ten percent for that send-off," Akhtar said during a PTV Sports show. The send-off is quite famous which Akhtar talks about. But it only put dents in the already strained on-field relations between the two cricketers. 
He has a great mindset: Shoaib Akhtar on Matthew Hayden
Akhtar revealed in that series he had a wood over Hayden as the left-handed batter couldn't get a move on. The two were known not to like each other. However, after retirement the two started working in the cricket broadcast industry where they met each other again. The Pakistan pacer recalled how the two of them wouldn't talk to each other a lot because of their past rivalry on the pitch. 
The pacer further revealed that one day he asked Hayden to join for dinner. After the two had dinner and Akhtar dropped Hayden at his hotel, the former batter realized that he had left the keys at the place where they were having dinner. Akhtar revealed after finishing their stint, the Australian wrote a heart-warming text for the pacer saying, "The guy I was dreading for all my life, I couldn't realize he was one of the nicest guys I was missing out on."
Further, Akhtar said he approves the decision of bringing Hayden to the mix for the T20 World Cup 2021. "He has a great mindset and he played in that era where we talk about that mindset. Ramiz bhai's idea is that if he can inject about 30-40% of that mindset, it will be a lot better," Akhtar added.
Follow us on Telegram