Matthew Hayden says Kuldeep Yadav is tougher to play than Yuzvendra Chahal
"Leg spinners provide option and variety."
Updated - Mar 11, 2019 3:47 pm
2K Views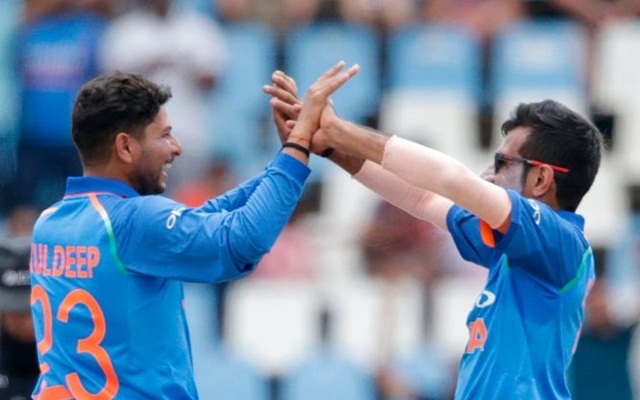 The combination of Kuldeep Yadav and Yuzvendra Chahal have worked wonders for the Indian team in the last year and a half. The advent of wrist-spinners in the limited overs format began with the success of Kuldeep and Chahal in South Africa in early 2018 when they demolished the Proteas on their own turf.
The Mohali ODI between India and Australia saw the duo play together after a long time, as one of them is rested in order to maintain the balance of the team. Injury to Hardik Pandya meant that Indian team management could not afford to play both the spinners, in order to make the batting stronger.
Kuldeep Yadav has been more effective amongst the two, as he has been preferred to Chahal. Kuldeep has 86 wickets to his name in 43 ODI matches and Chahal has taken 46 wickets in 31 One Day matches. They have not only gotten success on Indian pitches but have performed extremely well in places like England, Australia, and South Africa.
Matthew Hayden unravels the mystery behind Kuldeep's success
Former Australia opener Matthew Hayden, in an interview with India Today, gave his opinion on why Kuldeep Yadav is a tougher bowler to negotiate than Yuzvendra Chahal, because of the drift he gets on the ball, which is similar to Shane Warne.
"Leg spinners provide option and variety. In particular, if you look at Kuldeep, his strength is not how far he turns the ball but his strength is how the ball just like Shane Warne's deliveries arrives at the batsman. It has a distinct curve in the air," Hayden said.
However, according to Hayden, Chahal is more of a stump to stump bowler who likes to bowl flat and straighter and mentioned that as a batsman, he would like to face Chahal than Kuldeep Yadav. Kuldeep Yadav also has the advantage of being a left-arm spinner giving a different angle to the batsmen to face.
Finger spinners have a confidence problem in limited overs
Matthew Hayden also said that the off-spinners have lost ground in ODIs because they lost the ability to pick wickets because they chose to contain the batsmen and bowl flatter trajectories. Also, according to Hayden, off-spinners no more vary their pace and hence have become easily predictable.
Hayden has been working as a consultant for Australia team in the series and refused to take credit for Ashton Turner's onslaught that saw Australia chase down 358 runs. "The boys have worked very hard on their game and that created the change. I have been working more with younger boys like Ashton Turner," he added.
[interaction id="5c7f7535f115e0af40e0fc0b"]