'Mid life crisis surely' – Fans savage Dale Steyn for saying playing in other leagues more rewarding than IPL
Dale Steyn recently said that playing in other T20 leagues is more than rewarding when compared to playing in the IPL.
Updated - Mar 2, 2021 3:46 pm
19.9K Views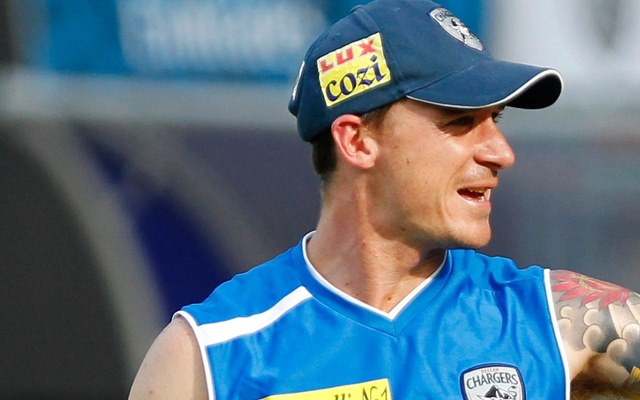 South African bowler Dale Steyn is facing the heat on social media after his recent comment on Indian Premier League (IPL). The 37-year old is currently in Pakistan, plying his trade for Quetta Gladiators in the ongoing Pakistan Super League (PSL). Steyn is playing in Pakistan's premier T20 tournament for the very first time.
And the veteran pacer has caused an outrage on social media platforms by saying that playing in the IPL is less rewarding than other franchise leagues around the world including the PSL. Earlier this year, Steyn pulled out of IPL 2021 after playing in the league for more than a decade. He played for Royal Challengers Bangalore, Deccan Chargers, Sunrisers Hyderabad and Gujarat Lions in the tournament.
Steyn had played for RCB in the last edition of the IPL but had a forgettable campaign. He had played just three games and had managed to pick up only 1 wicket. Overall, Steyn played 95 games in the IPL and picked up 97 wickets.
Fans slam Dale Steyn:
Explaining his remark about IPL, Dale Steyn said there is too much emphasis on money in the IPL and that "cricket gets forgotten" as a result. Steyn opined that in the presence of big squads, big names and huge money involved in the IPL, cricket takes the back seat. The legendary pacer further claimed that the price of players in auction remain the main topic in IPL.
"I found that playing in these other leagues was slightly more rewarding as a player. I think when you go to IPL, there are such big squads and so many big names and so much emphasis on maybe the amount of money players earn and everything like that, so sometimes, somewhere down the line, cricket gets forgotten," Dale Steyn was quoted as saying by Cricket Pakistan.
"When you come to like a PSL or the Sri Lankan Premier League, for that matter, there is an importance on the cricket. I have only been here for a couple of days and I have had people in and out of my room, just wanting to know about where I have played and how I went about it. Whereas, when I go to something like the IPL that gets forgotten and the main topic is how much money did you go for in this IPL?" he added.
Unsurprisingly, his comment has not gone down well with the fans and they did not take long to slam him. Soon after the comments appeared on the internet, the fans took to social media platforms to take shots at Steyn.
Here are some of the reactions:
True. IPL is brutally competitive. Smaller leagues give him veterans like him a better chance to preserve their game.

— Prashant Mishra (@prashantmish115) March 2, 2021
💯 true. He is getting smashed for few years in IPL and got base price last year and now talking importance of cricket and impact of money on player.

— RevanthSaiesh (@RevanthSaiesh1) March 2, 2021
Translation:

Once you get older and lose your mojo, it's hard to find good contract in IPL since they have plenty of quality overseas players to choose from. Whereas in low quality leagues like PSL, you are still the same old legend, with a secured spot in Playing XI.

— kabir (@asliijp) March 2, 2021
Translation:- I can't make it to playing XI of IPL teams anymore. Even RCB benched me, PSL-LPL are way to go. Tournaments where my cricket is still valued.

State of this ageing tiger 😢😢

— Mihir P Sah (@mihrpsah) March 2, 2021
Retired in ipl after playing 12 years and he got thrashed by indian domestic players every ipl. Now he playing psl for pension 😂

— Ram 🏏 (@Ramcric7) March 2, 2021
Completely respect his opinion but he wouldn't have said these things if he was good enough to start in any IPL XI. https://t.co/UlbYDIy6gS

— 𝙎𝙠𝙮𝙖𝙜𝙙𝙖𝙢𝙣𝙞 (@skyagdamni) March 2, 2021
Straight from the horse's mouth…well he says he spend only a couple of days there and he gets treated like a superstar in Pakistan…whereas in IPL he's lost that awe about him. Maybe that's why. Very subjective. Well!!! https://t.co/mXCQawWHQ5

— Vishnu Sankar (@vishnusankarbr) March 2, 2021
Criticise it, when you can't compete in the top level anymore #steyn #ipl https://t.co/oSaFp6f9bC

— Dobby (@Dobby41416117) March 2, 2021
Dale Steyn's total earning:

From IPL – 47 Crore
From PSL – 36 Lakh

Fisherman earned enough money from the IPL so he could have vacations the whole year and then go to PSL and talk shit.

Mid life crisis, surely.

— IPL 2020 (@iplthebest) March 2, 2021
Darren Sammy found out that 'Kalu' is a racist term after becoming irrelevant in IPL.
Dale Steyn realised the overt materialism of IPL after getting smashed all around.

The foreigners have taken a note out of Dennis' playbook; to make money off gullible Pakistanis, bash India! https://t.co/hmEJI3Uk8o

— Bubba Gump Shrimp Company (@wildcardgyan) March 2, 2021
Guys!
Please don't bash Dale Steyn.
He is currently in Pakistan, and his safety and security is at stake, if he will go soft on India or Indian cricket.

Prayers 🙏

— CHRONICLES of Cricket🇮🇳 (@Chronicle_Fame) March 2, 2021
for dale steyn, PSL is more rewarding than IPL because pakistanis bat in PSL and he has a better chance of picking wickets there.

— Neeche Se Topper (@NeecheSeTopper) March 2, 2021
The fact is he is not a good baller now and in Ipl there is such a big names who hit his ball so hard so his average in per match is around 10 or plus so he is good in psl or spl

— Aryan Raj (@AryanRa16111859) March 2, 2021
Disrespect increased for u sir.

— Fake Cricket Analyst (@CricCrazyShiva) March 2, 2021