Misbah takes responsibility of the humiliating defeat to West Indies: ICC Cricket World Cup 2015
Updated - Feb 21, 2015 10:14 am
15 Views
Misbah takes responsibility of the humiliating defeat to West Indies: ICC Cricket World Cup 2015:
It is tough to be a Pakistan cricketer, fan and toughest of them all being Misbah ul Haq today. The team not only lost but they were never in the game to say the least. Pakistan had a totally flop show in all the three departments of the game, and when you do as badly as they did the margin of loss speaks for its magnitude and it is 150 runs defeat in their case.
The kind of figures the West Indies bowlers returned with show exactly how good they bowled or how badly the batsmen batted. Jerome Taylor had 3-15, Russell scalped 3-33 and Sulieman Benn got 2-39, skipper Jason Holder and Darren Sammy took one wicket a piece.
Misbah would have wanted to leave it off, once he left the pitch and never ever watch this match again on TV. But, he had to come back, to take questions from the waiting media.
As soon as he started the Q&A's he was quick on accepting it, "We just flopped in all three departments,"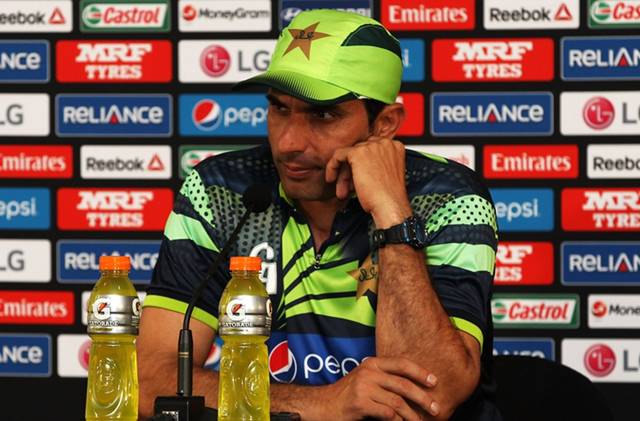 Follow us on Telegram
This is Pakistan's second loss in as many matches in the ICC Cricket World Cup 2015, first they were comprehensively beaten by India at Adelaide by 76 runs and then they had this forgettable match against the West Indies today.
Misabh said, "We didn't bowl well, a lot of dropped catches and batting totally flopped."
It was not only the batting, while in the first innings they bowled too short to be effective and if ever the bowlers were successful in creating a chance the fielders foiled them. The Pakistan captain accepted the responsibility of the loss and said it was the defeat of the entire team and a lapse on their part.
"As a bowler, as a fielder, as a batsman, you have to go there in the middle and perform. That's what we are not doing at the moment."
When you have such a demoralizing defeat questions are raised and when Misbah was asked about there being any sort of difference in the team, as we heard some senior players in the team had disputes with the fielding coach, he said "We were completely outdone by the conditions,"
It was clear around the forth over of their batting innings that Pakistan would lose as they were reeling at 1-4, which is the worst start to a team's innings in not only world cups but ODI history.
Andre Russell for his all-round show was declared the Man of the match. He took 3 wickets and also struck 42 off 13 balls in the final over's of the innings, Russell said it was important for them to do well and show the world they belong to this level after they were defeated by Ireland in their first match at the ICC Cricket World Cup 2015.
He looked pleased at the team effort they had managed to come up with, which helped them register a huge win against Pakistan.
"We wanted to show the world we are a not just a pushover, we are always a good team and we can fight.
"When playing as a team, you are always going to get the job done when everyone contributes."
Follow us on Google News