'Missing you, it doesn't feel the same' – Ricky Ponting connects with Shreyas Iyer over virtual call
Rishabh Pant has been handed over the charge of DC in place of Iyer.
Updated - Apr 11, 2021 6:28 pm
5.4K Views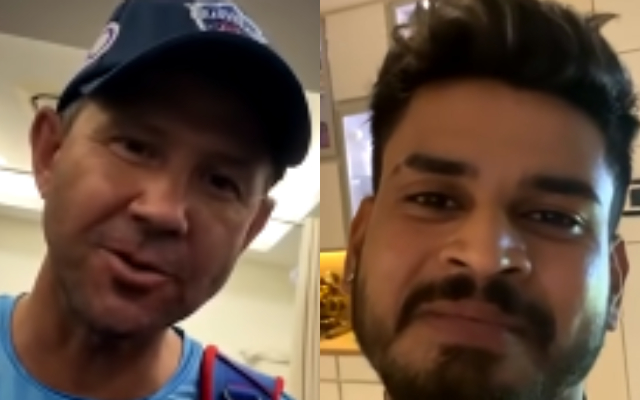 Shreyas Iyer is currently out of his Delhi Capitals' squad and will be missing out on the entire IPL 2021 owing to his recent shoulder injury. Iyer injured his shoulder while playing home series against England last month. He underwent successful surgery in the recent while and stated that he is gutted that he is not with the team at the current moment. Due to the same, Rishabh Pant has been given the charge of Delhi's captaincy.
In the latest turn of events, Delhi's head coach Ricky Ponting, who is known to share a great bond with players connected with Iyer over a video call. It was a special moment to get connected to the young man as his team Delhi registered a stunning victory in their opening game of IPL 2021. DC won Its first game against CSK by seven wickets.
In the call, Ponting was seen saying Iyer to come back soon and join the team. He jokingly added that they are in dire need of a 12th man and Iyer can do that job well for them and the quarantine period is also not very long.
Ricky Ponting missing Shreyas Iyer
"Missing you, it doesn't feel the same. Come and join us, it's just 7 days (quarantine). It will go fast, trust me. Come on, we need a 12th man. We need someone to run the drinks for us," Ponting said in a video shared by DC.
Iyer later revealed in the same call that he is resting at home and his shoulder is plastered. Talking about the game between Delhi Capitals and Chennai Super Kings, Chennai while batting first posted a fine total of 188 runs. Suresh Raina became the leading scorer for them and was accompanied well by Moeen Ali and Sam Curran.
On the other hand, while chasing, the opening partnership of Prithvi Shaw (72 of 38) and Shikhar Dhawan (85 of 54) was enough to damage the CSK lot. The winning runs came in from the bat of new skipper Rishabh Pant as they clinched the contest by seven wickets.
Here is their conversation