Mitchell Johnson picks the bones out of two Indian supporters
The banter was surrounding India's Test series in 2014-15.
Updated - Dec 26, 2018 6:11 pm
3.9K Views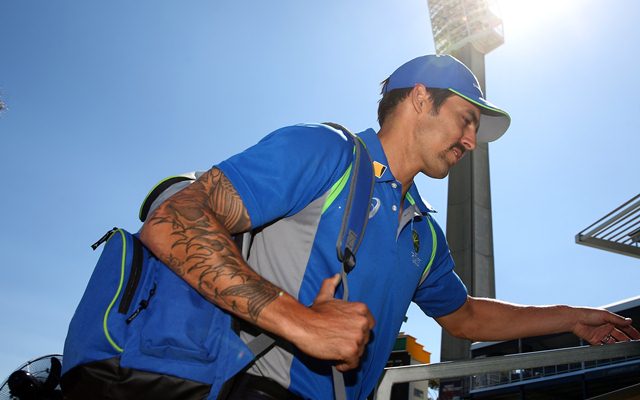 Follow us on Google News
Over the last few days, former Australian fast bowler Mitchell Johnson has been making the news. He had quite a few altercations on Twitter and recently he had a tussle with Indian media organisation Times of India (TOI) where he accused the company of wrongly quoting him, surrounding Indian speedster Jasprit Bumrah. Previously, he also took a dig at Indian captain Virat Kohli.
The third Test at the iconic Melbourne Cricket Ground (MCG) is currently underway and India are in a strong position, having scored 215 runs in 89 overs. Mayank Agarwal scored 76 runs in his maiden international appearance after which skipper Virat Kohli and Cheteshwar Pujara put on an unbeaten stand of 92 runs to help their team end the first day in a strong position.
Pujara became the second half-centurion of the day and remained not out on 68 runs from 200 balls with six boundaries. Like always, he didn't play a shot out of anger and showed an unflustered mindset. Johnson was impressed by the knock. He took to Twitter and wrote, "Cheteshwar Pujara is Test playing Run Machine,"
Here is Johnson's tweet
Pujara is a Test playing run machine 🤙🏼

— Mitchell Johnson (@MitchJohnson398) December 26, 2018
However, one of his supporters reminded him of the dominance, Kohli had over him when India played a four-match series against the Aussies back in 2014-15, the same series where MS Dhoni hung his boots from Test cricket. The fan replied and wrote, "Still can't forget the nightmare Virat Kohli gave u on the 2013-14 tour."
Here is the supporter's tweet
Still can't forget the nightmare #Virat gave u on 2013-14 tour 🤣

— ab rahuman (@abu_rahu) December 26, 2018
Johnson had a brutal reply in store and he reverted, saying that India lost the series 2-0. "What nightmare was that? I think he had the nightmares after we won that series." Kohli was the second highest run scorer of that series after Steve Smith. The 30-year-old hit four centuries as well.
Here is Johnson's reply
What nightmare was that? I think he had the nightmares after we won that series ✌🏼

— Mitchell Johnson (@MitchJohnson398) December 26, 2018
Meanwhile, another fan took a dig at Johnson, saying that the Aussies won owing to the favourable conditions. The fan wrote, "You won because it was the conditions you were used to but Virat irrespective of home support hit centuries that's a true nightmare."
Here is the second fan-tweet
You won because it was the conditions you were used to but Virat irrespective of home support hit centuries that's a true nightmare

— Saif Khalfay (@KhalfaySaif) December 26, 2018
Johnson wasn't ready to give up and he said that Australia's victory was all that mattered in that tour. "Good excuse Yes Australia won, no buts. No@nightmares for me or any other aussies player that series because what matter the most is that we won, simple."
Here is Johnson's last tweet
Good excuse 👍🏼 Yes Australia won, no buts. No@nightmares for me or any other aussies player that series because what matter the most is that we won, simple

— Mitchell Johnson (@MitchJohnson398) December 26, 2018
Follow us on Telegram