Mitchell Marsh says he is a sitting duck if not the best all-rounder in Australia
Marsh thinks he is just one knock away from hitting form and hopes to start well against India this summer.
Updated - Nov 28, 2018 10:42 am
305 Views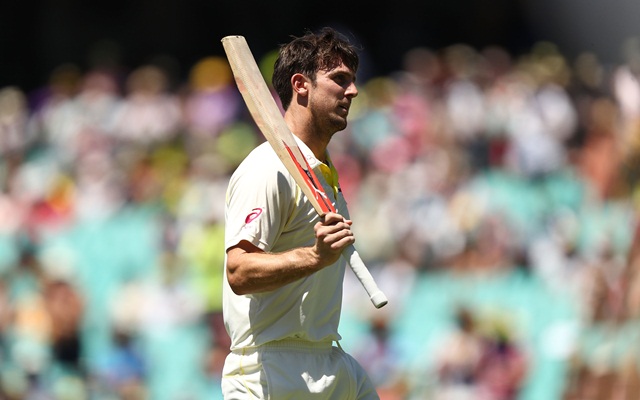 Follow us on Telegram
Australian all-rounder Mitchell Marsh works hard on his game, the results may not always go his way but he doesn't want to give in to those opinions that clearly are against him. Marsh recently worked on his batting technique and is really looking forward to the season. He hears all the criticism around but the focus is to make sure he adds value to the team whenever he is a part and to back the boys.
Marsh said that Australia is a cricket passionate country and most use social media and other platforms to broadcast their views that are also reach many people. He wants to perform this year and change a few opinions that are not necessarily in his favour.
"I love the fact that Australians are so passionate about the sport," Marsh said while talking on the latest episode of The Unplayable Podcast. "The world we live in now, with social media, everyone gets to have an opinion and a lot of people see those opinions. It's very easy for that to grow around the country.
Change a few opinions
"Ultimately, I'll do my best for Australian cricket and not everyone's going to agree that I'm always in the side or whatnot, but I've got a job to do for the boys. I try to do that to the best of my ability, I train hard, get around the boys as much as I can and that's all I can control.
"Hopefully I can perform this year and who knows, maybe I'll change a few opinions around the country," Marsh said.
He is a part of the Australian squad for the first two Tests against India. He understands the importance of his batting and the failures in the UAE made him work harder and tweak his batting technique as well. The right-hander in his most recent outing played a knock of 151 representing Western Australia in the Sheffield Shield match against Queensland.
Tweaked batting technique
"As an international cricketer you're always tweaking your technique, looking back on footage," he said.
"I had a good couple of hits with Scotty Meuleman, my batting coach. He picked up a few things; my eyes weren't really level at the point of release, which for me is really important being so tall. It only takes for me to fall over a little bit and I tend to get hit on the pad.
"I went over to Brisbane and I was able to rectify that and it was really nice to come back and get a big hundred. My spot in the team, there's always a lot of chat and talk about it, so the only way for me to put that to the side is by making lots of runs in Shield cricket and playing well."
Marsh admitted that he might not have cemented his spot in the team but is certain that he is a much better cricket than he was a year ago. He is also certain that it will take just one inning from turning things around and hopes to start well against India.
"I don't think I've 100 per cent cemented my spot down but I feel like from where I was 12 months ago I'm a much better cricketer and I showed that last year in the Ashes and the first couple of games in South Africa," Marsh said.
"Then I had an injury and a very poor series in the UAE. I'm only ever one innings away from changing that and hopefully, I'll be able to start well against India if I get picked and go from there.
"I have to believe I'm the best allrounder in the country because if I don't I'm a sitting duck. I'll continue to believe that, I'll continue to train hard and hopefully it all comes off for me."
Follow us on Google News