Mithali Raj's numbers in international cricket are surreal and we aren't talking about that enough
Mithali Raj is now the highest run-getter in the history of women's cricket. Can we now please start mentioning her whenever we talk about the Indian batting legends?
Updated - Jul 4, 2021 5:05 pm
439 Views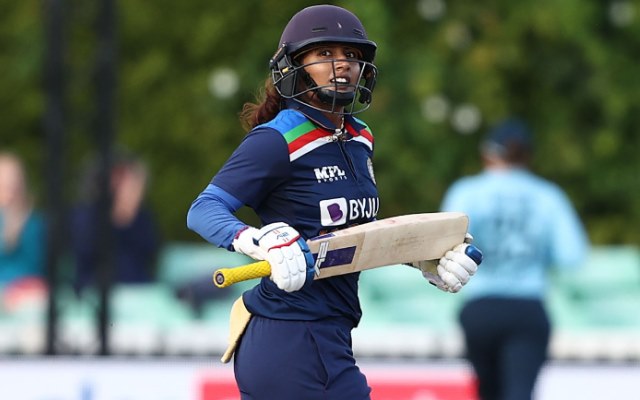 Follow us on Google News
During the final ODI between India and England in Worcester, captain Mithali Raj found herself in the middle of a tight run-chase, which got tougher and tougher as it progressed towards the end. When Deepti Sharma's wicket fell, India still needed 55 runs from seven overs. Even though it was gettable, India was five wickets down, possibly a wicket away from a collapse. 
Mithali, at this point, was batting on 46. In the third ball of the 40th over, she hit Kate Cross for a boundary, notching her 65th score of 50+ and fourth in consecutive ODI innings. That is some solid consistency. The difference between a solid batter and a great batter is often consistency. 
In cricket, we look at a lovely cover drive and admire the batter's ability to get his head, eyes, and hands just at the right position in order to get an Ian Bell-like cover drive. But, what if a batter can't repeat that shot more often and keeps getting out to the ball coming back at him/her and ends up averaging 35 from 79 ODIs. How often do cricketers like that get talked about? Not so much. 
Hence, it becomes almost a must that Indian cricket fans get to know about Mithali Raj's surreal numbers in international cricket. And it just doesn't boil down to her consistency, because it is also about longevity. Apart from this, there is versatility and big-match temperament which defines a batter's greatness. Mithali Raj ticks all those boxes. 
Mithali Raj in ODIs so far
| | | | |
| --- | --- | --- | --- |
| Innings | Runs | Average  | 50s/100s |
| 196 | 7304 | 51.80 | 58/7 |
Longevity in the game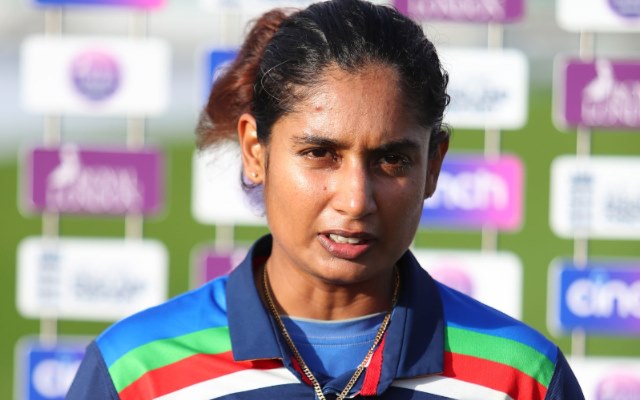 At the age of 16 years and 205 days, Mithali Raj made her ODI debut on June 26, 1999, against Ireland. Opening the batting, she and her partner Reshma Gandhi put on a 258-run stand which lasted for the entirety of the innings. She ended with a score of 114 runs. At the time, she was the only Indian to have scored a century on ODI debut, a feat which was not achieved by any Indian men's cricketer until KL Rahul in 2016. 
That knock which was played by her in Milton Keynes marked the beginning of a journey that is now 22 years and 7 days old. No other woman cricketer has had a longer career than this. As a matter of fact, the only Indian to have had a longer career than that is Sachin Tendulkar, who was an international cricketer for 24 years and 1 day.
The thing which experts often talk about when it comes to Tendulkar is his longevity. The fact that is mind-blowing about him is that he was at the top of his game in the early part of the 1990s and scored his last Test century in 2011 when he was still at his best. With Mithali, the story is pretty similar. 
When Mithali Raj made her ODI debut, Sourav Ganguly was yet to become the captain of India, Shane Warne was still the best spinner in the world and Sanjay Manjrekar was just a talented batsman from Mumbai. 22 years later, she is the leading run-getter in the history of Women's cricket, a feat which makes her stand in almost the same pedestrian as the great Tendulkar himself. 
After 217 ODI matches, Mithali has scored 7304 runs at an average of 51.80. In any form of the game, an average of 50 means that the player has an absolutely stellar record. Mithali's numbers tick that box, but a deep dive into that average of 51.80, gives one an idea of just how good her numbers are at the international level. 
Consistency against all attacks and in all conditions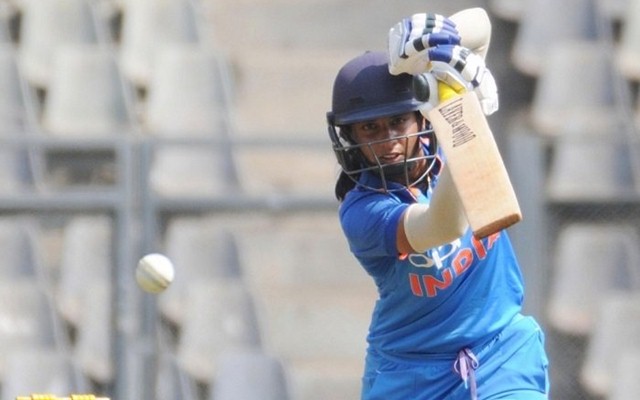 To begin with, Mithali's numbers against England are quite interesting. It seems that she really loves batting against them. In 53 innings against England, she has scored 2004 runs at an average of 50.10. Her batting average against Ireland, Netherlands, and Pakistan is better than that, but nothing compared to her monstrous average of 157.57 against Sri Lanka.
Amongst all the nations she has played, her average of 33.37 against Australia is the lowest, while her average of 43.39 against New Zealand is second-lowest. Basically, she averages more than 43 against nine of the ten teams she has played against. 
Mithali's average against all opponents in ODIs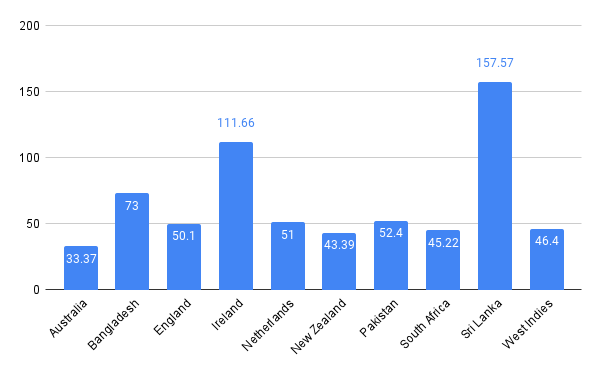 Apart from being trained to face all oppositions, she has been tried, tested, and succeeded in all conditions. Her lowest turnout is in the West Indies, where she averages only 27.50, but has played only six innings. In South Africa (48.90), New Zealand (43.78), and England (48.59), her average is above 40. These are supposed to be the most challenging conditions, but it seems she excelled and bettered her record by performances in all conditions.
Her average of 38.66 in Australia isn't bad either, considering how historically Indian batters have struggled Down Under and how Australian women's teams have been at the pinnacle of success since the turn of the century. 
Mithali Raj's numbers in every country she has played ODIs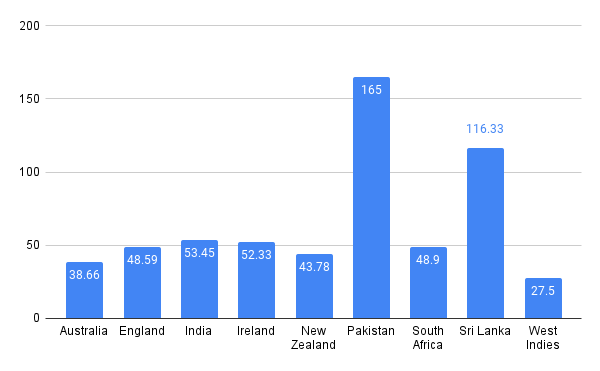 Next in line comes consistency. In total, Mithali has played ODI cricket in 20 different calendar years during her 22-year-old international career. 2020 and 2002 were the only years when she didn't play a single ODI. Now, the interesting observation in her numbers is the fact that she averages less than 40 in just three of those 21 calendar years, the last of which was in 2011.
Her average lied between 40 to 50 six times, between 51 to 60 four times, and beyond 60 eight times, going up as high as 143.50 in 2010. So, it is quite evident that she hasn't had a lean patch for too long. 
Mithali's average every year in ODIs since her debut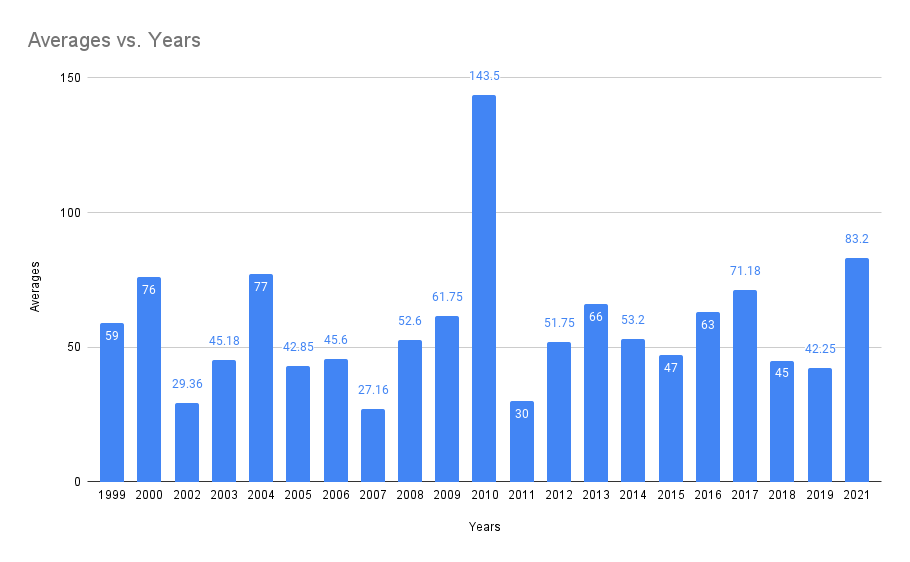 Mithali Raj – the responsible chase master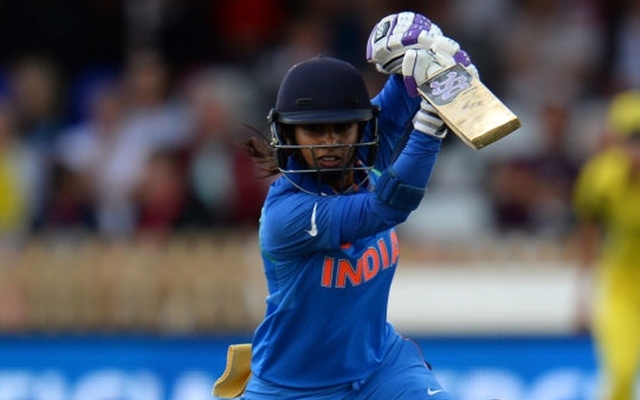 Coming back to her innings in Worcester. Under pressure, chasing a tricky total with batters losing wickets around her, she seemed unmoved. Her calm and composed batting helped India get to a consolation win. The last few overs of the run-chase actually saw the genius of Mithali, when it comes to soaking the pressure. As the equation went from 55 from 7 overs to 38 from 5 overs to eventually 20 from 3 overs, she held one end, hitting the odd boundary and accumulating singles and doubles with utmost precision. 
She ended with 75 unbeaten runs from 86 balls, guiding India home in the run chase, and also sealed off the win with a boundary through point and backward point, placing the ball perfectly between the two fielders. Even though it wasn't a helicopter shot to finish the run chase, her timing was just an example of how well is used to playing with the fielders during run chases. 
Her average in successful run chases after this match went up to 111.10. The sample size isn't small either. She has batted in 53 innings when India has won chasing. Mithali has been unbeaten on 34 of those occasions, guiding her side to a win. In fact, it seems she has the numbers to be called the chase master. Batting second, her average is 64.53, which is much higher than that of her average batting first or her overall record. 
Mithali Raj's exceptional numbers while batting in ODIs
| | | | | |
| --- | --- | --- | --- | --- |
| | Innings | Runs | Average | 50s/100s |
| Won batting 1st | 54 | 2388 | 56.85 | 18/5 |
| Won batting 2nd | 53 (34 not outs) | 2111 | 111.10 | 17/1 |
| Overall batting 2nd | 87 | 3162 | 64.53 | 25/1 |
| Overall record in wins | 107 (46 not outs) | 4499 | 73.75 | 35/6 |
If successful run chases have given an idea of how valuable her runs are for India, let us take a further look to establish how her runs have been important. In the 124 matches in which she has seen a win for the Indian team, her average has been 73.75, double compared to her average of 35.06 in lost causes.
Speaking of impact, it has to be said that her performances just go up when she has responsibility. Her average in 140 matches she has captained is 56, compared to 45 when she has not led the team in 77 matches. 
Contributions when required and in whatever situation
Another aspect that is used to judge a player is how well they performed on tough stages. Mithali, as you might have guessed, stands tall in that test as well. In the ICC Women's World Cup, her numbers are phenomenal. She averages 54.23. In fact, her knock of 91 runs in the semi-final of the 2005 edition was instrumental in taking India to their first-ever World Cup final in women's cricket. It is also worth noting that in tournament finals, her average is 92. 
But, there is one last thing that makes her a complete batter and that is her versatility. Often in cricket, batters talk about batting positions and how they can affect their performance. But, her numbers in different batting positions also depicts her ability to score runs and deliver from any position.
She averages 79.00, 113.00, 52.73, 47.91, and 65.00 from positions 1 to 5 respectively. It is worth noting that she has batted at no. 3 on 93 occasions while at no. 4 on 86 occasions, out of a total of 196 innings. But, batting at these two positions, which might seem just a touch apart, is totally a different ball game when it comes to ODI cricket. 
Each of the numbers mentioned in this piece is a testament to the caliber which Mithali has. In men's cricket, experts, fans and everyone else often talk about that run machine that was Sachin Tendulkar or chase experts that Virat Kohli and MS Dhoni are.
Her contributions through the years have been at par with all these legends, if not more. But, the big question which lies, is how frequently will it be talked about? Maybe, Raj is the best ever ODI batter India has seen. And there is no doubt, every time we talk about great white-ball batters, her name should come up with the likes of Dhoni, Yuvraj, Kohli, Tendulkar, or Ganguly. But, until now, we weren't ready for that conversation. 
Follow us on Telegram