MoneyBall9 Fantasy guide: CPL 2016 Match 1- TKR v SLZ
Get every cricket updates! Follow us on

The MoneyBall9 Fantasy guide of the day is for the CPL 2016 Match 1 between Trinbago Knight Riders and St. Lucia Zouks.
West Indian cricket for long now has suffered through an identity crisis, no longer do they produce those heavily built, tall fast bowlers who can make even the best in the world cringe. But T20 has given them a new, fresh image. It has helped them carve a niche for themselves, something that has helped them maintain their status quo in international cricket.
A lot of it has to do with the way their players have emerged in the T20 leagues around the world. And now, they have their very own Caribbean Premier League, which would not only help their international stars get more T20 cricket under their belt but would also help the local talent get some much needed international exposure.
Now that we have established what's in there for the players, let's focus on what's in there for the fans. One is the happiness you get by watching cricket, but that happiness skyrockets if you can manage your own team throughout the tournament and win money while doing it.
Let's get to business now!
Trinbago Knight Riders vs St. Lucia Zouks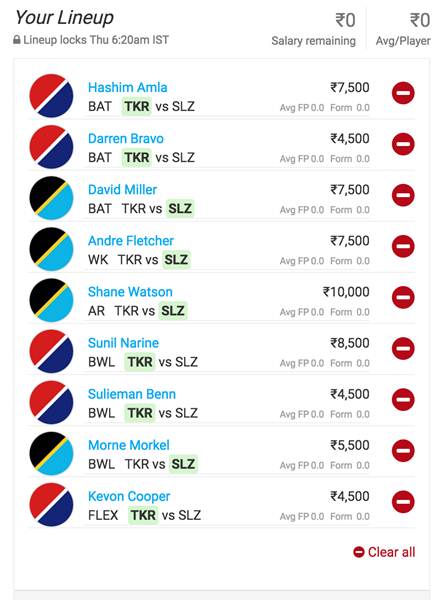 Batsmen
Hashim Amla will be my first pick for this game's MoneyBall9 Fantasy league. For long he was considered just a Test batsman but with consistent performances in T20s he has brought about a significant change in the perception of people. Also, the fact that he opens the batting, gives him a lot of time to make a huge impact in the game, something that he showed during the T20 series against Australia and in the IPL.
Darren Bravo recently showcased his true potential against the South Africans in the tri-series by scoring a blistering 100. His flamboyant typical West Indian batting style can provide you with bucketloads of points.
Now, my third pick will be one from Munro and Miller. While Munro bats higher up the order, he could be left out and that is why I opt for Miller, despite him not being guaranteed to face a lot of deliveries. But I have to opt for him because of the lack of better options.

Wicketkeeper
Lots of options to consider for the wicketkeeper's slot, as Johnson Charles, Andre Fletcher, Denesh Ramdin and Brendon McCullum feature in this fixture.
I opt for Andre Fletcher as he has a better T20 average than Charles and costs Rs 1500 less than McCullum.
McCullum could be knocked over by Morne Morkel early on and thus I leave him out.
All Rounder
It's a straight shootout between Shane Watson and Dwayne Bravo, and I opt for Watson because of higher batting position (and also because he is a more adept batsman than Bravo).
Bowlers
Sunil Narine would be my first pick in this category as despite a change in his action he commands the same respect from the batsmen as he did in his hay day. Also, he is able to spin the ball the same amount and bowls the same wicket-to-wicket line as before. You just have to get him in as he'll bowl economically and will pick up at least 2 wickets.
Morne Morkel will be my second bowler for this game. He will most likely open the bowling and thus make use of any initial moisture that is on offer and will also get to bowl at the death, hence giving him the opportunity to run away with a few cheap wickets.
Sulieman Benn is my third bowler for this game. His wicket to wicket bowling and the bounce that he generates always causes trouble for the batsmen who are looking to go big against him. Thus, he is a brilliant T20 pick; get him in!
Flexible Player
Kevon Cooper was the find of the season for Rajasthan Royals a few years back. He was deadly with his Yorkers and deadlier with his long handle lower down the order. If he can replicate that form in the CPL 2016, he is sure to fetch you bucketloads of points.
Happy team picking!
Play the MoneyBall9 Fantasy league to win up to Rs 25000 every game day!