'MS Dhoni couldn't hear what I called' – Kumar Sangakkara on toss controversy in 2011 WC final
Sangakkara also said that if Sri Lanka had lost the toss, maybe India would've batted first.
Updated - May 29, 2020 11:33 am
16.8K Views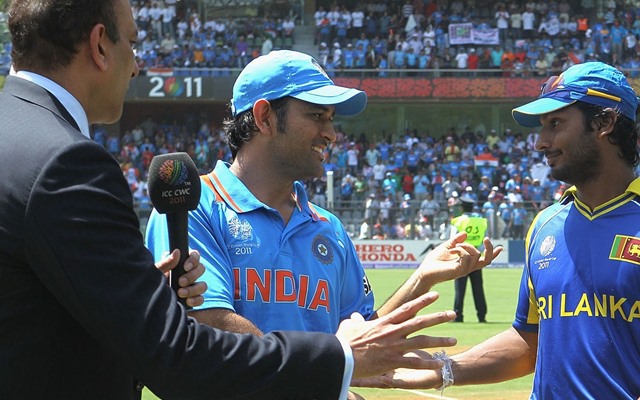 Follow us on Telegram
April 2, 2011, is a historic day in Indian cricket's history as India won the 50-over World Cup for the second time. They defeated Sri Lanka, who were unbeaten in the tournament until then, by six wickets at the Wankhede stadium. However, even before the match started, a bizarre incident took place. Toss took place twice to decide who will bat or bowl first and it raised various speculations in the media.
Kumar Sangakkara was Sri Lanka's captain then and he himself has come up with a detailed explanation over what happened in the middle. He recalled that India skipper MS Dhoni couldn't hear what I had called due to the extreme noise of the crowd at the Wankhede stadium. Sangakkara also remembered an instance when the first slip fielder couldn't hear what he said at the Eden Gardens courtesy of the jam-packed crowd.
Coming back to the toss confusion, the left-hander then mentioned that Dhoni then suggested flipping the coin once again and Sri Lanka won the toss. "It was a case of I think it was the crowd. It was the crowd. It never happens in Sri Lanka. It only happens in India to me. Once at Eden Gardens, I couldn't hear myself talk to the first slip. Then of course at the Wankhede.
"I remember calling on the toss. And then, Mahi wasn't sure what I had called. He said 'Did you call tails?'. I said 'No, I called heads'. And then the match referee actually said I won the toss. Mahi actually said 'no, no, no, he didn't' There was a little bit of confusion. Mahi said let's have another toss of the coin. And that's when the second one went about," Kumar Sangakkara said while speaking to Ravi Ashwin in a live Instagram session.
I am not sure if I was lucky to win the toss, says Kumar Sangakkara
Despite winning the toss in a crucial final and getting a chance to bat first, the 42-year-old isn't sure whether he was lucky as Sri Lanka went on to lose the game. He also felt that India might have batted first as well if Dhoni had won the toss and the story could've been different in that case. "I am not sure whether it was luck that I won. Probably, if I had lost the toss, maybe India might have batted. We would have chased.
"Maybe Maybe because of the dew and we played New Zealand at the Wankhede and our spinners really went through. We defended a total. We weren't really sure," he further added. Kumar Sangakkara also went on to say that an injury to their all-rounder Angelo Mathews was the turning point. If he had played Sri Lanka would've definitely chased according to the former Sri Lanka skipper.
"And the fact that with Angelo's injury, we played a 6-5 combination. All these factors working in. 100 percent, if Angelo had been fit, I know we would have chased. I don't know whether the result would have changed but absolutely (would have chosen to chase). Because that balance of Mathews at 7 If you look at whatever we did, Mathews' overs and his ability to bat with the tail and read situations was an incredible bonus to us.
"In that World Cup final, that's the biggest thing I look back at You can talk about the drop catches and all that but the fact that we were forced to make that change was the real turning point in our strategy," Sangakkara concluded on the matter.
Follow us on Google News