MS Dhoni fans come up in the cricketer's support in reply to Mahela Jayawardene's tweet
Just like MS Dhoni himself, his fans do not give up this easily.
Updated - Aug 9, 2017 2:38 pm
8.7K Views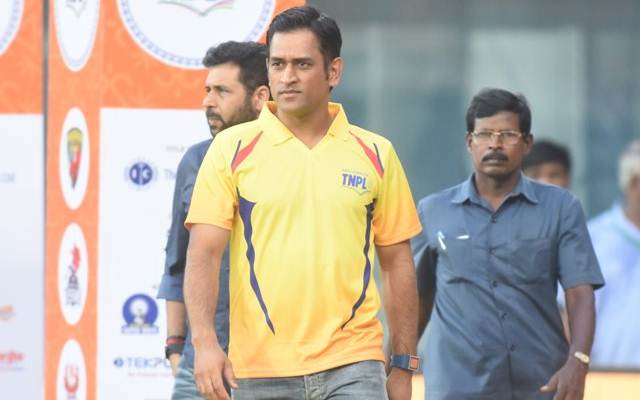 Follow us on Google News
There is no doubt over the fact that Mahendra Singh Dhoni is an absolute sensation in the country of India. With a staggering fan base, he is one of the most loved and respected cricketers not only in India but the whole world. Dhoni has provided his fans with a plethora of match winning moments and his fans have paid him back showing full support whenever the man steps on to the field.
Background:
While chants of 'Dhoni Dhoni' are common whenever the batsman takes guard in front of the woodwork, the fans gave us another example of their tremendous support on Twitter in an incident involving Mahela Jayawardene of Sri Lanka. Mahela came up with a tweet in respect to the iconic Usain Bolt who ran his last race in London recently. Though the 8 time Olympic Gold medallist could not finish it winning, winner Justin Gatlin bowed down in front of the legend. Usain Bolt, who is one of the greatest Olympian in history, had to settle for the bronze.
Jayawardene in his tweet wrote 'Respect, Usain Bolt' as he bid goodbye to a sheer legend. However, a crazy Mahendra Singh Dhoni fan came up with a comment out of the blue. He stated that Jayawardene should also respect the former Indian skipper who is faster than Bolt. It can be assumed that he was referring to Dhoni's lightning quick stumping abilities, but that does not change the fact that his comment was completely irrelevant.
The main story:
Jayawardene, who is often referred to as the epitome of calmness, trolled the fan with a fitting reply. In his reply, he asked the fan whether Dhoni was on his bike or not. Now that was a masterstroke. But just like MS Dhoni himself, his fans do not give up this easily. Some other fans of the inventor of the helicopter shot flooded the post with their replies. While one of them posted a picture of Dhoni running out a Bangladeshi batsman, someone else mentioned that Dhoni runs wearing cricketing gears like a helmet, gloves, pads but Bolt runs without any added weight.
Respect @usainbolt ???

— Mahela Jayawardena (@MahelaJay) August 5, 2017
Also respect to @msdhoni who is more faster than bolt

— Swami Ram (@swamiram96) August 7, 2017
Was Dhoni on his bike? ? https://t.co/4G92pBh8yi

— Mahela Jayawardena (@MahelaJay) August 7, 2017
that's enough for you pic.twitter.com/2cbzw5j3TZ

— Rishi Sharma (@Rishi5107100) August 7, 2017
If you consider the pads, gloves, helmet, bat, ball guard and what not the cricketers wear, then why not? But MS loves his bikes???

— Dolfred Hughes (@dolfredscud) August 7, 2017
Follow us on Telegram