MS Dhoni is calm and calculated, Virat Kohli wears his heart on his sleeves: Nasser Hussain
Kohli is currently India's most successful Test skipper after surpassing Dhoni's tally itself.
Updated - Jul 6, 2020 5:19 pm
795 Views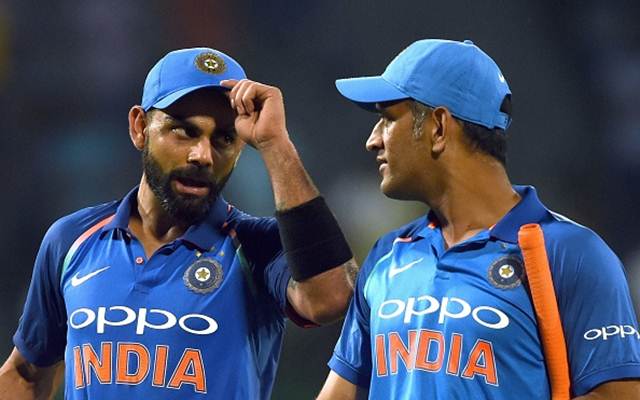 Nasser Hussain, the former England captain, has lauded Virat Kohli for not following in MS Dhoni's footsteps and rather creating his own identity. The veteran said that unlike Dhoni, who's known to be cool as a cucumber, Kohli is someone, who prefers to express his emotions on the ground.
However, Hussain feels that the 31-year-old Virat has a lot to work to do, one of which is to reduce chopping and changing. The retired Englishman said that Kohli, quite often, changes fields and tinkers with the playing eleven. Hussain also said that India hasn't been good at team selections.
I call Virat Kohli the tinker man, says Hussain
"First thing I would say is he's his own man. It's very easy coming after MS Dhoni and think, well, I've got to be like MS Dhoni, I've got to be this calm, calculated finisher, cool, ice man," Hussain was quoted as saying on Star Sports show Cricket Connected. "Virat Kohli could never be the cool ice man. Virat Kohli wears his heart on his sleeve," Hussain mentioned.
"So, he's his own man, he's got better at certain things or still certain areas I'd like to see Kohli improve on. I call him the tinker man. Every over, you have to change the field, he's running up changing things, he tinkers a little bit too much," he stated.
"Selection – I know people say what's that got to do with Kohli, but you got to have a selection plan. I think India did a lot of things well, I'm not sure selection is one of them," he added.
Kohli is currently India's most successful Test skipper, surpassing Dhoni in the 2019 Test series against the West Indies. From 55 Tests, Virat has wins in 33 matches. Virat's captaincy in the format started from the tour of Australia in 2014-15.
Kohli has also led the limited-overs teams with dignity. He took over from Dhoni at the start of 2017 and has garnered numerous laurels. Though he is yet to win an ICC trophy, he has taken India to victories in bilateral series. Going ahead, he is speculated to break a number of records for the national team.