MS Dhoni is the best captain of all time: Prashant Chopra [Interview]
From his favorite cricketer to playing under captain Rishi Dhawan, he opened up on many such intriguing topics.
Updated - Jan 7, 2022 7:13 pm
999 Views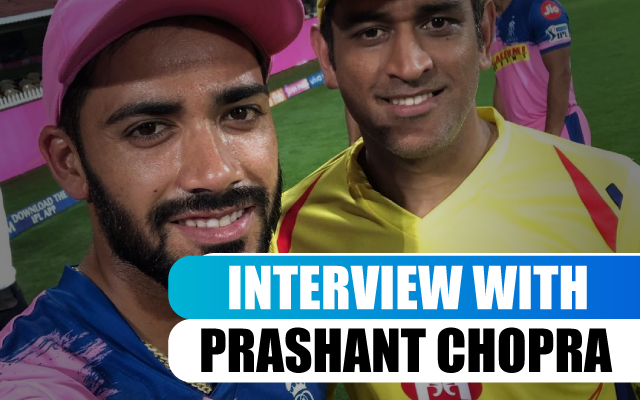 Prashant Chopra has been witnessing a purple patch in his career lately. In the semi-final of the Vijay Hazare Trophy, he hit an impressive half-century to register his fifth half-century in seven matches in the high-profile tournament. The steady starts from him have helped the team to take command of the game.
With his and Rishi Dhawan's good form, Himachal Pradesh had a great white-ball season. In this season of the Vijay Hazare Trophy, he finished as the third-highest wicket-taker of the edition. The opening batter chipped in 456 runs from eight matches at an average of 57.00.
In the Syed Mushtaq Ali Trophy as well, he scored 148 runs from five matches and finished as the second-highest run-getter for the side. CricTracker caught up with Prashant Chopra for an exclusive interview wherein he spoke about the different aspects of his game. From his favorite cricketer to playing under captain Rishi Dhawan, he opened up on many such intriguing topics.
Here are the Excerpts:
Your favorite format of cricket is
I love Test cricket
Describe Himachal Pradhesh's SMAT win in 3 words
Amazing, Fabulous, and Dream
Your favorite cricketer is?
Sachin Sir
If not a cricketer what would you have been?
Engineer or Singer
A vegetable you hate?
Tinde
A destination you would like to visit?
Europe
The best captain of all time is?
Mahendra Singh Dhoni
An IPL Team you would like to play for?
Mumbai Indians because Sachin Sir is there
The last person you texted?
My assistant
The cricketer who googles himself the most in the Himachal Pradesh dressing room is?
Mayank Dagar
1 thing no one knows about Rishi Dhawan
He loves to crack jokes late at night
Summers or winter?
Summers because I can play cricket, in winters it's tough
If you were a superhero, what would your powers be?
That I can travel wherever I want to
Who is your inspiration?
My family. I look up to them
Which is the worst movie you have ever seen?
Dilwale- the second part
What did you last search on Google?
My flight details
Are you a better dancer or cook?
Maybe a cook
Which app do you use the most on your phone?
Instagram
A cricketer from the past you would have loved to face?
Zaheer Khan
A celebrity you would like to go on a dinner date with?
Vidya Balan
What was the last thing you liked on social media?
My teammate's video on Instagram
You didn't have a great 2020-21 season. But you were one of the best players for Himachal Pradesh this season. On what aspect of your batting do you work on specifically?
Nothing specific. I just worked on my mental thing. Last season as well I was batting well but the desperation comes into you and you initially fail for the first couple of games. So the desperation was their last reason to just get runs. So your focus changes from looking at the ball and you rather think of scoring runs. So now I just focused more on my mental abilities to keep myself calm and spend time on the field which I did not do last season.
No player likes to go through a tough phase. How do you deal with it when you are out of form? Whom do you prefer to speak to during this period?
I don't talk that much. After last season my sister was there, I was not in a good space, I was hiding from people. She was the one who took me out by taking the initiative of talking to me. She and her husband brought me out of it and asked me to focus on the present. Our coach Anuj sir is the other person as whenever I face any trouble in the cricketing field I go to him. He is always there for me.
Rishi Dhawan, like you, also seems to be in great touch with bat and ball at the moment. Your thoughts on him as captain?
He is fabulous. If a captain is leading from the front that's what a team requires. Whenever tough situations came, Rishi was always there to face them, delivering both with the bat and the ball. He is always giving his 100% no matter what.
Red-ball cricket will be played after a long gap in terms of the Ranji Trophy. How do you prepare yourself or what changes in terms of batting when compared to white-ball cricket?
It's more of a psychological or mental thing. It just is about how you prepare yourself mentally. It is a longer format, it is challenging so you can take some time. Who cracks down first, losses the game, so one has to be strong. You need to respect the bowler and conditions and give yourself some time.
How do you look at the current bench strength of India, the competition around, and what advice will you give to aspiring cricketers?
The competition is immense. We have currently two or three teams who can play well simultaneously and win. IPL has made players ready for international cricket. It's a great thing when there is competition as you are hungry to do well.  As a sportsperson, you need to show up every day no matter what you have done yesterday. For the aspiring cricketers, I would say just keep working hard. It took me 12 years to take this trophy. Always give your best and be grateful, results will come if you put in hard work. Never give up on your dreams.
Follow us on Google News