MS Dhoni the key to Kedar Jadhav's brilliant performance against Bangladesh
"I don't practice bowling that much but I spend time with MS Dhoni and try to learn as much as possible from him," Kedar said.
Updated - Jun 16, 2017 2:10 am
33.6K Views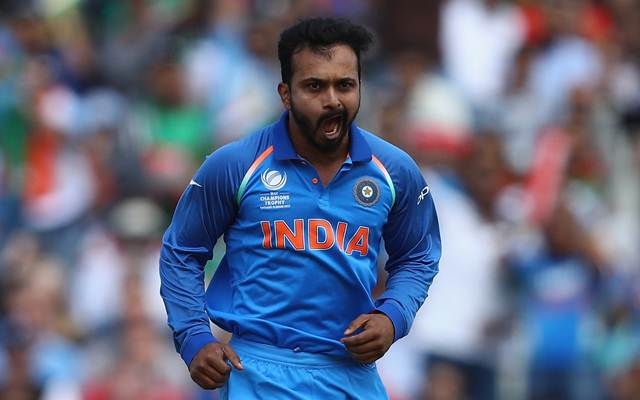 Follow us on Telegram
Team India notched up a clinical performance in the second semi-final match against Bangladesh, beating their neighbours by 9 wickets and coasting to victory with 9.5 overs to spare. The win was complimented by some exceptional bowling and an authoritative batting display by the Men in Blue. Bangladesh got off to a flying start and a 300 plus score was on the cards. But a golden spell of bowling by Kedar Jadhav sent the Tigers on the back foot.
Kedar gave India the much-needed relief when he castled Tamim Iqbal into playing a sweep shot and thus disturbing the furniture behind him in the process. He gave Bangladesh the next big jolt when he tossed a juicy delivery to Mushfiqur Rahim who lodged the ball safely into Virat Kohli's hands. Bangladesh lost the plot thereafter.
Scalping figures of 2/22, Kedar was highly eloquent of MS Dhoni, who according to him has been a mentor and a pillar of support for him. He talked about how the former captain was easy going when he came to him with his problems. Dhoni's tips weighed in gold as they helped Kedhar immensely in ironing out his doubts and get the desired results.
Praising MS Dhoni 
"I don't practice bowling that much but I spend time with MS Dhoni and try to learn as much as possible from him. He provides me with all the knowledge that he has. Even while bowling, he helps me a lot by giving indications from behind the stumps on how to bowl to a particular batsman. And I try to bowl according to his advice most of the times," Kedar said.
He also spoke his mind about his potential as a bowler. The 32-year-old thinks that he has a mine of confidence under his belt to be a great bowler and his cache of variations is a proof to that. Having woven his magic web over top batsmen, Kedar doesn't want to be tagged as a part-time bowler.
Confident about himself
"I have been bowling in the nets and I also bowled in the previous series as well where I took wickets also. Before this match I had six wickets and most of them have come against top-order batsman. It is not like I am taking wickets of tail-enders," he quipped. So, I have that confidence in myself that batsman will find it difficult to score the big shots off my bowling because of my variations. I feel my bowling is all about reading what the batsman is trying to do," the off-spinner added.
Kedar has essentially proved his mettle as a batsman when he had a brilliant series with the bat against England during the home series earlier in this year. His performances earned him a place in the Champions Trophy playing XI. With the top order firing all guns blazing and the heavy weights, Virat, Yuvraj, Dhoni coming after them, Kedar hasn't got a chance to prove himself overseas thus far.
But the 33-year-old is not rueing his misfortune at all. In his words, he is happy by whatever he can contribute for the team. "As long as the team is winning I am not worried about my individual batting. I feel that whatever my team asks me to do I will be able to do that," the Maharashtra captain concluded.
Follow us on Google News